Bower wins again at Centaur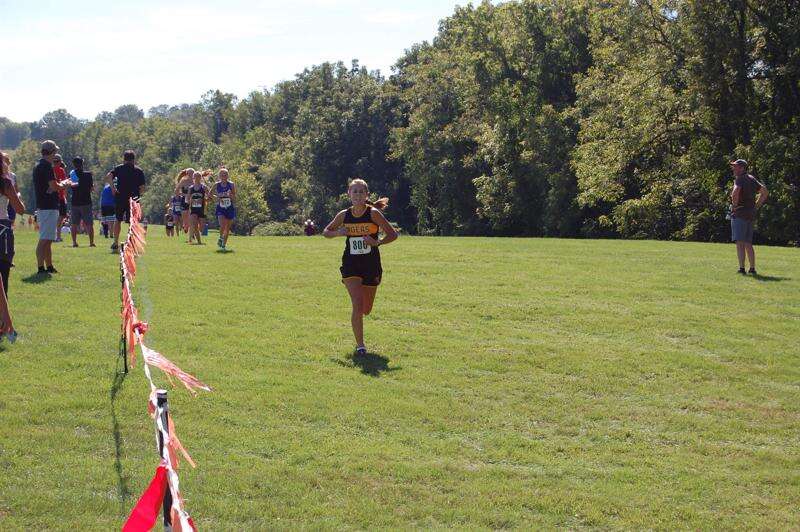 Published September 21. 2022 08:28AM
by Mike Haines mhaines@tnonline.com
Sam Bower wasn't sure what to expect from himself Saturday at the 43rd Annual Centaur Invitational at DeSales University.
He was the defending champ at the event, but a couple of lackluster performances early in the season had allowed some doubt to creep into his mind about how things would go in the senior's third and final Centaur performance.
Bower left his doubts, and the rest of the field, far behind him in repeating as champ Saturday. He finished in 16:39, more than 11 seconds ahead of Twin Valley's Anthony Engle (16:51.7) in second place.
"This is definitely a big confidence booster," Bower said after the race. "My first two meets were not great races, especially the first one. This just helps so much for my confidence to help me know I can stay up with the top guys in the state."
Northwestern finished third as a team at DeSales, with Bower and Matt Santana (third place overall, 16:59.8) leading the way.
Bower finished 32nd at the season-opening Lion Invitational at Moravian Academy and followed it with a third-place finish at last week's regular season meet.
His goal at DeSales last weekend was to hang with his friend and teammate Santana as long as he could. But after the first mile Bower decided to make a move.
"When we went into the woods I was in fourth place," Bower said. "My teammate Matt and two Twin Valley guys were ahead of me. I was just trying to stay with them and keep them in sight and see what I could do in the last two miles."
Bower got by Twin Valley's Ben Mestier between the first and second miles. He passed Santana and Anthony Engle in the second mile and never looked back. Both Twin Valley runners were top-100 finishers in last year's PIAA Class 3A state championship meet.
Santana, who finished second at the Lion Invitational and second in last week's regular season meet, had only run in the Centaur twice in his four-year high school career. He ran in it as a freshman, but the meet was canceled in 2020 and a bout with COVID kept him out of last year's event.
He was among the lead pack the entire race Saturday. His goals were to finish in the top three and run a time under 17 minutes. He achieved both.
"I worked the hills pretty good," Santana said. "I was up in the top three most of the race. I was just trying to hang up there with those guys and hopefully they'd help me push through."
While he's only competed in the Centaur twice, Santana is getting more familiar with the DeSales course, where he ran leagues and districts last year and will return in the postseason this fall. He ran a 16:56.9 in the league meet at DeSales last year. He was five seconds faster Saturday, proving he's ahead of where he was late in the season last year.
"I feel pretty good right now," Santana said. "I know I'm pretty far ahead, but I'd like to keep pushing forward because there's a lot more work to do."
Northwestern's boys team is the defending league and district champ. The Tigers are coming off a third-place finish at states last fall. They have to replace their third through fifth runners from last year, and some the three who filled those spots on Saturday ran in a solid pack. Zachary Santana finished 38th overall, followed by Sean Kershner in 40th and Xander Gianomenico in 41st to help the Tigers scoring. Rounding out the top seven for the Tigers were Will Gruen (73rd) and Bryce Thrash (138th).
The Northwestern girls team finished fourth Saturday, led by Angelina Klein in 10th place.
"I had a heck of a finish," she said. "I was sitting in 15th or 16th for a long time. I kept moving up the hills. It's tough in that second mile to see where you are at with everyone.
"As soon as we hit that last downhill everyone is going. The end is right around the corner. Its crazy fast. Once I got out of the woods, it's nice because you can see everyone in front of you. I could see the goal. I could see them. I knew they're hurting. I just had to stay strong and it ended up working out. I was just passing one and then another one. Once you get going and get some confidence you keep moving."
Klein, who finished seventh at the Centaur last season, was running at the course for the first time since her 17th-place finish at districts last year kept her one place away from qualifying for the state meet.
"Last time I was here was my district race last year," she said. "I had a horrible race and I found out two days later I had COVID. I really wanted to get to states. That's the goal every season. To have that taken away and then find out I was sick, it was a tough blow. But I'm coming back this year hoping to get back. All the reason to be more motivated this year."
Sophia Cornell was the next Tiger to cross the line Saturday, running the race in 22:06.2. Rounding out Northwestern's top five were Sophia Penny (46th), Kellcey Pedron (49th) and Maci Fisher (50th). Northwestern's Haley DuBois (61st) and Katie Griffith (82nd) also competed in the girls varsity race Saturday.
Moravian Academy freshman Virginia Kraus won the Centaur girls race in 18:45.8, followed by Downingtown East's Madison Brown (19:21.3) and Southern Lehigh's Maura Lenhart (20:31.2).
Southern Lehigh won the girls team title at the meet with 41 points. Downingtown East (63) and Stroudsburg (117) followed.
The boys team title went to Twin Valley (44), followed by Council Rock (108), the Tigers (121) and Boyertown (126). The next-best Colonial League boys team at the meet was Palmerton in fifth place. Southern Lehigh, which has recently been Northwestern's primary league rival on the boys' side, finished 7th Saturday.