Big second half beats Pates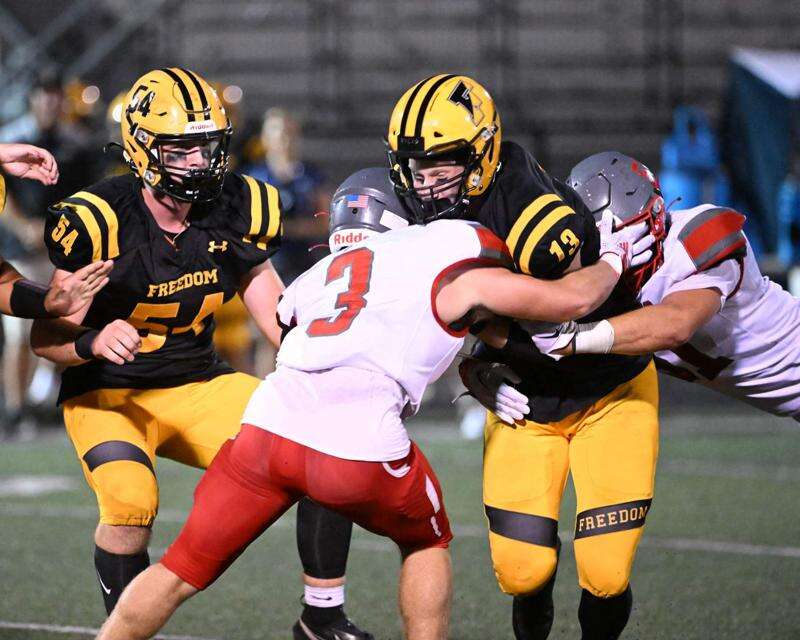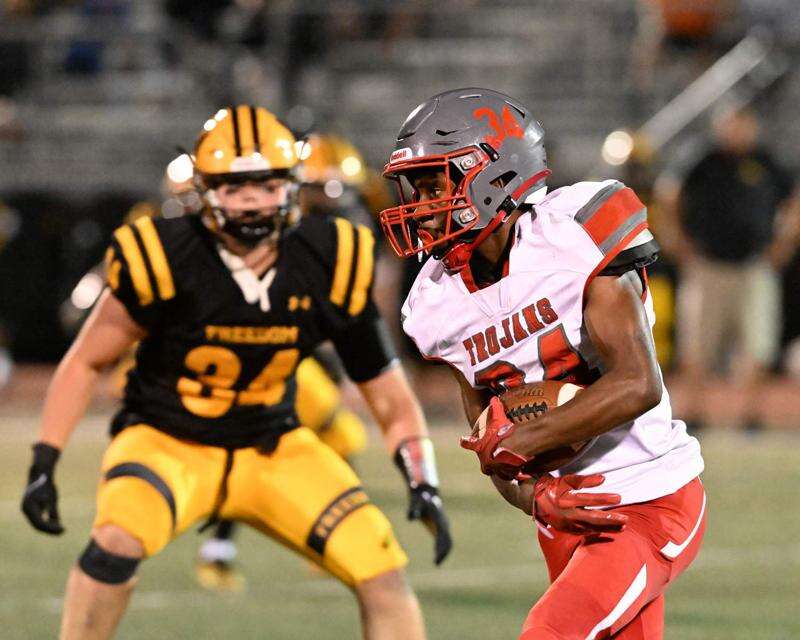 Published September 21. 2022 08:29AM
by CJ HEMERLY Special to the Press
The Parkland High School football team found itself in a 7-7 deadlock at halftime of its most recent game. But in the second half, the Trojans controlled the time of possession while limiting Freedom's, and scored on their opportunities in winning the Eastern Pennsylvania Conference South Division game 21-13 last Friday night at Bethlehem Area School District Stadium.
It was a much-needed win for the Trojans (2-1 overall, 2-1 EPC) and they bounced back from their first defeat on the year in week two at Nazareth. They also had to deal with circumstances out of their control with missing school and not being able to fully practice the day leading up to the game due to the school district closing because of a threat.
"Today, we didn't know we were playing until 12:45 p.m.," said head coach Tim Moncman. "Yesterday, we were allowed a captains' practice. We were at North Parkland's midget football field in sneakers. It was interesting. High school kids, when you take them out of their routine, it sometimes gets difficult. But, I'm happy with the way we responded."
Parkland ran 32 plays to Freedom's 14 in the second half and outgained the Patriots 189 yards to 76 yards over the final 24 minutes. The Trojans were able to control the game for the entire second half.
The Trojans found the endzone just 0:14 after intermission to take their first lead of the game thanks to a Nakhi Bullock 71-yard sprint down field after taking a screen pass. Freedom, on its only possession of the quarter, went three-and-out and then watched Parkland go on an 18-play, 68-yard scoring drive that lasted over 10 minutes to put it up by double figures. Quarterback Luke Spang capped the march with a 5-yard TD run, putting his team ahead 21-7 with 11:55 remaining in the fourth quarter.
"We challenged our kids. I thought, in the first half, we didn't tackle well, we didn't pursue to the ball," Moncman said. "The defense stepped up and made plays when it had to. But, I thought our offensive line took the game over."
Jalen Fletcher scored on a run to cut the deficit to 21-13 with 7:41 to play, but the Patriots never got the ball back as Parkland milked the clock and moved the chains.
The Trojans used a 14-play, 7-minute and 33-second drive to seal the victory. Parkland was able to stay on the field thanks to late down execution. The Trojans were successful on seven of eight third down scenarios in the second half, including converting on fourth down once.
Spang completed 12 of 15 passes for 168 yards and a touchdown, while also rushing for 36 yards and two scores. Trey Tremba ran for 49 yards and a score, while Marquez Wimberly recorded 58 yards on the ground. Jack Harrison had four catches for 44 yards. Defensively, Nate Kemmerer had two tackles for loss and a sack.
Parkland returns home for the first time since week one, as it hosts Central Catholic on Friday night.