FFFFRANKL;IN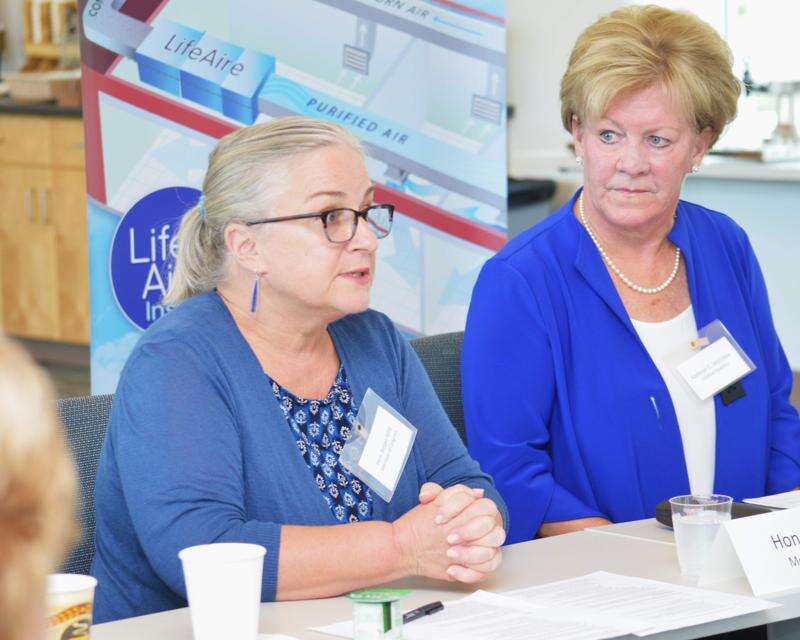 Published September 05. 2022 11:18PM
by Douglas Graves Special to the Bethlehem Press
Sixty-nine to 80 percent of pathogens that cause illness and infections are airborne, according to Dr. Kathryn Worrilow, founder and chief executive officer of LifeAire Systems.
That statistic, presented Aug. 23 at a seminar on the mountain-top campus of the Ben Franklin Tech Ventures, should make anyone wary of getting shoulder-to-shoulder in a crowd.
Worrilow's presentation to some area health care professions introduced the critical role that clean air plays in the human health and wellness.
"Greater than 90 percent of all infectious surface pathogens originate from the air," according to Worrilow. She also said conventional minimum efficiency reporting values [MERV] or high efficiency particulate air [HEPA] filtration does not provide adequate remediation.
According to Worrilow's presentation, conventional cleaning protocols do not eliminate the problem.
Worrilow said Life Aire's "advanced air and purification system" kills 100 percent of bacteria that cause such diseases as MRSA, Legionnaire's pneumonia, aspergillus, tuberculosis (TB), staphylococcus pneumonia, streptococcus pneumonia and mycobacterium tuberculosis.
The Life Aire system reportedly kills 100 percent of viruses such as parvovirus H-1, echovirus, coxsackievirus, norovirus, influenza A, avian Influenza virus, SARS, coronavirus, variola virus, and measles virus.
The system even filters and kills anthrax spores said Worrilow. "If you can kill anthrax spores, you can kill anything."
Worrilow said that St. Luke's and Phoebe Ministries had agreed to participate in studies by allowing Life Aire to install its air filtration and cleaning system in selected areas of the two health organizations.
"Double blind" testing was done to accurately measure effectiveness. Double blind testing is a type of clinical trial in which neither the participants nor the researcher knows which treatment or intervention participants are receiving until the clinical trial is over. This makes results of the study less likely to be biased.
U. S. Representative Susan Wild attended the seminar and offered support for the concept. "We need to recognize the challenges. I would really like to see this [Life Aire System] installed in airports."
Besides the need to protect and care for the senior citizens who work in long-care facilities such as Phoebe Ministries, is the need to protect the staff who work there. Phoebe Ministries Executive Director Michelle Morton recounted seeing a aide crying in a bathroom, overcome with stress during the height of the Covid pandemic.
Wild acknowledged the anger of the many families who were denied visitation. "Families were furious that they couldn't visit their loved ones."
Wild, who sponsored a bill that became law earlier this year, the "Dr. Lorna Breen Health Care Provider Protection Act," said she was inspired by Dr. Lorna Breen, a New York City doctor who succumbed to the stress of the Covid pandemic when she committed suicide in April 2020.
The law establishes grants and requires other activities to improve mental and behavioral health among health care providers.
Some of the other attendees at the roundtable conference were President and CEO at Ben Franklin Technology Partners of Northeast Pennsylvania Angelo Valletta, Country Meadows Vice President of Operations Bill D'Andrea and Andrea Tessler with Penn State.