Health and Safety Plan approved in East Penn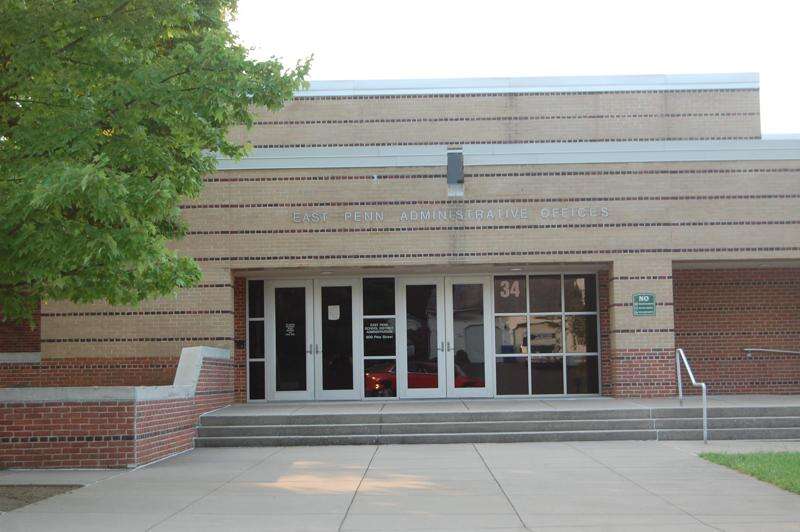 Published August 11. 2022 11:29AM
by ED COURRIER Special to The Press
The East Penn Board of School Directors approved the district's 2022–2023 American Rescue Plan Elementary and Secondary Emergency Relief Requirements Health and Safety Plan during the Aug. 8 regular meeting. The voting was 7-1 with Michael Felegy voting "nay."
The updated plan states, "East Penn School District will continue to utilize guidance from the CDC [Centers for Disease Control and Prevention], PA Department of Health and our health partners at Lehigh Valley Health Network to inform our decisions for health and safety planning."
Face coverings and masks will be optional for all students and staff except as required by state or federal mandates.
Masks are required in district health rooms if the student has COVID-19 symptoms.
Masks are available for anyone who requests one.
School facilities and classroom furniture will return to pre-pandemic layouts to prioritize in-person instructional experiences.
High touch areas like door handles will be sanitized often in accordance with facilities guidelines. Locker areas will be sanitized daily.
Students and staff are required to wash hands or sanitize before lunch and when requested.
Parents are asked to screen students at home each morning.
Positive cases are to be reported to the nurse and documented. Students and staff should stay home if they develop COVID-19 symptoms or test positive.
Individuals exposed to COVID-19 who are not exhibiting symptoms are not required to quarantine from school.
Students with disabilities will have access to the same programs and opportunities as their non-disabled peers, as well as accommodations detailed within their individualized educational plan or 504 plan based on their individual needs.
The East Penn School District Code of Conduct K-12 was approved 7-1 with Felegy as the dissenting vote. The revised discipline code applies for both primary and secondary levels.
Before the vote, Assistant Superintendent Laura Witman described the process that provides consequences for disciplinary infractions while addressing equity and pro-active support for students and their families. A section on policies on LGBT+ students was revised to be in compliance with state and federal codes.
Emmaus residents Barbara Tantaros and Heather Harlan addressed the board regarding the proposed code of conduct.
"We are going down a slope of depravity at the expense of our academic accomplishments," Tantaros said, who spoke out against the section of the code regarding "transgender and gender-nonconforming students."
Harlen praised the pilot program on discipline at Lower Macungie Middle School. "Thank you for affirming students who are LGBT+," she said in support of the revised code. "Every student deserves to feel safe here."
During her district update, School Superintendent Kristen Campbell announced VESPA has scheduled two family information sessions for students interested in the district's virtual academy learning option for grades K-12.
Aug. 29 is the first day of the 2022-2023 school year with orientation programs for each building being offered soon. Families should be receiving bus assignments around Aug. 15.
While Campbell was happy to say that despite a national teacher shortage, most East Penn teacher positions have been filled, they are still seeking support staff.
Ten former Lower Macungie Township crossing guards have been hired by the district to continue their duties at Willow Lane Elementary School. The district is still in negotiations with the township on a cost sharing proposal.
The East Penn Board of School Directors voted unanimously to approve the East Penn Education Support Professionals Collective Bargaining Unit Agreement for 2022-2027.
The contract for administrative assistants, instructional assistants, staff assistants and health room nurses includes a "No Lock Out - No Strike Provision."
Effective July through June 30, 2023, beginning wages are based on classification and hire date:
?•Administrative assistants earn $19.49 per hour
?•Instructional assistants earn $19.10 per hour
?•Staff assistants earn $18.10 per hour
•Health room nurses earn $26.61 per hour
For 2023-2024, 2024-2025, 2025-2026 and 2026-2027, all new hire rates shall increase by the adjusted Act 1 Index subject to an overall annual cap of 3 percent and an overall annual floor of 1.7 percent.
Benefits for full-time non-12-month employees and part-time non-12-month employees include five paid holidays during the school year including, New Year's, Memorial, Labor, Thanksgiving and Christmas days.
All employees are to receive their normal hourly pay for their full day for inclement weather days utilized and not subsequently made up. All employees shall also receive their normal hourly pay for their full day when there is a delayed opening or early dismissal due to inclement weather. Employees may be assigned duties during these times.
Full-time non-12-month and part-time non-12-month employees will be entitled to three paid personal days per year.
Perks for all full-time 12-month employees include four paid personal days per year, paid sick leave and vacations, as well as health, medical and life insurance.
In other personnel matters, the directors agreed to the resignations of Emmaus High School counselor Emily Bonney; Willow Lane Elementary School counselor Alyssa Pilsits; Macungie Elementary School teacher Heather Thomas; Lower Macungie Middle School school counselor Heather Spotts and Lower Macungie Middle School technology education teacher Stephen Toth.
The board accepted the retirements of Lower Macungie Middle School custodian Pauline Blankenbiller; Lower Macungie Middle School remedial assistant Suzanne Wilt; Alburtis Elementary School instructional assistant Linda Heiser and elementary health/wellness/fitness teachers Kathy Kline and Nancy Krajcir.
Approved hires for new positions include Carli Harrell as supervisor of special education (special programs), Rosemary Lamparella as transition room teacher and Kristin Boyer and Shelby Ramirez as English teachers at Emmaus High School.
"We certainly owe a big apology to the intermediate unit for recruiting her here," Campbell said as she introduced Harrell to the directors while listing the new recruit's qualifications.
The following are approved newly-hired educators: Alicia Beer for health/wellness/fitness at Lincoln Elementary School and Macungie Elementary School; Lori Kern as CSN, Ryan Sickler as English teacher and Melissa Newcomer as Latin teacher at Emmaus High School. Special education teacher Kaitlyn Patriarco begins at Lincoln Elementary School and Kimberly Flueso will teach Instructional II: Bus-Computer-Info Tech PK-12, Computer Science 7-12.
With state revenues exceeding previous projections, the directors authorized the administration to transfer $1,807,457 of additional basic education funding from the general fund to the capital reserve fund to preserve them for future capital improvement projects.
Additional special education funding in the amount of $323,927 is to be utilized to comply with the extended enrollment option authorized under Act 55 of 2022 and included when developing the 2023-2024 budget.
It was explained due to legal constraints, the already approved upcoming school year budget cannot be reopened and revised.
Director of Special Education Dr. Linda M. Pekarik led a Communities in Schools informational update presentation. She was assisted by Kristen Grim, an Emmaus High School guidance counselor, CIS Director of Operations Migdalia P. Garcia, CIS Associate Vice President, Operations Wendy L. Seiffert and CIS Program Manager Kelly Earnshaw.
They explained how the national nonprofit agency collaborates with teachers and school administrators to set goals to support students with nonacademic obstacles in order to facilitate their academic success.
These vary by building as they are focused on need. These include improving school climate to decrease the percentage of students chronically absent and to increase the percentage of students that receive social and emotional learning supports.
The CIS team provided data on where the program has met or failed to meet set goals. Some of the categories include increase parental engagement opportunities and progress on behaviors and academics.
CIS coordinates services with partners like Valley Youth House, Lehigh Valley Health Network (MHS), K&S Truancy, Bradbury Sullivan, ArtsQuest and Crime Victims Council, among others.
Assistant Superintendent Douglas Povilaitis lead the first reading of updates to Student Discipline policies. These included Student Expressional Distribution and Posting Materials; Controlled Substances and Paraphernalia; Electronic Devices and Nonschool Organizations, Groups and Individuals.
Board President Joshua Levinson announced an executive session was held before the public forum 6:45 p.m. on "various items under personnel."
The next regular school board meeting is scheduled for Aug. 22. The public can access documents through BoardDocs via a link on the district website. Livestreaming of meetings is available on the district's YouTube channel.