Johnson got fast quickly in the pool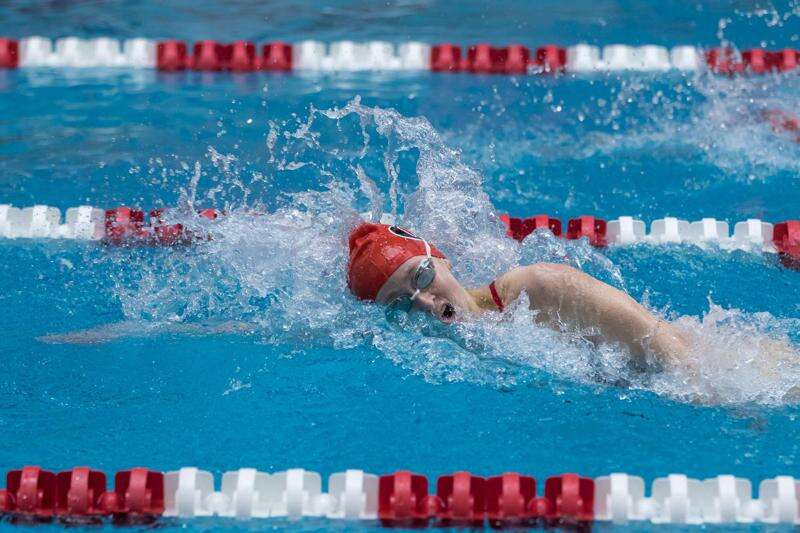 Published August 07. 2022 05:36PM
by CJ HEMERLY Special to the Press
Kayla Johnson has not been swimming at a highly competitive stage very long, let alone swimming in general. She first got into the pool in a competitive setting just before high school five years ago. And since, she has become one of the best swimmers in the state.
The recent Parkland High School graduate had one of the best seasons in program history this past year and has been voted a co-Parkland Press Female Athlete of the Year for 2021-22.
"It was an awesome experience to compete for Parkland and be a student-athlete there," said Johnson. "I met my lifelong friends and will forever be grateful for what Parkland gave me. I learned a lot about the value of hard work and dedication by being a student athlete. I was able to achieve big goals I set for myself by putting in hard work."
At the District 11 championships last winter, Johnson won four gold medals and earned the Dennis McGinley Award as the District 11 MVP/Swimmer of the Meet. She finished first in the 50- and 100-yard freestyle, along with the 200 and 400 free relays.
Her blazing time of 22.95 in the 50 free is a district record, surpassing former Trojan standout Siena Salvaggio's mark of 23.17 accomplished in 2016.
At the state meet, Johnson placed second overall in the 50 free and 200 free relay, while swimming to top-four finishes in the 100 free and 400 free relay.
"My senior year was very memorable, and districts and states were the icing on the cake," said Johnson. "Breaking the 50 free record meant a lot to me as I had wanted to break a record since my freshman year. Districts and states were also great because I had my team with me, and they are very supportive. I will miss having them by my side cheering me on."
So how did Johnson become so successful in the pool in such a short amount of time? Hard work.
"I would say that one of my better attributes is I have a strong work ethic," Johnson said. "I set goals for myself that I knew I wanted to reach, and I put in a lot of time and work to reach those goals. Freshmen year, I set the goal of breaking a record at Parkland, and I worked hard every day until I finally broke the 50 free record senior year."
Johnson will be continuing her education and swim career at Duquesne University in Pittsburgh this fall.
"I will be majoring in physical therapy," Johnson said. "I'm excited to continue my swimming career and experience new things. I have new goals for myself, and I can't wait to see where I will go."