'Our class has always shown up'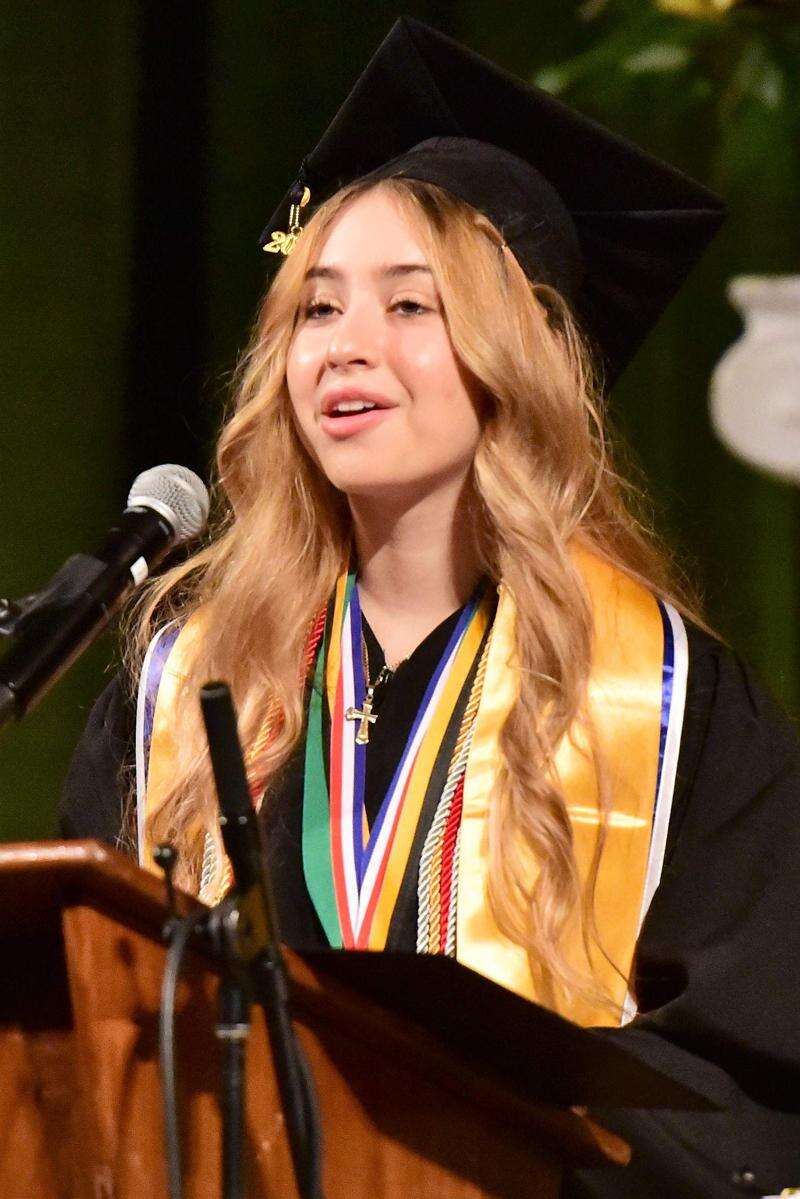 Published June 22. 2022 07:50AM
As their last official act as students, the 2022 class of Freedom HS gathered with faculty and family at Stabler Arena June 7 in what now feels like a strange occurrence. The annual rite of graduation, and indeed so many of the expected norms of school, had for so long been disrupted that every presenter at the ceremony spoke of yearslong challenges no other modern generation had faced.
Yet together they were, embracing the theme "taking what's ours," after the lost years of COVID solitude.
Student-chosen speaker Shanice Williams took the lead at the event.
"I've spent a lot of time thinking about the things we'd done and the circumstances in which we have done it. You have all put in the work to get here, which is an amazing accomplishment, but our class was never the type to just do the bare minimum.
"Our class has always shown up. We maintained leadership roles even though inside we felt like sophomores who felt like we had something stolen. Had our time stolen. You have all held me accountable. Even perhaps without knowing it, you have all inspired me to continue pushing myself.
"You have all done amazing things that deserve to be celebrated today. I think we can finally say we've found ourselves," Williams said.
"I'm a proud Jamaican and if you know anything about us, it's that we're quick. We run and live life fast. However, a speech by a fellow Jamaican from Lafayette College reminded me that we cannot let a world that glamorizes the quick and easy set our pace. The best things take time.
"But now," Williams said, "it's time to look to our newfound freedom and take what's ours."
Following brief remarks in Spanish that received hoots and applause, faculty-chosen speaker Emma Lazo said, "The past four years felt like an eternity of uncertainty, and now that the inevitable has arrived, there's a shared sentiment that four years felt like four seconds.
"On this unforgettable day, you all form part of the Freedom family, no matter your role," Lazo said, describing the acts of individual teachers who motivated and inspired students daily, as well as made extra effort on behalf of student wellbeing. "My experience was with Miss Aguilar," she said.
"We both come from immigrant parents. In my family, I was a test-trial for success. The pressure felt discouraging and nerve-wracking at times. In the time I've gotten to know her, she has given me a sense of security and hope. Hope that after high school I could go to college – the first to graduate. The first to become a professional in my field of choice. The first to take my family forward. Also to be terca, or stubborn, and to go after what I want in life. That the only person that sets our limits is ourselves.
"I will always owe Miss Aguilar for that."
The students were not alone in living the event's theme.
Principal Lori Sage faced a singular challenge in preparing for the event after her first year as Freedom's leader.
"Like many new principals, I tried to compartmentalize every major task I had to complete through this first school year, one at a time, never looking too far ahead, until around Easter, when my secretary said, 'it's time to start focusing on graduation,' and thus began my graduation dreams. I had crazy dreams and nightmares. I would liken it to planning a wedding."
She said the teachers missed the rhythm and relationships of real-life teaching every bit as much as the students, and resolve when they enter the profession to make the supportive connections to help students succeed.
Meanwhile, with two elementary-aged children of her own, Sage empathized with parents' desperation during the COVID crisis, half-joking, "Please take my kids back."
Though the stress and emotions were overwhelming at times, and the year had rough spots as everyone readjusted to a semblance of normality, back they came.
"Class of 2022, you came back with purpose. I am fiercely proud of you."