A graduate at 79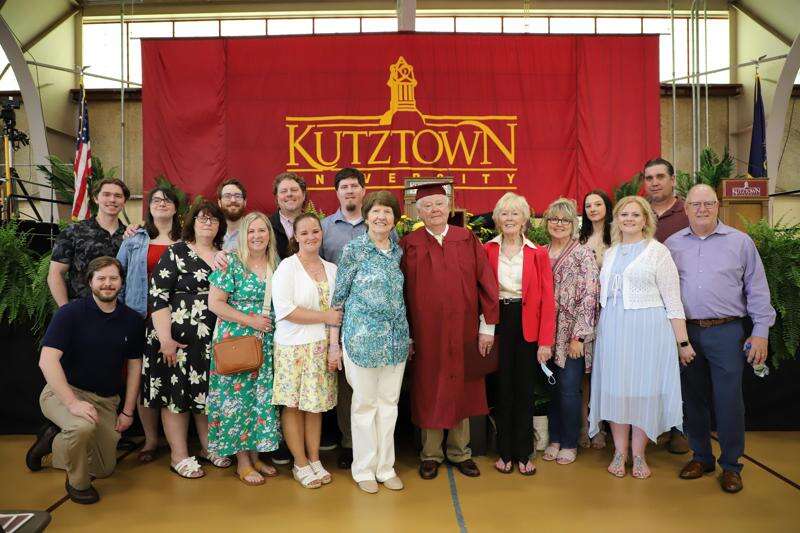 Published June 22. 2022 11:19AM
by
BY STACEY KOCH
skoch@tnonline.com
Take a moment to think about what you did in your late 70s, or think about what you see yourself doing at that age. Did it, or does it, include graduating from college? For Dennis O'Donnell, it does.
O'Donnell, who moved to Texas in 1978 but is a former resident of North Catasauqua, is a proud 2022 graduate of Kutztown University. The 79-year-old and his family members attended the university's ceremony in person May 14, and he received a Bachelor of Science degree in general studies.
During the graduation, O'Donnell, as well as a 19-year-old student, received a special recognition for graduating at the ages they did.
This is not the first time O'Donnell was a student at Kutztown University. He started his college experience in 1960 when he first enrolled at Kutztown. He left during his senior year in 1964. He initially was a math major but switched to general studies.
"I think part of it was I was burned out from the commuting and working and being 20 years old and having a lot of other stuff to do," O'Donnell said. "I really didn't value the education as much as I did afterward."
While in college, he worked at Acme Markets.
He then went into the workforce, working in data processing and conducting audits, with roles as senior analyst, manager and vice president. He retired at age 55.
"I was lucky enough to get into data processing, so I did OK for myself," he said.
He recently found out he could take the classes he had left to attain his degree - and that's exactly what he did.
"I've always thought about going back, and I happened to get in touch with a cousin who works at Kutztown, and I asked her if it were possible for me to complete my degree online. She checked for me and said it was, as long as I get good grades, which I have," he added.
O'Donnell took courses online in the summer and fall semesters of 2021 and the spring semester of 2022. He needed only 18 credits to graduate.
While working on those 18 credits, the lowest grade O'Donnell said he earned was a B+. He added he received many As.
"So I'm doing a lot better than I was when I was in school as a young person," O'Donnell said during an interview a couple days before graduation. "But then to be honest, I'm only taking a limited number of classes, so I have more time to spend on courses than most college students."
For the spring 2022 semester, O'Donnell took cultural geography and economic geography, which "were taught by the same professor, so that really helped quite a bit," he said.
O'Donnell said he has really enjoyed anthropology during the past three semesters.
In addition to the graduation, family and friends gathered May 15 to celebrate at Northampton Banquet and Event Center, 1601 Laubach Ave. Around 75 people attended.
"I'm just thankful that we can get together, especially given the concerns that are still out there over COVID-19. I don't get to see them very often," O'Donnell said, when talking about how excited he was to get together with many friends and family.
"[Our family is] so very proud of him and all that he's accomplished," said Denise Cowden, O'Donnell's daughter. "Sixteen of us traveled from Texas to Pennsylvania for the graduation ceremony and celebration."
The party also celebrated O'Donnell's sister-in-law, Irene Valek, who turned 94. Valek lives in Catasauqua and was a longtime resident of Northampton and Allentown.
Born in Northampton in 1942, O'Donnell stayed in Northampton until he was 4 or 5 years old, he said, then moved to North Catasauqua. He has also lived in Reading and Rhode Island.
Graduating from Central Catholic High School in 1960, O'Donnell recalled hanging out and playing at the playground around where he lived in North Catasauqua in the summer when he was young. He said he also played knee-high football.
After a few years at college, he became a volunteer firefighter with Whitehall Fire Department, working with the Hokendauqua station.
"I had a monitor in our apartment, and I would respond to calls," O'Donnell said.
O'Donnell thanks his knowledge of working with a computer because that made completing his degree online a lot easier.
"It feels like I've accomplished something I left open years ago," O'Donnell said. "In my career, I was kind of known as somebody who you could expect to get the job done. If I was hired to do a job, I got the job done, so it was something that was kind of open.
"When I started out, I was really concerned because the brain, when you're 79, doesn't hold as much information as when you're 20 years old. It's kind of saturated. But it seems like as [college] went along, [my brain] was better able to retain information," O'Donnell said.
"I'm just happy that I actually had the opportunity to be able to do it," O'Donnell said. "A lot of retired folks - they don't have the funds available or the ability or computer literacy to do it online, so I'm very thankful.
"I'm trying to figure out what I'm going to do after this. I kept busy day after day - studying, writing papers - so it's going to be kind of a balance."
When asked about pursuing a master's degree now that he has a bachelor's - "We'll see," O'Donnell said with a chuckle.