Salisbury Connie Mack on road to improvement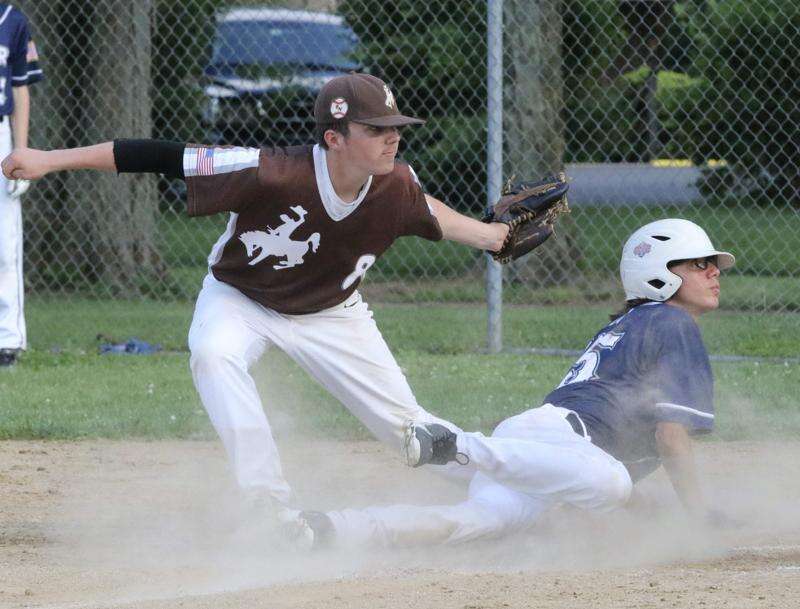 Published June 21. 2022 10:31AM
The Salisbury Senior Connie Mack baseball team is continuing to develop under first-year head coach Pete Spisszak.
Through last Friday the Falcons owned a 2-3 record and they are on pace to improve on last year's win output.
The two wins - a 3-2 triumph over Freemansburg on May 23 and a 1-0 win over Palmerton on June 1 - were both team efforts, with a particular focus on pitching.
Against Freemansburg pitcher Josh Holler fired five shutout innings with 11 first-pitch strikes and eight strikeouts. Jacob Watson and Caleb Gonzalez each had two base knocks. Nathan Nunez drew three walks in the win.
In the Palmerton game, Holler was simply awesome. He fired seven shutout innings and surrendered just three hits. He got ahead of most hitters, dealing 17 first-pitch strikes. Holler whiffed 11 batters. Teammate James Scialla provided the offense when he slapped one of two Salisbury hits and had the game's only run batted in.
One of the four loses was a doozy. It happened on June 6 when Salisbury hosted East Stroudsburg. After falling behind 3-0, the Falcons roared back, plating six runs in the last of the fourth inning.
In the top of the fifth, East Stroudsburg retaliated, scoring four runs to take a 7-6 lead, and then extended it further in the seventh with another five runs.
Down six runs, for Salisbury it seemed hopeless. But Spisszak's crew didn't quit. Instead the Falcons got busy. To paraphrase a radio station promotion "the hits kept coming." Salisbury plated five runs to close to 12-11. This rally came up short, producing a tough loss.
Gonzalez smoked four hits and had three RBIs against East Stroudsburg, while Mason Dickert produced four RBIs.