Four from EHS selected to McDonald's Classic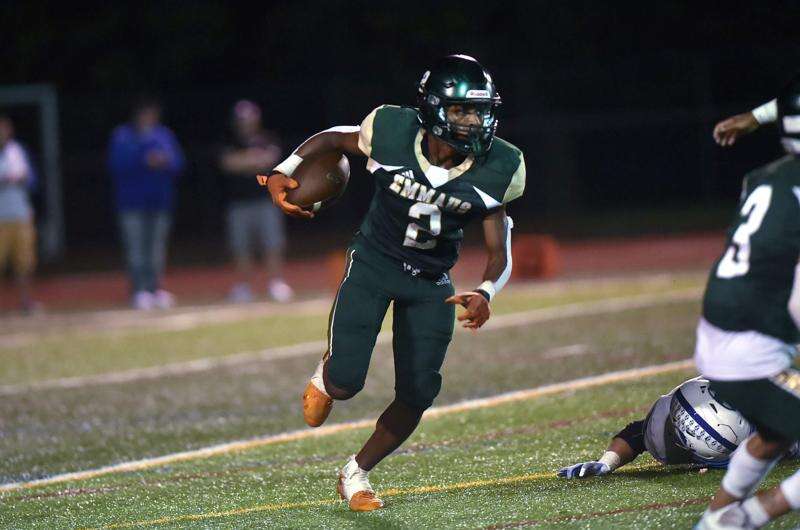 Published June 21. 2022 10:32AM
The annual McDonald's Lehigh Valley All-Star Football Classic is set for this Thursday, June 16 at Nazareth High School.
The game features senior all-star players from all of the Lehigh Valley who will compete in one final high school game. The Red will include mostly players from Lehigh and Monroe counties, along with Palmerton players from Carbon County. The Gold team is mostly players from Northampton County, as well as all-stars from Phillipsburg, NJ, Lehighton (Carbon County) and Palisades (Bucks County).
Four Emmaus players were selected to compete in the game, including wide receiver Jaiden Robinson, offensive linemen Dylan McHugh and Nick Davidson and defensive lineman Trevor Gitski.
The game kicks off at 7:30 p.m.
Here's a look at the rosters for this year's game.
RED TEAM
Player School Pos.
Terrence Jewell Stroudsburg WR
Chris Sell Dieruff WR
Dylan Smoyer Northern Lehigh QB
Ryan Blass Pleasant Valley WR
Jaden Bowens Pocono Mt. West RB
Robert Papaleo Pleasant Valley FS
George Europe Pocono Mt. West LB
Nico Medlar Parkland LB
Ron Blake E. Stroudsburg So. RB
Isaiah Armand Pocono Mt. West DE
Trevor Amorim Northern Lehigh WR
John Brennan Pleasant Valley DL
Ty Tremba Parkland QB
Bobby McClosky E. Stroudsburg So. QB
Colin Burdian E. Stroudsburg So. WR
Xavier Rodriquez Dieruff LB
Mike Lawrence Pocono Mt. West WR
Jose Almonte E. Stroudsburg So. RB
Taylor Wikert Northwestern DB
Dylan Osario E. Stroudsburg So. LB
Jaden Robinson Emmaus WR
Stephen Guy Allen DE
Elijah Soler Catasauqua LB
Andre Weeks E. Stroudsburg No. DB
Brett Misera Northern Lehigh DB
Alex Hafler Pocono Mt. East LB
Eithen McQuire Pocono Mt. East WR
Matt Frame Northern Lehigh RB
Lucas Heydt Palmerton LB
Colby Reyburn Central Catholic TE
Marc Ramos Parkland OL
Ben Dunstan Northwestern DE
Greg Soto Dieruff OL
Dylan McHugh Emmaus OL
Trevor Gitski Emmaus DL
Adler Billig Parkland OL
Donovan Jones Ea. Stroudsburg So. OL
Gabe Toth Catasauqua OL
Nick Davidson Emmaus OL
Gauge Hartney Lehighton OL
Carlito Miranda E. Stroudsburg No. WR
Willie Middleton Dieruff DL
Head coach: Shawn Daignault (Liberty)
GOLD TEAM
Player School Pos.
Tristan Canzano Phillipsburg RB/OLB
Zack Gillen Wilson WR
Lorenzo Feliciano Freedom OLB
Damian Simpson Wilson RB
Nick Petrillo Palisades DB/WR
Marcus Williams Easton RB/CB
Dan Macon Freedom LB
Javion Thompson Easton WR/CB
Kyle Evancho Easton S
Tyler Csencsits Saucon Valley WR
Cayden Stem Wilson QB
Dante Mahaffey Saucon Valley QB/DB
Nadir Sanders Notre Dame GP WR
Tim Pherson Phillipsburg WE/WR
Zakai Hendricks Wilson DB
Cole Dershimer Pen Argyl QB/LB
Cole Transue Easton QB
Deante Crawford Freedom RB
Damian Garcia Saucon Valley RB/DE
David Awuah Bethlehem Cath. DB
Broc Bender Nazareth OLB/TE
Kyle McGrath Palisades WR/DB
Nino Rizzolino Easton DE
Rai-Quan Dixon Phillipsburg FB
Luke Slack Phillipsburg OL
Ayden Kirby Bethlehem Cath. DE
Anthony Silfani Notre Dame GP DT
Josh Hoffert Notre Dame GP OG
Ethan Schweitzer Northampton DT/OT
Nathan Carr Palisades DL/OL
Liam Riexinger Palisades OL
Ryan Carroll Notre Dame GP DT
Juan Feliciano Freedom OL/DL
Stephen Hattala Bethlehem Cath. DE
Tarif Muhammad Notre Dame GP WR
Matthew Clark Easton P/K
Head coach: Dave Lutte (Dieruff)