Falcons fall in baseball quarterfinal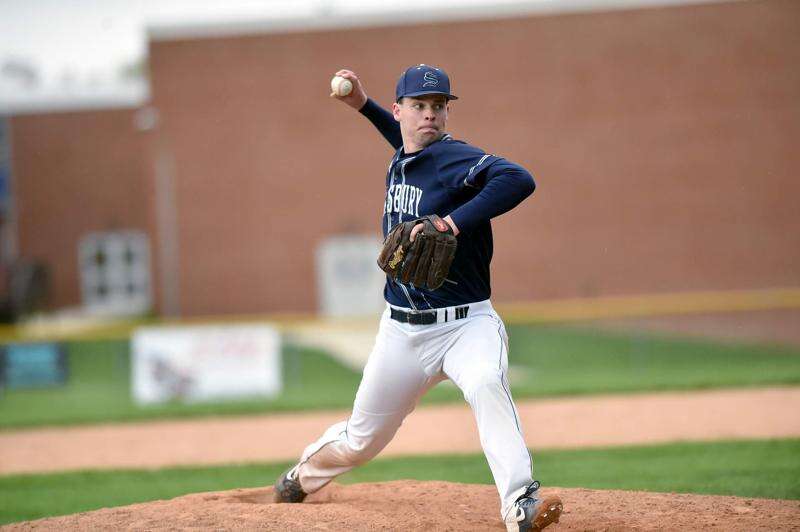 Published June 16. 2022 09:40AM
by ROD HECKMAN Special to the Press
It was only fitting that Salisbury's up-and-down season ended with an up-and-down game.
The Falcons fell behind against Palmerton in last Tuesday's District 11 Class 3A quarterfinal playoff game, but battled back twice to eventually take a lead.
Not only did Justin Aungst's club grab the advantage, but they tacked on runs late and looked like a trip to the semifinals was a mere formality.
But the Blue Bombers, after having run up Tim Schware's pitch count to force him off the mound, used some seeing-eye hits and some Salisbury miscues to rally for four runs in the bottom of the seventh inning to gain a stunning 8-7 walk-off victory.
"We went down early, but we did respond well," said Aungst. "We continued to put runs on the board, but a couple things went their way in the seventh with some softly hit balls and it is what it is.
"Until that last inning, our defense played really well. We had a couple of miscues there in the seventh, but overall I think we played a decent game. If we could make a couple of plays there and other things go our way, it would have been a different outcome."
The loss was a tough pill to swallow, but the fact that the team was there was noteworthy.
After starting the season with two 10-run wins and a victory over Northwestern, the club hit a rocky spell by losing seven of its next 10. The Falcons rebounded, however, and played better ball down the stretch.
They ended the regular season with a 9-11 mark, including a record of 8-10 in the Colonial League. That was good enough to earn them the sixth seed in the six-team 2A bracket.
"Well, obviously every year we want to make the postseason," said Aungst. "And we did. I think we performed well at times, but I think we also underperformed at other times. But we're really young, still. We lose four seniors, so we have a lot of guys coming back next year and a good core coming up, younger group coming up, so we'll look to take the next step forward.
"We started 4-1 and then we ran into a tough stretch, and then toward the end of the season we started playing well again."
A couple of Aungst's seniors played well, not just this year, but throughout their careers.
Schware, the team's ace, appeared in seven games and finished with a 2.22 ERA. He tossed 41 innings, allowing 37 hits and nine walks while striking out 61. Opponents hit just .218 against him.
At the plate, Schware hit a respectable .278 (15-for-54) with two doubles and 12 RBIs. Over his final nine games he was 10-for-27 for a .370 average.
Hunter Rothrock, meanwhile, was a table-setter near the top of the lineup.
The senior was an on-base machine, reaching on either a hit or walk in 20 of his team's 21 games - including the last 18. He finished the year with a .315 batting average (17-for-54), although he hit .400 (12-for-30) over his final 10 games. He walked 17 times and had an on-base percentage of .500, while leading the team in both runs (21) and stolen bases (21).
"Tim and Hunter, they've been here for four years and have been contributing for four years," said Aungst. "They've meant a lot. This (senior) group has been here since I started. This is the first senior class that's going to be going away that I've been with the whole time."
Also departing are TJ Polaha and Paul Spann. Polaha saw time in the infield, while Spann went 6-for-31 at the plate with seven walks, six runs scored and seven RBIs.
"TJ played third base the second half of the season for us and did a great job, and Paul - when he got his at-bats - usually put good ones together," said Aungst.
As Aungst said, a number of key contributors will be returning in 2023. Leading that group are Matt Nunez, Jordan Tocci and Lucas Graver - who will all be seniors next year.
Nunez hit .333, leading the team in hits (20) and RBIs (16), while also scoring 13 runs. Tocci, the team's catcher, hit an identical .333 with 16 hits - two of them doubles - and 14 ribbies. Graver, meanwhile, hit at a .264 clip. He was 14-for-53 with 10 runs and 10 RBIs.
Another key starter that will be back is Thomas Lovelidge, who was a sophomore this past season. He collected 14 hits and scored 12 runs, finishing with a .264 average. Lovelidge also logged 34 innings on the mound, walking seven and striking out 26 while posting a 2.06 ERA. Other sophomores coming back include Jacob Bucchin (.278, nine runs, six RBIs), Brady Leiner (five hits, three RBIs) and Jake Zellin (five hits, five runs, four RBIs).
"It's nice to have them get some experience in the postseason," said Aungst of his underclassmen. "Obviously, it didn't go our way (against Palmerton), but we can learn from it and move in the right direction."