Greenawalds Fire, Rescue recognized for 100th anniversary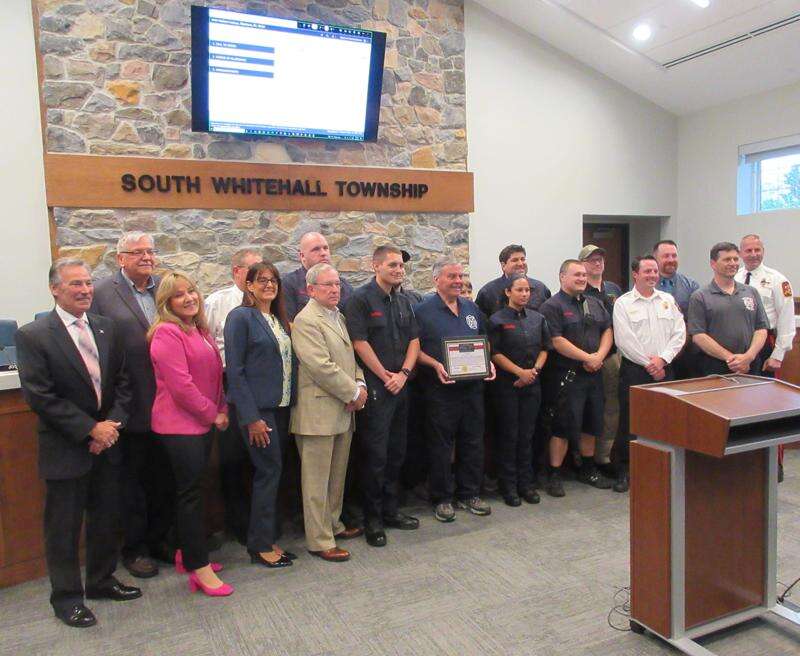 Published June 09. 2022 09:23AM
By MICHAEL HIRSCH
Special to The Press
South Whitehall commissioners awarded a plaque to Greenawalds Fire Company, Station 11, at the board's May 18 meeting.
The plaque, presented to fire company President Vinny Quinn and several other members of Greenawalds Fire Company read, "This incredible milestone of 100 years of service to the residents and businesses of South Whitehall Township.
"As a 100 percent volunteer fire department, comprised of approximately 75 active members, your fire suppression skills as well as rescue operations within the confines of the 17.1 miles of South Whitehall Township, are second to none! You are a valued and integral part of our community."
During courtesy of the floor, Allentown Mayor Matthew Tuerk introduced himself.
"I want be a good neighbor and say hello, I'm the new guy over in Allentown," Tuerk said. "One thing is to thank the administration in South Whitehall Township and especially (Police) Chief Dorney for working with us in the city of Allentown on a regional issue that we all face, which is the problem of the illegal operation of dirt bikes in Allentown.
"We asked members of our neighboring law enforcement bodies and neighbors, and our neighbors' administrations to work with us to develop solutions to this problem that we all face."
Commissioner Diane Kelly thanked Tuerk and said she appreciated his kind words and looked forward to continuing to build on a relationship with him.
There were several ordinances for advertisement dealing with adopting provisions of the 2018 edition of the International Building Code, one for commercial, residential and plumbing (commercial).
The fourth item regarded the property maintenance code. These ordinances were approved.
Commissioners also dealt with a resolution for KRE Spring View Commercial II amending a previous conditional preliminary/final approval.
The amendment addressed a condition required for a SALDO waiver.
The client had drone images he said showed the lack of traffic making turns on red.
Commissioners stated this is a public safety issue and did not want to state an opinion.
They voted to table the decision.
The developer will need to meet with the Public Safety Commission.
The Land Preservation Committee Report was discussed, and Commissioner Brad Osborne began.
"Commissioner [Mike] Wolk and I are on the Land Preservation Committee," Osborne said. "We are interested in giving a presentation this evening but a couple of things to start out with.
"The Land Preservation Committee in South Whitehall was restarted about a month ago with the promise that Commissioner Wolk and I would begin working immediately on fulfilling the interests of this board and preserving open space."
The presentation showed the purpose of the presentation was to provide recommendations to the board and for them to provide direction on the recommendations.
The presentation showed that in 2001 there were 52.1 percent developed acres in South Whitehall Township's 11,000 acres and 49.2 percent undeveloped acres.
In 2022, there are 55.8 percent developed, 6.5 percent preserved, 44.5 percent undeveloped, and 1.5 percent acres approved for development.
There is a potential to preserve an estimated 1,000 acres.
A goal is to develop an open space referendum.
The presentation ended with a chart titled "Lehigh County preserved farms by municipality."