Commendation ceremony honors those who saved a two-year-old in cardiac arrest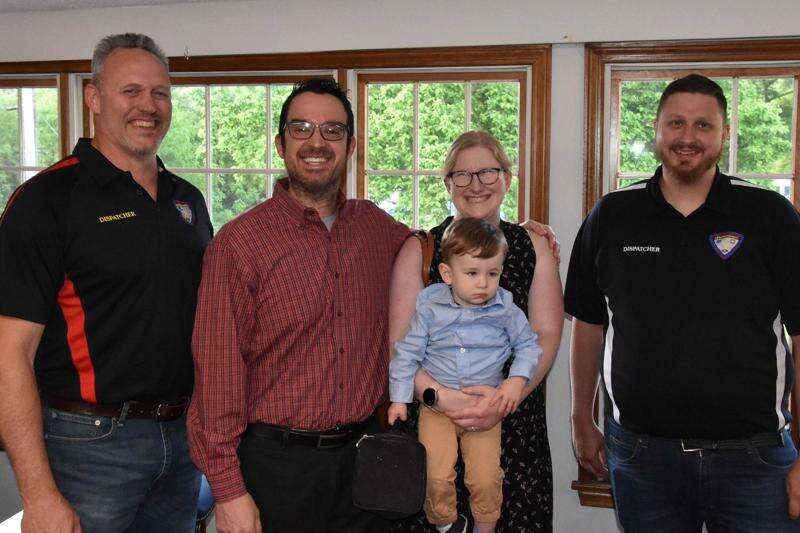 Published June 08. 2022 04:50PM
A host of family, friends, first responders and hospital personnel gathered at the Lower Macungie Township Building, along Brookside Road, June 2 for a commendation ceremony for those involved in reviving and providing medical assistance to 2-year-old Andrew Hammerman, who went into cardiac arrest in March at a Wescosville preschool child care facility.
Christopher Greb, executive director of the Macungie Ambulance Corps, who narrated the ceremony, described the event.
"On March 22 this year, just before noon, 20-month-old Andrew Hammerman was going about his normal day at a Wescosville preschool facility. For a still undetermined reason, and without warning, Andrew became unresponsive, stopped breathing normally and his heart stopped beating.
"Employees at the school, utilizing CPR skills they learned at work, quickly began CPR and called 911. The 911 center quickly dispatched the call to our organization, Macungie Ambulance Corps. We responded with multiple responders. The first ambulance arrived four minutes after dispatch."
EMS crews continued CPR, administered emergency medications and provided two electrical shocks to restart the child's heart, all during the 12 minutes from the time they arrived on scene until they were at the children's emergency room at Lehigh Valley Hospital – Cedar Crest Campus.
"After the second shock, the child's heart began beating on its own.
"For the next several days the child remained sedated. While his heart had started beating again, nobody knew if his brain had survived. The child was transferred to CHOP (Children's Hospital of Philadelphia) where he later awoke. Thanks to the fast actions of bystanders, the 911 center, emergency responders and hospital staff, Andrew has made full recovery," Greb related.
"Pediatric cardiac arrest is rare in the United States," Greb said. "Survival from pediatric arrest with a good neurological outcome is even rarer. This little guy is able to be here before you today thanks to the fast actions of the bystanders at the school, CPR instructors who lend their time and talents to teach others, 911 dispatchers, EMS professionals and a health care system that all came together to save his life."
Greb noted the ceremony was taking place during national CPR and AED awareness week which started June 1. Greb encouraged those in attendance to learn cardio pulmonary resuscitation, saying "anybody can save a life. While there is value in formal training and certification, there is also value in simply knowing how to pump hard and fast in the center of a chest for someone who is unresponsive and is not breathing or is breathing abnormally."
The Lower Macungie Board of Commissioners presented citations to the staff of the preschool, CPR instructor Al Leitgeb, 911 Call Center dispatchers Shane Devlin and Gary Focht, Macungie EMS crew members Rachel Diehl, Rachel Dalia, Josh Lee, Cory Allen and Christopher Greb and the Lehigh Valley Hospital Children's ER and Children's Hospital of Philadelphia.