Liberty baseball advances to championship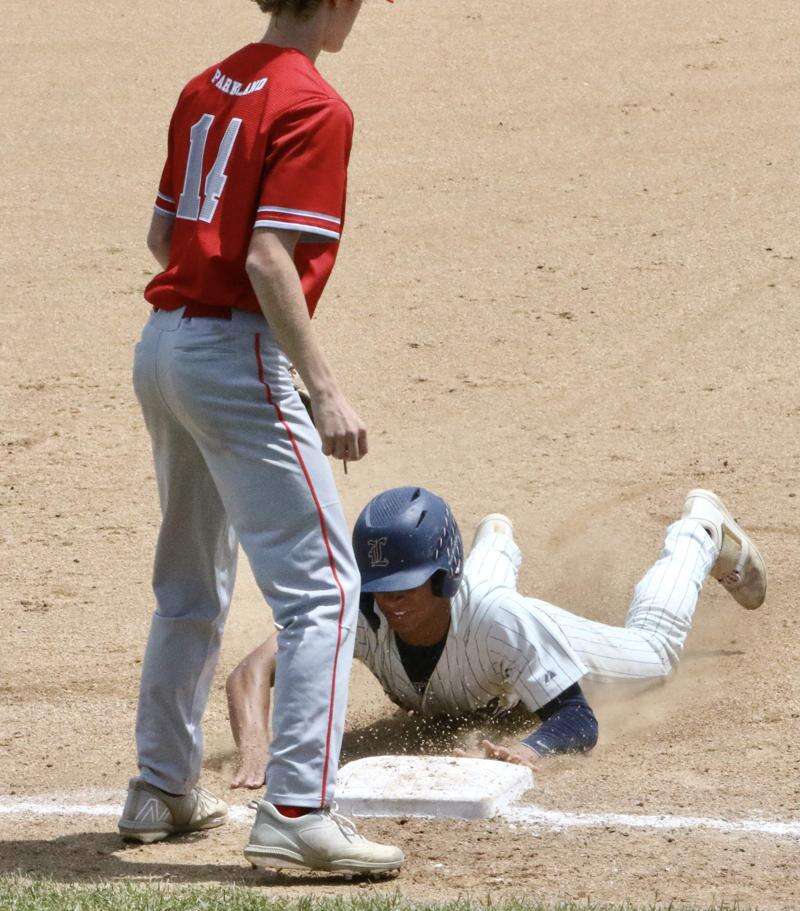 Published June 02. 2022 07:23PM
Reece D'Amico is an intense player. He was visibly upset when a defensive miscue left home plate uncovered when he had to leave his position to field a ball, resulting in a run for Parkland in the 6A semifinals on Sunday. Ironically, D'Amico was alert enough to see the Trojans defense do the same thing in the bottom of the seventh inning and D'Amico scampered home from second base to score the winning run in a 5-4 game and put Liberty into the 6A finals and give them a spot in the PIAA tournament which begins next week.
"I knew I had a good jump going to third and I took a peek home and saw the catcher left his spot," D'Amico noted after the game. "I just didn't hesitate, I just reacted, and I made the right play. I just trusted myself and it unfolded for me the right way."
Both teams struck early with the Trojans getting a first inning run on a couple of singles and a ground ball that brought home Jesse Ruisch from third to put Parkland up 1-0. When Liberty stepped to the plate, Braylen Gonzalez worked a leadoff walk and went to second on a base hit by D'Amico. From there, Gonzalez stole third and scored on a wild pitch. Liberty went on to get two more runs in the inning when Noah Gyauch-Quirk doubled with runners on first and second, putting the Hurricanes up 3-1.
Parkland continued to keep pressure on Liberty starter Jacob Rivera and punched through a couple of runs in the third. Andrew Keller led off with a single and Blake Barthol followed with a walk, giving Parkland two baserunners with no outs. Luke Meehan dropped a perfect sacrifice and Sean Superka delivered a two-run single, knotting the game at 3-3 before Rivera ended the rally with two strikeouts.
Meanwhile, Liberty was having a problem figuring out Parkland starter Owen DeLong. From the second through fifth innings, the only runners Liberty put on base came by walks, hit batters or a fielder's choice. To add to the frustration, Parkland put up a go-ahead run in the fourth, thanks in part to a leadoff walk to Michael Cole, who came around to score by way of a sacrifice, an infield single and the defensive miscue by Liberty as Parkland went up 4-3.
DeLong had faced a heavy pitching load of late and Parkland coach Kurt Weber made the decision before the game started that DeLong would only go five innings and Barthol would take over on the mound for the final two. Gyauch-Quirk picked up a one-out single against Barthol and promptly stole second. An out and a walk later, Tommy Mason tied the game with a single to left, bringing home Gyauch-Quirk.
The bottom of the seventh opened with J.C. Spinosa getting hit by a pitch. Spinosa was picked off first by Barthol, leaving the bases empty for D'Amico, who hit a ground ball to third that was misplayed, putting him on first and Liberty added a runner when Hayden O'Neill worked a walk. With two runners on and one out, Ayden Zabala bounced a ball to the first side of the diamond between the mound and the plate and when both the pitcher and catcher went to make the play, D'Amico turned in his heroics, dashing home from second on the groundout.
"This is something I have been working for since last year. Even going into last year, I wanted to win a championship and we fell short. That just gave me and a lot of these guys a chip on our shoulders," said D'Amico. "Since offseason, it was our goal to get the district championship back. A lot of people didn't believe we would be back this year because we have a young team, but I knew we could get back here because this team is just as good as it was last year. It feels good to finally get this one."