Kids top Bethlehem Catholic in EPC softball showdown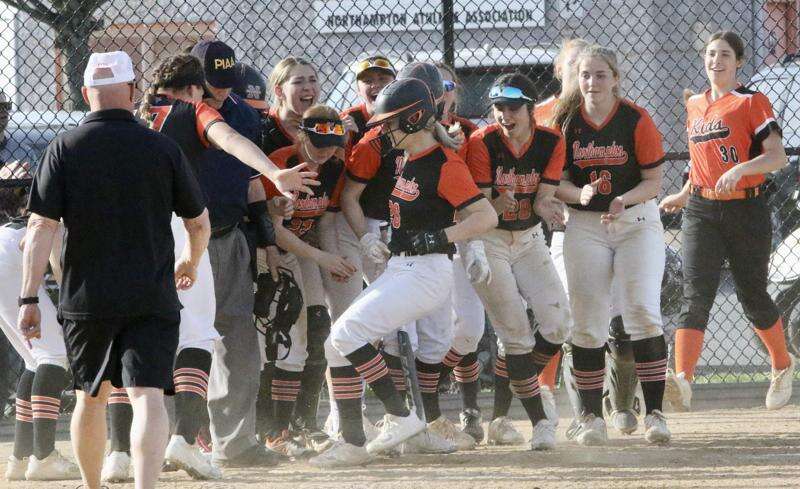 Published April 27. 2022 08:28PM
It was billed a battle of unbeatens early last week until Bethlehem Catholic lost to Parkland a day before facing Northampton, the only unbeaten softball team left in the East Penn Conference, and the Konkrete Kids still were after defeating the Golden Hawks, 8-7, last Friday at Northampton.
"We've had some massive comeback wins, but this might be the biggest one we've had," said Northampton coach Kristy Henritzy, visibly overjoyed on Friday night. "We have a big target, and it just gets bigger and bigger with each win, and this one makes it bigger."
The K-Kids trailed all game by as much as four runs.
The Hawks, who were without head coach Rich Mazza, sidelined after a car accident near Becahi on Apr. 14- "He's doing fine, in a neck brace," said interim coach David King- scored their runs in pairs, the first two on a home run by Hailey Pyle.
Beca's next two runs came on Jordan Merklin's homer in the third inning, and Leah Chladny's double along with Sarah Banko's base hit put two more runs on the board for the Hawks in the fifth.
At that point, Northampton had two runs under its belt and trailed 6-2.
"She did have some quick innings," said Coach Henritzy of Becahi pitcher Emma Bond. "She's a great pitcher and keeps us off balance."
But the Kids would score their own pair of runs in the bottom of the fifth when Angela Fisher's hit dropped between first base and right field.
Becahi catcher Teighan Boyle sent a ball over the center field fence in the top of the sixth inning, and the Hawks went up, 7-4.
"We haven't experienced too many times this season where we've been down that much, but I think it was a test today to show how hard we can come back and push," said Northampton first baseman Devyn Demchak. "Not one girl in that dugout gave up today."
After multiple, fouled-off pitches to leadoff hitter Emma Fraley in the bottom of the sixth inning, Bond achieved the strike out.
But Lily Stuhldreher knocked a single just inside the line beyond first base, and Hannah Makovsky's home run to left field put the K-Kids within one run.
"I was really nervous going into that at bat because she got me two times before, and I struck out, but I was really excited and wanted to hit that ball," said a clearly thrilled Makovsky. "It felt like a big hit, and I wasn't sure, but when I saw the depth of it going, I was like, 'Oh, that's gotta be over,' but still, when I spun around, he was like, 'It's over, it's over,' so I was so excited. And my team, they all came out, and I was on top of the world. I think, after that, we knew we were gonna win this together, and that's what we did."
Rilee Ehrlacher, whose double play ended the Hawks' sixth inning, reached second base when her hit took a bad hop in the infield, bouncing into the outfield, and Taylor Kranzley's double tied the game.
"We had a runner in scoring position, so I knew I had to come up big. It was right up the middle and felt good off my bat," Kranzley said. "It was exciting because we didn't have a lead all game, so it was good to get back in it. We had trouble stringing hits together, but in that last inning, we finally did."
Demchak, who saved her best at bat for last, knocked a double to left center that ended up being the game winner.
"I was, honestly, the most relaxed I'd been all game," Demchak said. "I was trying to get an outside pitch because I like to crowd the plate a little bit, and that's what I got. I love the pressure, you know. Right away, once I hit it, I saw the angle and knew it was getting down in the gap between center and left."
Winning pitcher Kaira Zamadics preserved the K-Kids' one-run lead with a strike out, a fly ball, and a ground out in the seventh inning.
"Coming into this game, it was the battle of the unbeatens, I think I saw earlier this week, and we'd been waiting. This was the third time we were rescheduled, the hype was building, big crowd here. It's just good softball," said Coach Henritzy. "I'm so excited about the sport of softball when it comes to this moment. Coming out on the other end with a win is big, but it's exciting for all of this to happen."