Boys still searching for consistent play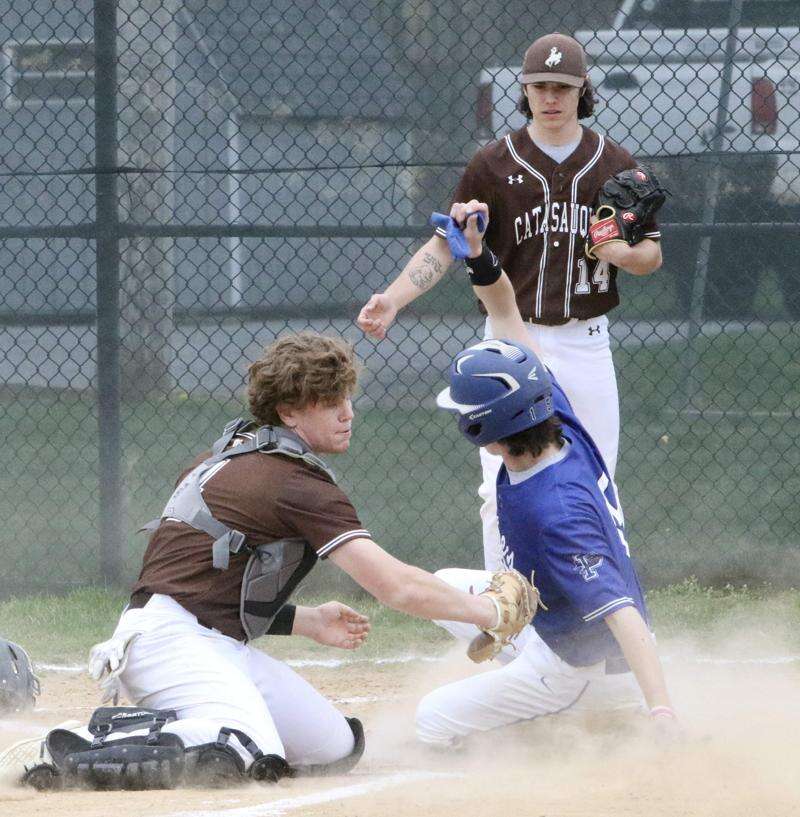 Published April 27. 2022 08:27PM
Catasauqua's baseball team search for consistency hasn't found any solid footing.
Heading into this week, the Rough Riders will begin the week with an overall 5-8 record, having seven games left to possibly land a district playoff spot. The Roughies qualified for districts last season, but they had an early exit against Palmerton.
"The guys still think they can get it done," said veteran head coach Steve Bradley. "We pulled out some games where it was difficult, but we also let some slip away from us.
"That's how it has to be down the stretch. We have to win the games we believe we can, and we'll have to steal some. If we can play fundamentally sound, we certainly have a shot."
The Roughies came off a 10-4 loss to Palmerton in which they were held to four hits. Senior Dominic Gorr knocked in two runs. Junior McKay Lewis was touched for seven runs in two innings, and fellow junior Bryann Rivera issued four hits over five innings.
A few days earlier, the Roughies registered a vital, 4-3 win over Wilson. Senior Brandon Jenny struck out eight over 6.2 innings, as he allowed five hits and two earned runs in his 104-pitch performance. Gorr had two hits for the Roughies. Lewis recorded the final out to pick up a save.
"That was a big win for us," added Bradley. "We really needed that. Brandon pitched very well, and he kept them off balance.
"We played well, and that's how we have to play the rest of the way."
Jenny leads the Roughies ' staff with an overall 2-2 record with a 3.08 ERA. He has recorded 58 strikeouts in 34 innings.
Gorr leads the Roughies in hitting with a .346 clip and has five RBIs. John Pushkar has a team-high seven RBIs and a .308 average.
Bradley also believes freshman Aiden Hess can continue to be a regular contributor.
"'He (Hess) had a good game against Wilson," said Bradley. "He had a big hit and made some plays in the field.
"He is making progress, and we believe he can have an impact on the team."
The Roughies will begin the week at Salisbury Tuesday, host Southern Lehigh Wednesday, and travel to Bangor Thursday.
"This is a big week," stated Bradley. "If we can pull two of these out, we'll be in better shape."