Zephyr boys fall to Liberty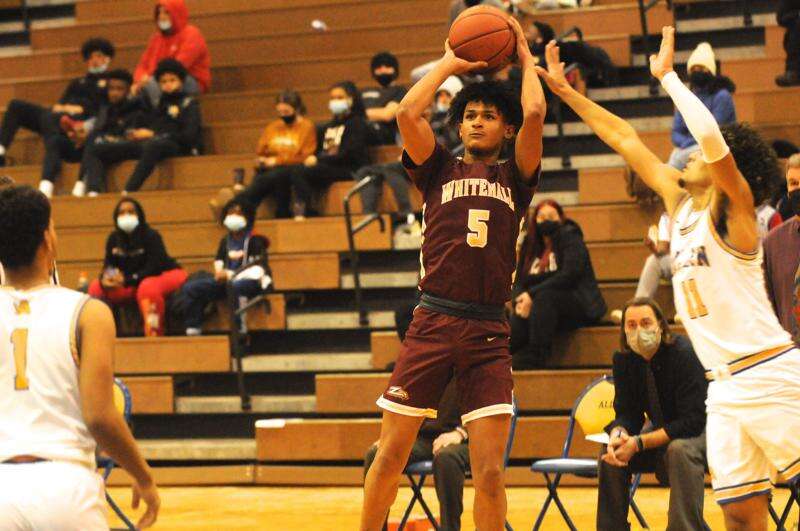 Published January 13. 2022 11:57AM
In a hard fought, Saturday afternoon, East Penn Conference battle, the Liberty Hurricanes stayed just one step ahead of the Whitehall Zephyrs to come up on the winning end in overtime, 49-45, at Liberty.
"Whitehall's well-coached, Coach Jones does an unbelievable job, and they run really good stuff. They run a man and a zone that gave us some trouble, but credit to our guys for staying together and making the plays when they were there," said Liberty coach Nigel Long.
The Zephyrs led 39-36 with 1:40 remaining in regulation on a putback by Ray Jackson when Hurricane guard Josh Farrell tied the game on a three pointer 30 seconds later. Jackson had given the Zephs their first lead of the fourth quarter on a layup after a steal.
Liberty regained possession with :20.8 on the clock, but Whitehall held off the 'Canes to head into overtime.
"These kids have played hard all year. Every single guy that got in there, whether it was the first five or the subs, we didn't have a problem with playing hard," said Whitehall coach Jeff Jones. "Just disappointed we didn't make enough plays down the end. We missed some free throws, and we can't be three-for-nine in an overtime game. It obviously is pretty painful."
A three pointer by Whitehall's Ian Werner with 3.3 seconds left in overtime gave the Zephyrs some hope, trailing 46-45, but Liberty's Joseph Barnes, who missed the second of two free throws, was fouled on the rebound and converted on the next two foul shots.
Back-to-back threes by Liberty's Nate Rivera early in the second quarter prompted a timeout for Whitehall, and the Zephyrs came back with two layups by Tommy Buskirk and Alex Derkits off two turnovers, a bucket by Werner, and four more points by Derkits.
"Alex is probably our go-to guy," said Coach Jones. "He's able to create shots for himself, he's our leading scorer, and he showed that tonight for sure."
In the meantime, Rivera's threes and Nazjah Jones' plays in the paint continued to tally points for the 'Canes.
"We talk a lot about playing inside out," said Coach Long. "Nate has been unbelievable this year, and he's one of the better three-point shooters in our league, and we do feel like we have size and down low, and it's just great complimentary basketball."
Barnes and Rivera were Liberty's top scorers with 12 points apiece, and Derkits had Whitehall's team high 14 points.
"We had good shots in the first half that didn't fall. I thought defensively, we made some really good adjustments at halftime to limit what they were trying to do. They just made one or two more plays than we did at the end," Coach Jones said.