ACC holds off Trojans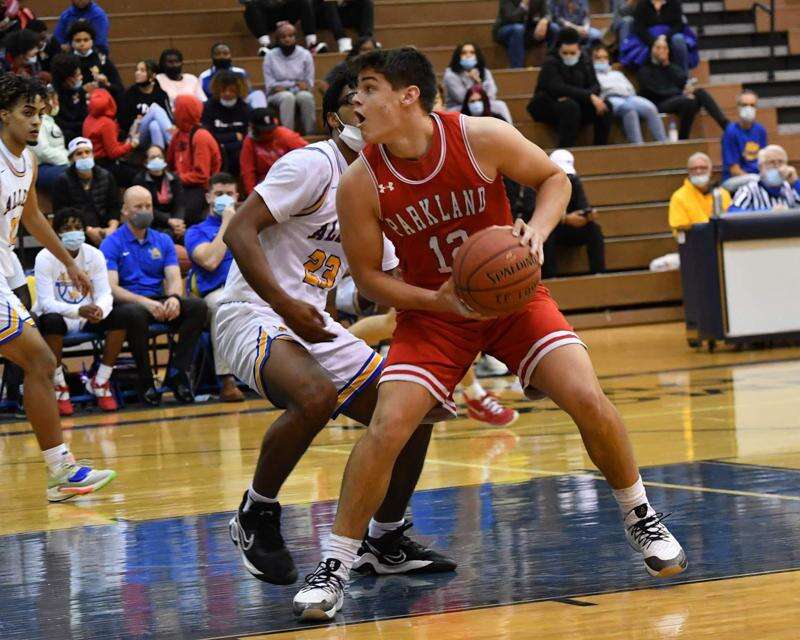 Published January 13. 2022 11:40AM
Playing in front of a packed gymnasium that made it sound like a postseason game for the first time in two years, the Parkland High School boys basketball team was neck and neck with Central Catholic last Friday night at Rockne Hall, looking for a marquee win on the road.
The Trojans trailed by double digits in the fourth quarter and battled back to pull to within just one basket in the waning seconds. A last-second, game-tying effort did not fall as Parkland was downed 55-53 by the Vikings in an Eastern Pennsylvania Conference West Division game against two of the top three teams in the division, both of whom were undefeated in league play entering the night.
"You never want to lose, and I'll lose sleep over this one," said Parkland head coach Andy Stephens. "But in a loss, the fact that they showed that much resiliency will pay dividends in the long run. That said, we've got to get back on track and start winning some of these close games."
The defending PIAA Class 3A state champion Vikings (10-1 overall, 7-0 EPC) led by as many as 12 points in the fourth quarter, but had their lead cut to 54-52 when senior Will Meeker, who was instrumental in the comeback effort, drove to the hoop and scored with 57 seconds left on the clock.
Meeker, who scored 10 of his 17 points in the final frame, stole the ball moments later and sophomore Nick Coval was then sent to the free-throw line. Coval made one of two shots to cut Central's lead to one point.
The Vikings' Liam Joyce then converted the front end of a 1-and-1. Parkland (7-4, 6-1) regained possession and took a timeout with 22.8 seconds remaining.
With a chance to tie or win the game in their final possession, the Trojans had their last-second shot bounce off the rim and out.
"If we play them again in a playoff and win that one, this one won't matter," Stephens said. "We're trying to get better. I've been doing this for 25 years and it's a long process. You don't want to lose, and you don't want to get used to losing. In the three other games we lost, we had a lead and then kind of fell apart in the fourth quarter. Tonight, we were down and showed resiliency in coming back, so it was a different type of loss."
The Trojans trailed 30-26 at halftime before Central took command with a 10-2 run to open a 40-31 lead midway through the third quarter. It was 45-35 after three quarters and early in the fourth quarter, the Vikings were up 49-37, but the Trojans never gave up.
Coval scored 11 points to lead Parkland, while Matt Bauer tallied eight and Matt Rantz had six with two of his baskets coming via one-handed dunks.
Parkland defeated East Stroudsburg North Tuesday and will host Emmaus on Thursday night and Stroudsburg on Saturday.