Two-alarm fire guts Fogelsville home One cat dies; another saved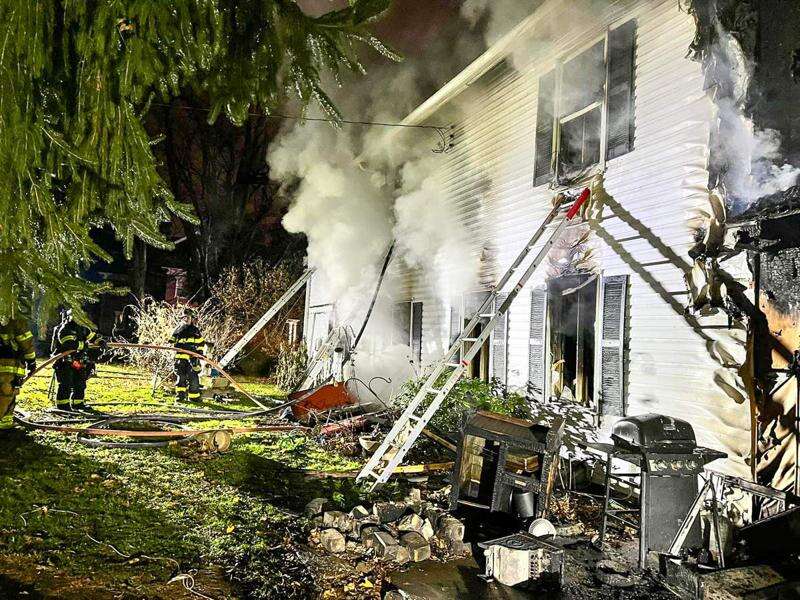 Published December 13. 2021 10:14AM
By Susan Bryant
LOU WHEELAND
Special to The Press
Volunteer firefighters with Fogelsville Station 8, Goodwill Fire Company, Trexlertown, Station 25, and Upper Macungie Township Station 56, along with Cetronia Ambulance Corps, were dispatched 1:37 a.m. Nov. 30 for a dwelling fire at 8123 Main St., Fogelsville.
According to Fogelsville Fire Company's Facebook page, information provided to firefighters was the fire was a possible chimney fire and a female on the second floor was unable to exit.
A second call reported it was a kitchen fire and the female was still inside.
Fogelsville Engine 811 was first on scene and called in a working fire.
Fogelsville Fire Chief Doug Gernerd requested a Rapid Intervention Team from Greenawalds Fire Department, South Whitehall, and an engine from Cetronia Fire Department. The Fogelsville Engine 811 crew tried to gain entrance to the second floor, but were met with heavy smoke and heat.
Upper Macungie police reported a female was hanging out the second story window.
Chief Gernerd grabbed a ladder and went around to the back of the building, but the woman had jumped.
A call went out for emergency medical services and police to attend to the woman.
A second alarm was then requested bringing Lower Macungie, Alburtis, Weisenberg, Tri-Clover, Schnecksville and Woodlawn fire departments.
According to Weisenberg Volunteer Fire Department's Facebook page, Weisenberg's Truck 5131 and Tanker 5121 responded to the second alarm.
"We assisted with water supply, laddering the building, and provided personnel," the Facebook page states.
According to Fogelsville's Facebook page, crews had a tough time with the fire because of the type of construction and also the remodels.
Crews remained on scene for a few hours until the fire could be brought under control. Two occupants were taken to the hospital and were in stable condition.
According to Lehigh County Assessment records, the building is divided into three apartments.
Two firefighters were taken to the hospital.
One cat was saved, but unfortunately, another died.