Jennings gets MAC honorable mention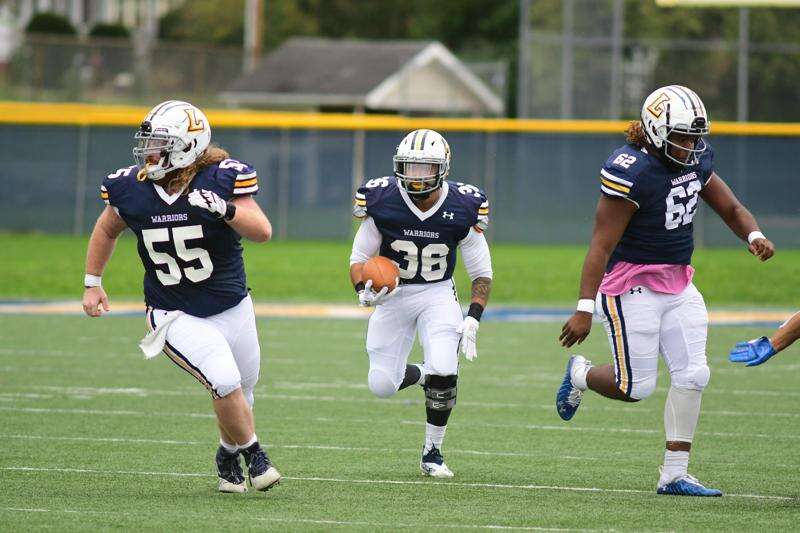 Published November 24. 2021 08:07AM
by JEFF MOELLER Special to the Press
When he began his career in the Lycoming football program, Dan Jennings was projected as a defensive lineman for the Warriors.
Now, three years later, the former Salisbury standout was recently named as an honorable mention selection as an offensive lineman for the Middle Atlantic Conference team.
It has been quite a transformation that has paid dividends.
"When I first came here, I thought I was going to be an defensive lineman," recalled Jennings. "I was a lineman on both sides of the ball at Salisbury.
"But they thought I could be more effective as an offensive lineman. I was just used to run blocking at Salisbury because we ran the ball a lot. I discovered there was a lot more to it."
Jennings noted the finer points behind the technique. It proved to be successful this past season, as he started all 10 games at center for the Warriors. He helped the Warriors finish fourth in the league with an average of 25.5 points per game and 313.2 yards of total offense. The Warriors also finished with an overall 8-3 mark and were the MAC Centennial Bowl Series champions this past season.
"It was about using your hands and feet," he said. "When I came here, I had some pretty good run-blocking techniques. But I had no idea what a kick-stop was in pass blocking. I knew I had to learn a number of things, and it did take some time.
"Now, I feel pretty comfortable about everything."
Jennings was excited and anxious about this season after some adjustments his freshman year and a season that was wiped out last year due to COVID-19.
"When I came here, they wanted me to be a tackle, and I played some," he said. "We were looking forward to last year because we thought we could have had a pretty good year.
"It turned out to be pretty disappointing because of COVID last year. I was looking forward to this season."
Jennings found a comfort zone in Lycoming that compared to Salisbury.
"I looked at a few schools, but across the board Lycoming really was the best option for me," he stated. "I just felt really at home with everything once I made a visit."
Jennings is working toward a degree in history and secondary education, and has aspirations of being a social studies teacher.
"I want to go into education," he said. "I had some good social studies teachers over the years, and I always have loved history.
"I knew this is what I wanted to do with the rest of my life."
He also would like to stay involved with the game.
"I want to be a teacher and a coach," he stressed. "Putting those two things together is the best choice for me.
"I started playing football when I was very young, and I always felt it was going to be the sport for me. I want to be able to give back to the game."
Jennings credited his parents, Richard and Karen, for their constant support, along with current Salisbury head coach Andy Cerco, and social studies teacher Barry Frick for playing integral roles in his life.
"My parents always encouraged me to do what I love to do," he said. "Coach Cerco helped prepare me well to play the game and was a great mentor. I enjoyed Mr. Frick's classes, and he also is a good role model."
From here, Jennings is confident he can enhance his Warriors' career.
"I've learned a lot and I feel pretty comfortable," he said. "I know I have to start working, and am looking forward to what I can do next season."