Donaldson earns Patriot League's Offensive POY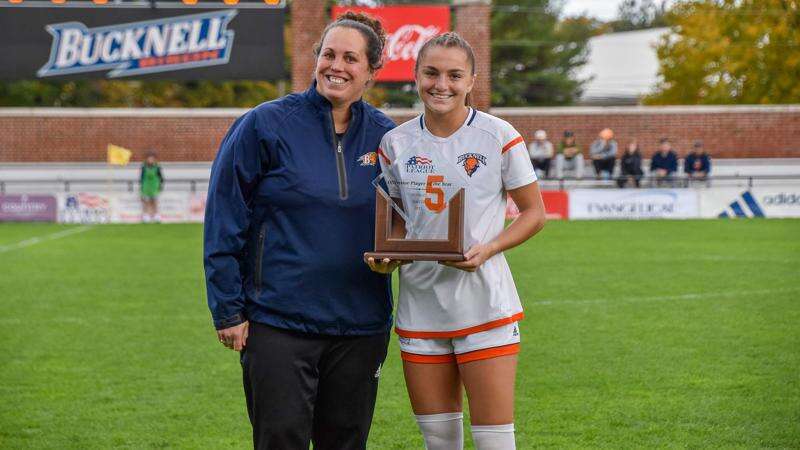 Published November 24. 2021 08:07AM
Rylee Donaldson recently completed a breakout junior season at Bucknell University. The Salisbury High School graduate and her Bison team won the Patriot League championship and qualified for the NCAA Tournament.
"My time as a student-athlete at Bucknell so far has been nothing short of amazing," said Donaldson. "I have thoroughly enjoyed every second of it and can't imagine my experience any other way. Being a student-athlete at Bucknell provides the best of both worlds. I have the opportunity to take challenging classes and be a part of a soccer program that challenges me daily. The team environment is unmatched and our chemistry on and off the field makes being a part of Bucknell women's soccer so enjoyable.
"I chose Bucknell out of Salisbury because of the high-level academics and athletics in the Patriot League. Bucknell is the full package and is such a great fit for me. I have the opportunity to be on the soccer team, but also focus on my classes and be involved in multiple other clubs on campus."
The Bison finished 11-8-3 overall and 5-2-2 in the conference, defeating Boston University 1-0 in the Patriot League championship game.
"This team has worked so hard this season and it is only fitting that we capped it off with a Patriot League title," Donaldson said. "Everyone consistently brought intensity and the commitment to getting better each day. It showed our desire to do big things this year. Winning the title was an unreal feeling and to do it with this team and this senior class was so fitting. We are such a tight knit group and we had our eyes set on the title since preseason began, so bringing it home to Lewisburg brought everything full circle.
"We were super excited to go back to the NCAA tournament. It was the first time I was able to attend since playing here at Bucknell. To win the Patriot League Title was amazing, but going even further and playing in the tournament was a really cool feeling."
Donaldson concluded her junior campaign with 10 goals and an assist for 21 points. She took home major hardware in earning the Patriot League's Offensive Player of the Year honor.
"Winning Offensive Player of the Year was an awesome accomplishment," said Donaldson. "I worked really hard this summer to train and prepare for this season and I set a lot of goals for myself. I wanted to play an integral role on my team, and being able to put goals away was a huge goal of mine. My team pushed me to be better every single day at practice and I went into each game ready to perform and make things happen. To be a part of such a great offense this year and be able to score 10 goals was so much fun, and winning Offensive Player of the Year was the icing on the cake."
Following her senior year next year, Donaldson plans on attending law school. Her successes in the classroom and field have been credited due to her time at Salisbury.
"Salisbury prepared me for Bucknell by always pushing me in academics and athletics," Donaldson said. "The Salisbury environment is one that I am so thankful for and I truly think it equipped me with the tools to be successful here at Bucknell."