Good Shepherd Rehab adds three Trexo robotic trainers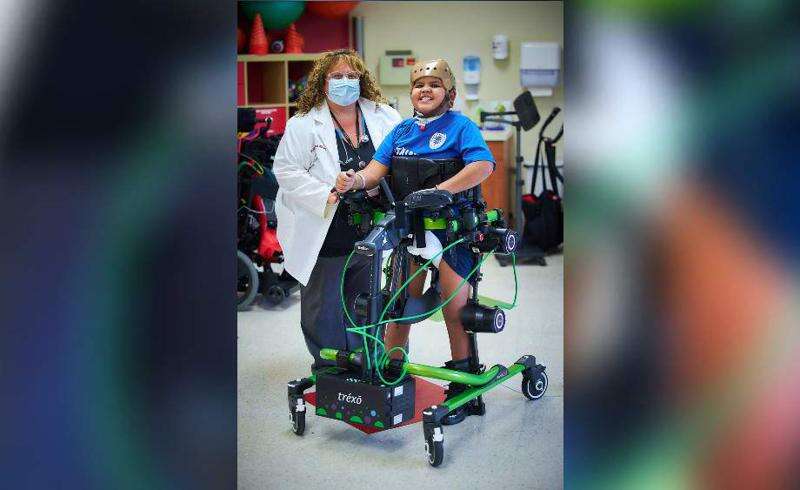 Published November 19. 2021 10:59AM
Good Shepherd Rehabilitation Network has added three Trexo Plus robotic gait trainers to its leading-edge rehabilitation technology that helps children walk, maybe even for the first time in their lives.
Good Shepherd becomes the only inpatient rehabilitation provider in the United States to offer all three sizes, small, medium and large, of the wearable robotic gait training technology.
In total, Good Shepherd has use of six Trexo devices in Allentown and Bethlehem.
Additionally, Good Shepherd is the only health-care provider on the East Coast to offer all three sizes, small, medium and large, for outpatient rehabilitation.
Trexo's brightly-colored robotic legs allow children diagnosed with cerebral palsy, pediatric stroke, brain injury, spinal cord injury, gait disorders or other mobility challenges to walk hands-free in a safe, correct and consistent manner, all under the watchful eye of trained Good Shepherd Pediatrics team members. Children can walk farther as they gain strength through the weight-bearing design.
"This life-changing technology helps children from ages 1 to teens wire new pathways in the brain to learn or relearn motor patterns, strengthen themselves and maximize their functional development," said Kimberly Kuchinski, MD, MPH, Medical Director, Pediatric Physical Medicine and Rehabilitation, Good Shepherd Rehabilitation Network.
"The ability for our families to have access to this technology, whether they are with us for inpatient or outpatient rehabilitation, is extraordinary, and provides a seamless continuum of care," Kuchinski said.
The Trexo technology is available exclusively at Good Shepherd's South Allentown campus, 850 S. Fifth St., and Good Shepherd Rehabilitation Hospital Emily Howatt Pliskatt Pediatric Unit, 2855 Schoenersville Road, Bethlehem.
Good Shepherd received its first Trexo device, a medium size, for children ages 3-6, in 2019.
Good Shepherd is conducting a research study into how the device impacts children with cerebral palsy. Families from across the U.S. have inquired about the technology and research study.
Information: https://www.goodshepherdrehab.org/pediatrics/ ;1-888-44-REHAB