Nazareth can't slow Hornet offense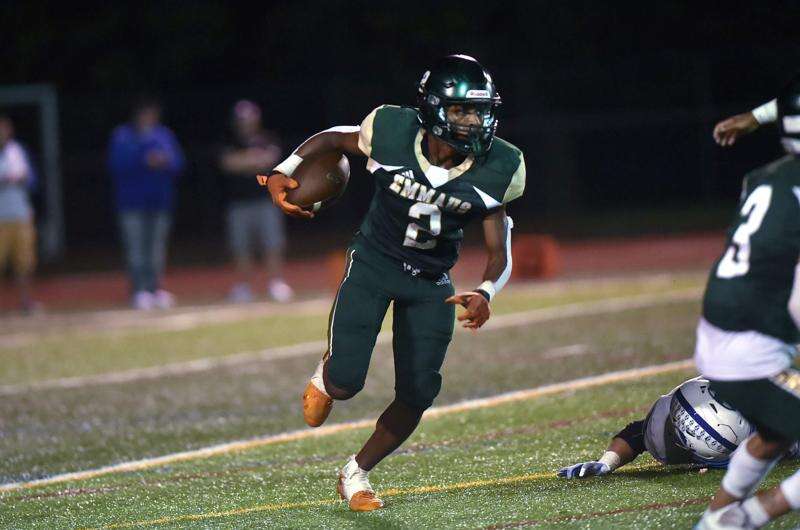 Published October 24. 2021 10:08AM
Nothing could slow the Emmaus football program last Friday night. Not an anonymous threat, not empty stands and certainly not the Nazareth Blue Eagles.
The Hornets used a sledgehammer rushing attack and a stingy defense to bludgeon the Blue Eagles 35-7 at East Penn School District Stadium. The win improved Emmaus to 7-1 in the league and overall, while Nazareth dropped to 5-3.
The contest was the first of three games ending the regular season against quality opponents. Emmaus passed this first test with flying colors. Because of the anonymous threats, fans were restricted from attending the contest. Devoid of the sights and sounds often associated with a high school football game, Emmaus opted to focus on its assignments.
"Our guys did a great job remaining focused with everything that happened," said Emmaus coach Harold Fairclough. "Our kids were really locked in and focused."
The Hornets got down to business quickly, scoring on their first two possession thanks mostly to their rushing attack. On these two drives the offensive line fired out and either controlled or pushed back Nazareth defenders. As a result, running backs Sam Moratori and Jared Groller often had holes and lanes to run through.
The first drive covered 76 yards in 10 plays and culminated when Groller scored a 4-yard touchdown for a 7-0 Emmaus lead.
Nazareth returned the ensuing kickoff for a touchdown, but it was called by because of a clip. The Blue Eagles then went three and out and punted, which was returned 18 yards by Jaiden Robinson to the Nazareth 27.
With superlative field position, the offense hardly broke a sweat as it hit pay dirt in four plays when Groller took it in from 5-yards out for a 14-0 advantage.
Meanwhile, the Nazareth offense was on the verge of extinction. Completely dominant, the Emmaus defense used strength, quickness and good reads to hold the Blue Eagles to just one first down in the first half. Even a questionable official's call which hurt Nazareth could not change the fact the Emmaus defense was too much. For the game, the Blue Eagles gained 214 yards, although 87 of them came on a fourth-quarter drive after the game was out of reach.
In the second period the Emmaus passing offense got involved. With the ground game established, Emmaus utilized play-action passes. Quarterback Josiah Williams hit on his longest pass completion - 45 yards - to Chase Fotta. He finished the drive when he fired a bullet on a 9-yard slant pattern to Jeremiah Sohna nine seconds before halftime for a 21-0 lead.
"We went to a little play-action," said Fairclough. "The one right before the half to go up 21-0 was huge."
Emmaus received a gift when it recovered a botched Nazareth punt attempt, and one play later scored on a 40-yard Wiliams to Robinson pass for a 28-0 lead. For good measure, Moratori ran 84 yards for Emmaus' final touchdown to go up 35-0.