Lady Falcons end season on a high note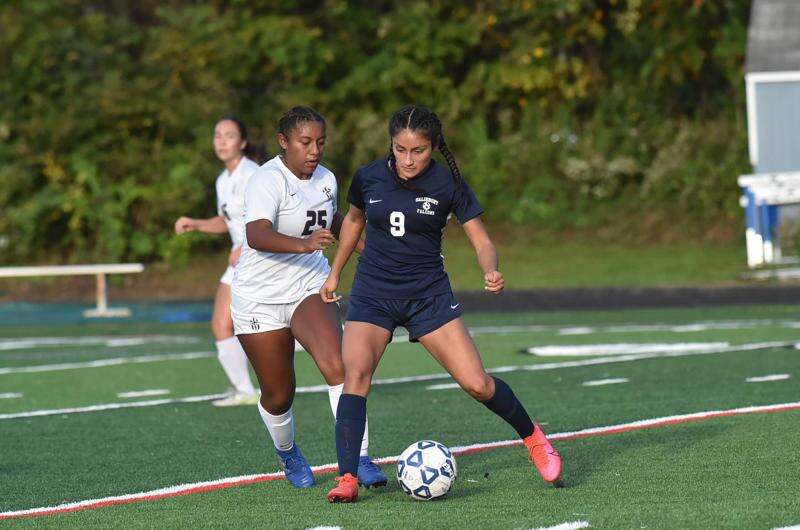 Published October 24. 2021 10:09AM
Even though it was not with a win, the Salisbury High School girls soccer team can be satisfied with the way that the 2021 regular season ended. The Falcons tied with Eastern Pennsylvania Conference opponent, Liberty, in the second-to-last game last week and fell to Colonial League foe, Bangor, in the season finale last Saturday.
But according to head coach Rick Babyak, Salisbury showed vast improvements over the last week of the season, and the team should head into the offseason with some confidence and players can hold their heads high.
"The team showed significant improvement toward the end of the season," said Babyak. "This was very evident in the Southern Lehigh and Liberty games. They did a lot of positive things that I was hoping to see more of during the year, but I was happy to see it done and that they didn't just pack it in before we finished the season."
The Falcons finished the season 3-11-2 overall, which is not like a typical season for the program. But there were factors that may been a cause for the down year, including depth.
"We had more than our share of adversity this season, from preseason transfers to way too many injuries during the season," Babyak said. "As our numbers went down, we asked more and more of our younger players to fill in varsity spots. To their credit, they stepped in and always gave their best and, with the help of senior leadership, improved every game."
Junior goalie Hannah Kamp was a positive for Babyak and his team this season. She was one of the leaders, not only on defense, but on the entire team. She set a new program record for saves this season, breaking the previous record held by her sister, Jordan Kamp.
"Hannah was a real bright spot," said Babyak. "She finished with 330 saves this season (including 38 against Southern Lehigh, 42 at Northwestern and 44 at Bangor). Her career saves total of 427 is a school record, breaking her sister Jordan's record of 408 career saves set back in 2015."
An unfortunate event for Salisbury this season was the injury to leading scorer, Quinn Wittman. She had nine goals and four assists before her injury about midway through the year. She was unable to return to action. Wittman finished her career with 46 goals and 25 assists.
"Losing Quinn, our captain and scoring leader midseason, was very difficult," said Babyak. "She was a true leader on the field and continued to do her best helping from the sidelines. Credit to the senior leaders who stepped up even while dealing with their own injury issues. They were able to help keep our young team together and improving. We will miss them."
Salisbury will graduate six seniors, including Wittman, Chase Watto, Moriana Pyssame Shields, Katherine Medina, Aaliyah M'Bai and Krista Bonge.