At The Movies: Beginning 'CODA'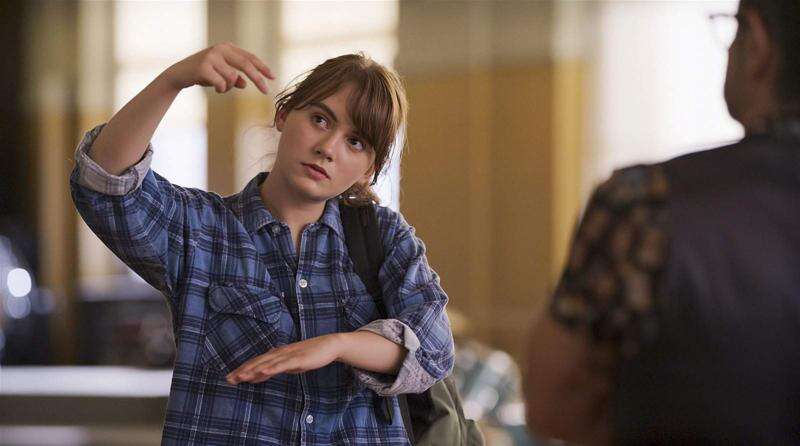 Published October 10. 2021 12:06AM
"CODA" has the pacing of a stage play.
Perhaps that's because the captioning with subtitles and visual assistance on the screen throughout the film influenced the leisurely pace of the film, which is directed in traditional narrative style in scene, camera angle and editing.
And that's a good thing. It's a pleasure to enjoy a non-Computer Generated Imagery film about humans without superpowers.
Well, except for one superpower. It's one that they and many of us are still learning: the superpower of love.
CODA, an acronym for Children Of Deaf Adults, refers in the film to one person, Ruby (an extraordinary Emilia Jones), a Gloucester High School, Mass., senior class student who is the "voice" for her deaf family.
There's her father Frank (Troy Kotsur, a deaf actor), a fisherman; mother Jackie (the always remarkable Marllee Matlin, a deaf actor who received an Oscar, actress, "Children of a Lesser God," 1986), a housewife, and brother Leo (Daniel Durant, a deaf actor), who works on the family's commercial fishing boat.
The parents, Frank and Jackie, you might way, keep the home fires burning. Leo has a nice little love story of his own with Gertie (Amy Forsyth).
When high school music teacher (Eugenio Derbez) forms a student chorus, he selects Ruby and classmate Miles (Ferdia Walsh-Peelo) for a duet in the school concert of the song, "You're All That I Need To Get By" (1968), by Marvin Gaye and Tammi Terrell. Soon, Ruby and Miles are getting by in the swimming hole at the old quarry.
"You're All That I Need To Get By," along with several other pop music classics, are on the film's soundtrack. Ruby sings "Both Sides Now" (1968), by Joni Mitchell, at her audition for Berklee School of Music, Boston, at the encouragement of the music teacher.
The high school chorus sings a cappella versions of pop, R&B and rock songs at the recital, including "Let's Get It On," "It's Your Thing," "I've Got the Music in Me" and "Starman." The songs give "CODA" its own exuberance, apart from the charming teen love stories of Ruby and Miles, Leo and Gertie, and Jackie and Frank.
The jangly triangles of love among the couples, ahem, coupled with the songs, make "CODA" a mashup of "Love Story" (1970), "The Notebook" (2004), "Glee" (2009) "Perfect Pitch" (2012) and "Once" (2007). "CODA" would lend itself to a stage musical adaptation.
Ruby's audition at Berklee brings family conflict to the fore because it impacts Jackie's and Frank's burgeoning business, First Catch, for which Ruby is American Sign Language (ASL) interpreter.
Director Sian Heder (director, "Tallulah," 2016; screenwriter, TV's "Orange Is The New Black," 2013-2016) wrote the screenplay for "CODA," based on the French film "La Famille Belier," by Victoria Bedos, Stanislas Carré de Malberg, Éric Lartigau and Thomas Bidegain.
Heder has gotten a brilliant, believable and powerful performance from Emilia Jones (TV's "Locke & Key," 2020-2021), who has a lovely singing voice. She is like a young Linda Ronstadt and Zooey Deschanel. Also, excellent is the supporting cast.
What's most interesting about "CODA" is what it doesn't do. It doesn't resort to too many teen cliches in representing young love. Nor does it resort to that many geezer cliches in representing mature love.
"CODA" shows that the ending can be only the beginning.
"CODA,"
MPAA Rated PG-13 (Parents Strongly Cautioned. Some material may be inappropriate for children under 13.) for strong sexual content and language, and drug use; Genre: Music, Drama; Run time: 1 hr., 51 min. Distributed by Apple TV+.
Credit Readers Anonymous:
The screenplay for "CODA" is 40 percent ASL. The director was assisted by deaf collaborators Alexandria Wailes and Anne Tomasetti. "CODA" was filmed in Gloucester, Rockport and Boston, Mass.
Theatrical Movie Box Office,
Oct. 1-3: "Venom: Let There Be Carnage," opening at No. 1 with $90.1 million, in 4,225 theaters, is the biggest COVID-era theatrical box office opening, besting "Black Widow," $80.4 million, and "Shang-Chi," $75.4 million.
2. "The Addams Family 2," opening, $18 million, in 4,207 theaters. 3. "Shang-Chi and the Legend of the Ten Rings" dropped two places from three weeks at No. 1, with $6 million, in 3,455 theaters, $206.1 million, five weeks. 4. The Tony Soprano origin story, "The Many Saints of Newark," opening, $5 million, in 3,181 theaters. 5. "Dear Evan Hansen" dropped three places, $2.4 million, in 3,364 theaters, $11.7 million, two weeks. 6. "Free Guy" dropped three places, $2.2 million, in 2,545 theaters, $117.6 million, eight weeks. 7. "Candyman" dropped three places, $1.2 million, in 1,745 theaters, $58.9 million, six weeks. 8. "Jungle Cruise" dropped two places, $680,000, in 1,375 theaters, $116 million, 10 weeks. 9. "Chal Mera Putt 3," opening, $644,000, in 90 theaters. 10. "The Jesus Music," opening, $560,250, in 249 theaters.
Box office information from Box Office Mojo as of Oct. 3 is subject to change.
Unreel,
Oct. 8:
"No Time to Die,"
PG-13: Cary Joji Fukunaga directs Daniel Craig, Ana de Armas, Rami Malek and Léa Seydoux in the Action, Adventure Thriller. James Bond has retired. However, his retirement doesn't last long.
"Survive the Game,"
R: James Cullen Bressack directs Bruce Willis, Chad Michael Murray, Sarah Roemer and Donna D'Errico in the Action Thriller. A farmer's life is interrupted when dangerous criminals show up.
Moving opening dates from Internet Movie Database as of Oct. 3 is subject to change.
Four Popcorn Boxes out of Five Popcorn Boxes