Hornets, Trojans battle to 1-1 draw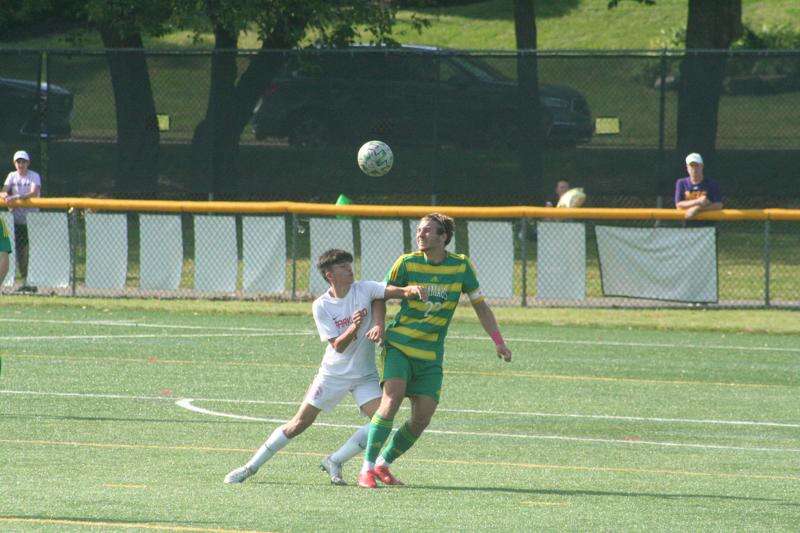 Published October 08. 2021 11:37AM
The first boys soccer meeting of the season between rivals Emmaus and Parkland was typical for the games the two teams play against each other. It was low-scoring, close and very physical. The result was that neither team left the field completely happy when the game ended in a 1-1 draw after two overtime periods.
Both goalkeepers, Ty Bleiler for Emmaus and Matt Link for Parkland, made athletic moves to block shots throughout the game as both teams had chances for goals but were not able to take advantage of many of those opportunities.
Parkland came out the aggressor in both halves of regulation, but Emmaus held off the attack and rebounded to gain an advantage later in each half. For Emmaus, its push midway through the first half resulted in Ryan Kiernan picking up a goal off an assist from Carlos Morales to give Emmaus a 1-0 lead with 21:04 left in the half.
"Having played Parkland, I know they usually have a lot of momentum going into each half and that's when they're strong," said Emmaus coach John Cari. "I think it evens out, so I think that's just typical of their style of play."
After halftime, Parkland again came out looking like the aggressor and this time, the Trojans were able to convert on a goal by Zach Morales to tie the game 1-1 just under five minutes into the second half.
The intensity of both teams grew even higher after the goal as they sought to break the deadlock. The intensity combined with some questionable officiating that went against both teams turned the game even more physical. The coaches and players were able to mainly keep their emotions in check until Emmaus was given a yellow card with just 3:05 left to play in the second overtime period.
"I thought we did a very good job controlling our emotions," said Cari. "We didn't get a yellow card until late in the game and I don't think it was warranted, actually. The foul was warranted, but I don't think the card was warranted.
"We tell the players, let the coaches be the ones who get emotional. I think that some of the calls weren't the best ones that could have been made out there and it wasn't clear why. I think both teams did a pretty good job of keeping it in check."
While neither coach was happy with a tie, Parkland coach Pat Birns felt fortunate to get out of Memorial Field with a tie. For Emmaus, the tie was a little unsettling, but certainly wasn't worst-case scenario.
"In this program, I think a tie feels like a loss sometimes," said Cari. "We weren't great. It wasn't our best day. We got that one goal and I think that we had the better of the opportunities. I'm not saying we got the better of the game, but we had the better of the opportunities out there. We just didn't capitalize on them."
Emmaus followed up Saturday's tie with a 2-0 win against Northampton on Monday. Kiernan and John Hanvey had goals for Emmaus and Blaise Verrastro added an assist.