Hornets hammer Hawks, 41-3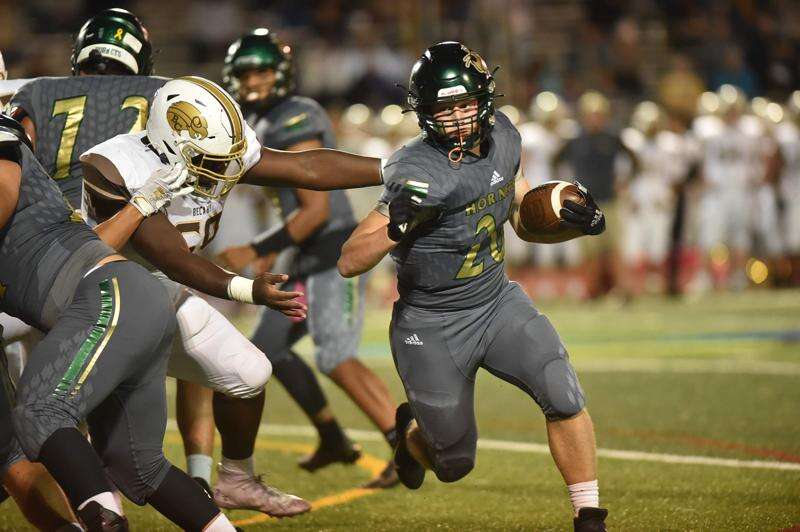 Published October 08. 2021 11:37AM
Quarterback Josiah Williams threw three touchdown passes and Jared Groller ran for three touchdowns as the Emmaus Hornets continued to show the rest of the East Penn Conference they mean business as they dismantled the Bethlehem Catholic Golden Hawks 41-3 last Friday night at East Penn School District Stadium.
With the win the Hornets improved to 5-1 overall and in the league, while Becahi dropped to 2-4 and overall and in the EPC.
"That's what we want to see," said Emmaus coach Harold Fairclough. "We just want to keep working and figuring out what we need to get better at."
Williams was sharp all night and provided steady leadership and produced superb numbers - 11-for-16 for 284 yards. It was Groller, however, who got Emmaus on the board first with a 10-yard touchdown run in the first period for a 7-0 Emmaus lead.
Groller, who carried the ball seven times for 53 yards on this night, scored another touchdown on a two-yard run for a 14-0 lead before Becahi nailed a field goal to pull within 14-3. But the Hornets responded when Williams hit Tyson Karrat on a five-yard scoring toss for a 21-3 lead at half.
Emmaus put Bethlehem Catholic away in the third quarter when William fired a 60-yard touchdown pass to Chase Fotta for a 28-3 advantage. The reception was Fotta's only catch.
Groller scored his third and final touchdown on a nifty 23-yard run for a 35-3 lead later in the quarter and Dylan Darville caught a 65-yard touchdown pass for the evening's final score. The junior had an outstanding night, catching three balls for 124 yards.
The Hornets defeated Bethlehem Catholic in every phase of football. They racked up 476 yards of total offense and moved the chains a total of 18 times. The Hawks simply could not stop Emmaus most of the night. A good game plan by the Emmaus assistant coaches served as the foundation.
"I'm happy for the offensive guys," the coach said. "They put together a great game plan. More important, the kids came out and they executed it."
Defensively Emmaus dominated. They swarmed to the ball and throttled the Becahi passing game. Aidan Garrett led the way with six tackles and defensive end Danny Ahne added five others. Each young man registered a sack.
"They're playing lights out right now," Fairclough said of the defense.