PHS falls to Central Catholic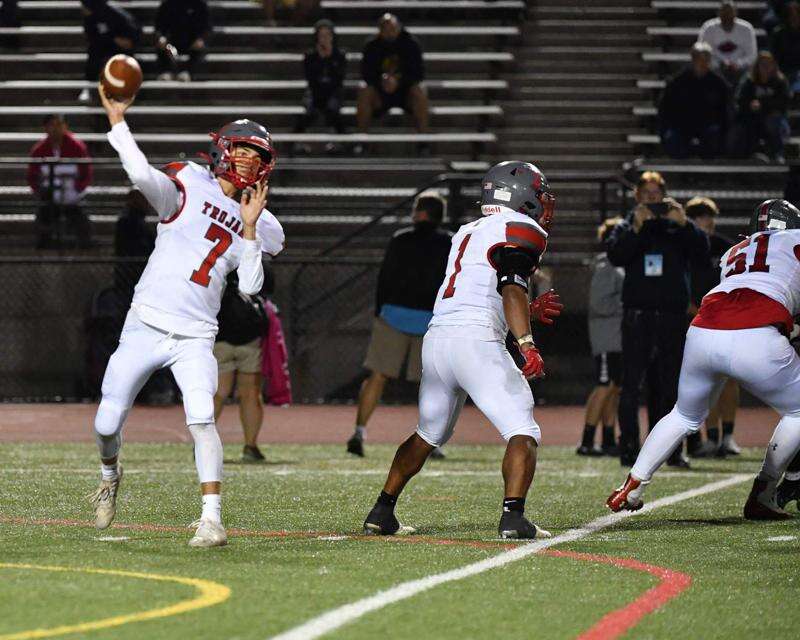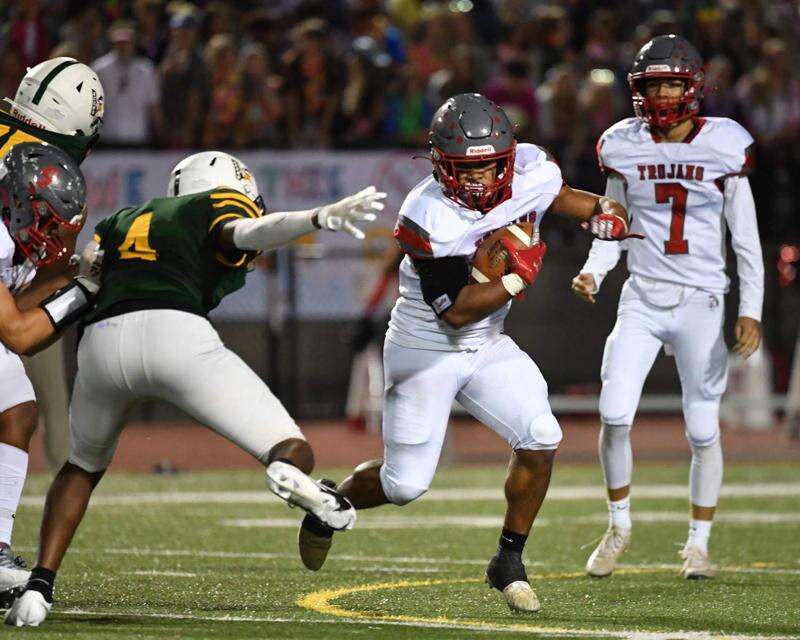 Published September 30. 2021 11:44AM
Central Catholic junior Travis Foster was a thorn in the side of the Parkland High School football team on both sides of the ball. He had a three-yard touchdown run on offense late in the first quarter that tied the score at 7-7. Foster then came up with a crucial 42-yard interception that he ran back to the endzone, proving to be the game-winning touchdown in a 14-7 victory in an Eastern Pennsylvania Conference South Division showdown against the top two teams in the division Saturday night at J. Birney Crum Stadium.
It was the first loss on the season for the Trojans (3-1 overall, 3-1 EPC), which turned the ball over three times, all in the fourth quarter, on five possessions, which is a recipe for disaster.
"We kept handing them the ball," said head coach Tim Moncman. "I'm proud of the defense. They kept responding. But, there were just too many mistakes. We missed two kicks. Everything that could go wrong, went wrong."
Even after the Vikings (4-1, 3-1) interception for a touchdown, Parkland still had 2:22 left on the clock to try to tie the game once again. The Trojans found themselves on the two-yard line with under 10 seconds to go, but a penalty pushed them back. A final play resulted in an incomplete pass in the endzone to end the game.
Nico Medlar had Parkland's only touchdown on the night, a 49-yard completion from Luke Spang on the first play of the game from scrimmage. But the Trojans struggled to get much going offensively, including two missed field goal attempts and the three turnovers.
"We didn't execute when we had to and we just made too many mistakes," Moncman said. "You make that many mistakes, you'll never win a football game, no matter who you're playing. They're a great football team. They did a great job."
Following that first touchdown play, the Trojans offense amassed just 163 passing yards and 83 rushing yards. Moncman believes Spang, who is playing for injured starting quarterback Ty Tremba, along with his offense will get it going once again this week.
"He'll be fine," said Moncman. "We'll fix it and get back at it this week."
Dahlir Adams had 25 carries for 88 yards. Trey Tremba finished with six catches for 46 yards. Defensively, Noah Road led the team with eight tackles and a sack, and both Victor Pagan and Brock Boyer had five tackles and one sack each.
Parkland yet again has another tough matchup this weekend as it will host Whitehall (3-1, 3-1) in an EPC clash of two of the top four teams in the South Division. Kickoff is set for 7 p.m., Friday night at Parkland Area School District Stadium.