NASD 2021-22 first day 'one of best ever'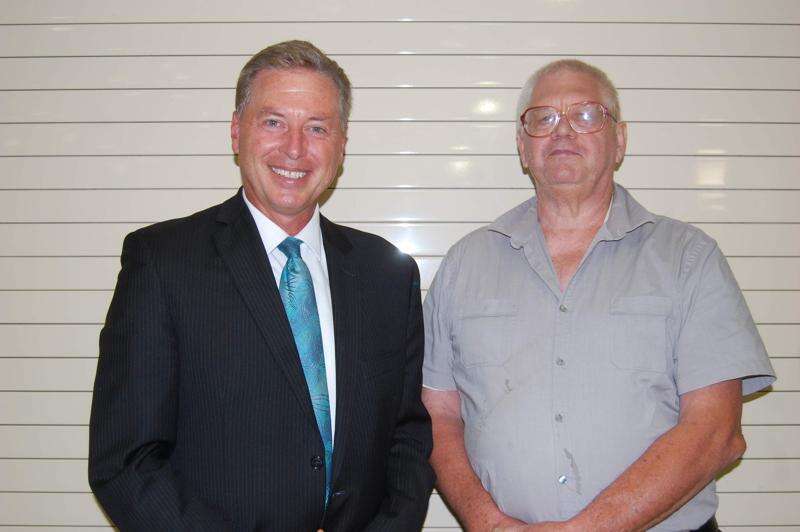 Published September 01. 2021 10:21AM
Northampton Area School District Superintendent of Schools Joseph S. Kovalchik presided over the opening of the 2021-22 school year Aug. 30, celebrated an Aug. 27 big opening home game 17-14 win by the Konkrete Kids varsity football team over the Bethlehem Catholic Golden Hawks and received a new five-year contract Aug. 23.
The first day of school - Aug. 30 - marked a return to five-day, in-person classroom instruction in NASD. According to Kovalchik, who visited several district schools and monitored the start and conclusion of classes on the secondary campus, it was a success.
"We had a good day today," Kovalchik said Aug. 30. "We have approximately 5,500 students in the district. We had 98 percent return for in-person instruction for the first time since March 2020.
"Students were cooperative and positive, and the staff was energetic and very engaged in the first day," Kovalchik added.
There are approximately 800 staff members in the district.
Per the NASD Board of Education Aug. 23 vote mandating universal masking, students and staff wore face coverings.
"The students followed the mandate from the board, as well as the staff," Kovalchik noted. "I'm very proud of the students, the staff and our overall community. Anyone coming into a building must wear a mask. If you're outside, you don't have to wear one."
COVID-19 vaccination is not being required of staff or students by the NASD administration and school board.
A new dashboard feature on the redesigned district website, nasdschools.org, has updates on positive COVID-19 cases in the district. The seven-day case record, as of Aug. 31, is as follows: Northampton Area High School, 4; Northampton Area Middle School, 2; Borough Elementary, 2; Moore Elementary, 1; Lehigh Elementary, 1; George Wolf Elementary, 0.
There is an increase of 15 eLearning students - from 130 to 145 - since the board mandate for face coverings. Some parents are still requesting for their students to return to in-person learning.
There are 67 Northampton Cyber Academy students, and 287 students are attending cyber and charter schools outside the district.
Opening day at the new Lehigh Elementary School "went great," according to Kovalchik.
"Overall, this was one of the best first days of school we had since I was superintendent. And it's because of the students, the staff and parents working together. I've always said, when people work together, good things happen," Kovalchik said.
He noted some trouble with transportation. Bus routes were doubled due to a lack of bus drivers. He reported there was construction along Route 329 in the vicinity of Seemsville Road. Blue Mountain Drive construction continues at Lehigh Elementary.
"It's always a little slower on the first day because the students are getting used to dismissal procedures, and they need to find their bus," Kovalchik said. "There are 52 buses parked at NAMS. Once they find their bus, it goes a little quicker. The bus is parked at the same spot."
He noted a large number of parents driving their students to school.
There was cafeteria mitigation because of recommended social distancing. According to Kovalchik, the administration made some adjustments such as adding lunch periods, adding some time to lunch periods and keeping the students apart.
"Based on my conversations with teachers, administrators and some of the students, they were extremely happy to be back in school," Kovalchik said.
He visited the Siegfried building, Moore Elementary, NAMS and NAHS.
At the Aug. 23 board meeting, the NASD school board voted 8-0, with one vacancy, to approve an employment agreement for Kovalchik as NASD superintendent for five years from July 1, 2022, to June 30, 2027, with a first-year salary of $193,188.
Kovalchik's current employment agreement, effective July 1, 2018, through June 30, 2023, now concludes June 30, 2022.
It was noted Kovalchik has 31.5 years of service in NASD, with 12 of those years as superintendent.
The average salary for superintendents in Colonial Intermediate Unit 20 districts is $190,000.
After his new contract was approved, Kovalchik said he weighed other job options before deciding to stay on as NASD superintendent.
"I had opportunities to pursue some different careers in other school districts, as well as the private sector," Kovalchik said. "I spoke with my family, members of the community who I hold in high esteem and the board of education. After considering this for several months, I decided to stay with the team at Northampton because I still think I can be an integral part in moving the district forward.
"We have an outstanding school district and have accomplished much over the years, and we're going to accomplish even more in the future," Kovalchik said.
The next school board meeting is 6:30 p.m. Sept. 13 in the cafeteria of NAMS, 2014 Laubach Ave. Face masks will be required of the public, school board members and administrators.