Nurse comes to Fullerton neighbor's aid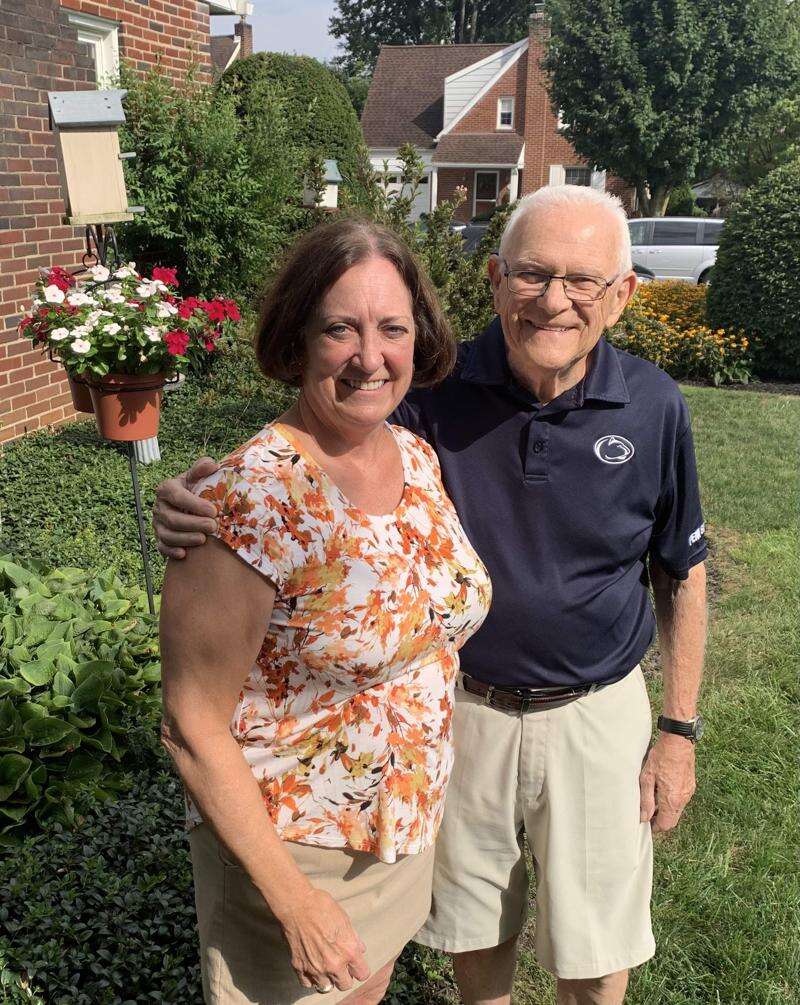 Published July 28. 2021 11:29AM
It was a pleasant, mostly sunny day with a light breeze June 23. It was a great day to be outside, perhaps gardening, sitting out on a patio, taking a walk or mowing one's lawn.
John Williams was about to cut the grass at his Fullerton home for the final time. Despite being in good shape at 77 years old, he said he and his wife, Pam, agreed it was time to turn the lawn-mowing duties over to a landscaping firm.
Unbeknownst to them, this final mow would be a memorable, harrowing encounter like no other grass-cutting foray they had ever experienced.
As he did his duty pushing his lawn mower around the yard, Williams began to feel lightheaded. Not overly concerned, he thought he'd get to the back porch to sit down and let the feeling pass.
However, he didn't make it to the porch and, instead, gently lowered himself to the ground in his backyard.
A neighbor residing across the street and the cardiac nurse education director at Lehigh Valley Hospital, Mary Jean Potylycki, arrived home early from work that day. She wanted to work on birthday plans for her husband.
As Potylycki spoke with another neighbor who was outside enjoying the weather, she saw Williams on the lawn, his leg bent at the knee. She thought that was odd, so she walked over to Williams while the other concerned neighbor knocked on the back door to alert his wife.
Williams was stricken. His eyes were wide open, and not blinking, as Potylycki assessed the situation. He had no normal respiration and no pulse. He appeared to be in cardiac arrest.
Neighbor Maria Ruiz called 911. The 911 operator told Ruiz to get a pillow for Williams' head and an umbrella to give him some shade.
Neighbor Daria Gehris went home to get a pillow and an umbrella.
Pam Williams said when she looked at her husband in the unconscious state, "I thought I was going to pass out."
Another neighbor, Kevin Serensits, consoled her throughout the nerve-wracking event.
Potylycki responded vigorously and skillfully to provide CPR like she had taught to hundreds of Lehigh Valley Health Network staff and community organizations throughout the Lehigh Valley over the years.
When the EMTs arrived, Williams was already revived.
Ironically, when Williams was recovering, the new lawn-cutting firm worker arrived to look over their yard in order to plan the next grass cutting. He saw the ambulance and what he thought was a commotion and quickly departed.
Williams said he did not remember anything after passing out. He said all he saw was "a blank gray sort of view."
Pam Williams was astonished at the sequence of events that led to that moment. If things had been different, there might not have been anyone there to help her husband.
Potylycki coming home early during the day and the pleasant weather causing a neighbor to be outside to chat with friends helped saved Williams' life.
Pam Williams said if it was a hotter day, neighbors would have been inside and Potylycki might have gone straight into her home - thereby, missing her husband lying in the backyard.
Had Williams not had his knee bent high enough for Potylycki to see it, the situation might have had a much different ending as well.
Pam Williams and the neighbors said they were surprised how hard Potylycki pushed on John's chest to provide proper chest compressions. Pam Williams said they would have never pressed that hard, which may have been ineffective CPR.
Reflecting after the event, Williams said he wants to communicate that one has to "really press hard during CPR."
"It was surreal as I was afraid this would happen to John while cutting the grass," Pam Williams said. "If Mary Jean arrived home five minutes earlier or five minutes later ... It is a miracle."
When asked what he did to celebrate, Williams said he retired from his paid position at a local blood bank.
Potylycki noted this is her job and was reluctant to accept any accolades for her effort.
Serensits expressed how happy the folks in the neighborhood are to have someone as skilled and accomplished as Potylycki nearby.
Williams' doctor wants him to take things slow for the next six months. Being high powered much of his life, he was hoping to return to his golfing buddies in August. This prompted a disapproving glance from his wife.
"I feel grateful, but I need to do more with my life when given a second chance. Maybe I'll volunteer at the blood bank," Williams said.
The neighbors gathered July 24 in John and Pam Williams' yard to share this story of a highly skilled professional nurse given the opportunity to use her craft to save a life and a meaningful compassionate support of others for a beloved neighbor.
"I'm thankful," Williams said, "but how do you thank someone who saved your life?"