Anna M. Benner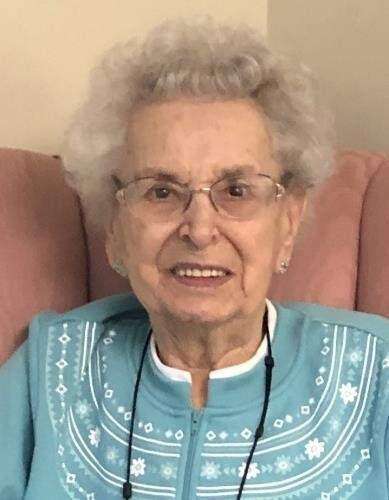 Published July 28. 2021 07:43AM
Anna Benner, 97, of Macungie, died July 21, 2021, at the Willow Senior Living Community in Macungie. She was the wife of the late Joseph C. Benner to whom she was happily married for over 68 years. Born in Shimerville, she was the daughter of the late William E. Schaffer Sr. and the late Euphemia (Brosky) Schaffer.
She worked as a seamstress at the Emmaus Pajama Factory and the Collegeville Flag & Mfg. Company. She was an antique dealer for over 30 years and participated in the Kutztown Folk Festival for over 25 years.
She was a member of Old Zionsville U.C.C. for over 75 years.
She was an active member of many service and social organizations including: the Vera Cruz Senior Citizens, the Emmaus Senior Citizens, the Vera Cruz Community Association, the Vera Cruz Fire Department Ladies Auxiliary, the Upper Milford Historical Society, the Emmaus Historical Society, the American Carnival Glass Club and the Keystone Carnival Glass Club.
She and her husband shared a long and full life that included a love of antiquing and traveling in the United States and abroad. She loved reading, crocheting and cats.
She is survived by a daughter, Linda S. and her husband, John Barone, of Williamsburg, Va.; a sister-in-law, Mary Ann and her husband, Robert Mumbauer, of Macungie; nieces; nephews; cousins; dear friends. She was predeceased by a brother, William E. Schaffer and a sister, Dorothy J. Scholl.
Contributions may be made in her memory to Old Zionsville U.C.C. and the Lehigh Valley Hospital Network - Hospice Care.
Arrangements were made by the Schantz Funeral Home, P.C., Emmaus.