Judy Minnich honored as 2021 Unsung Hero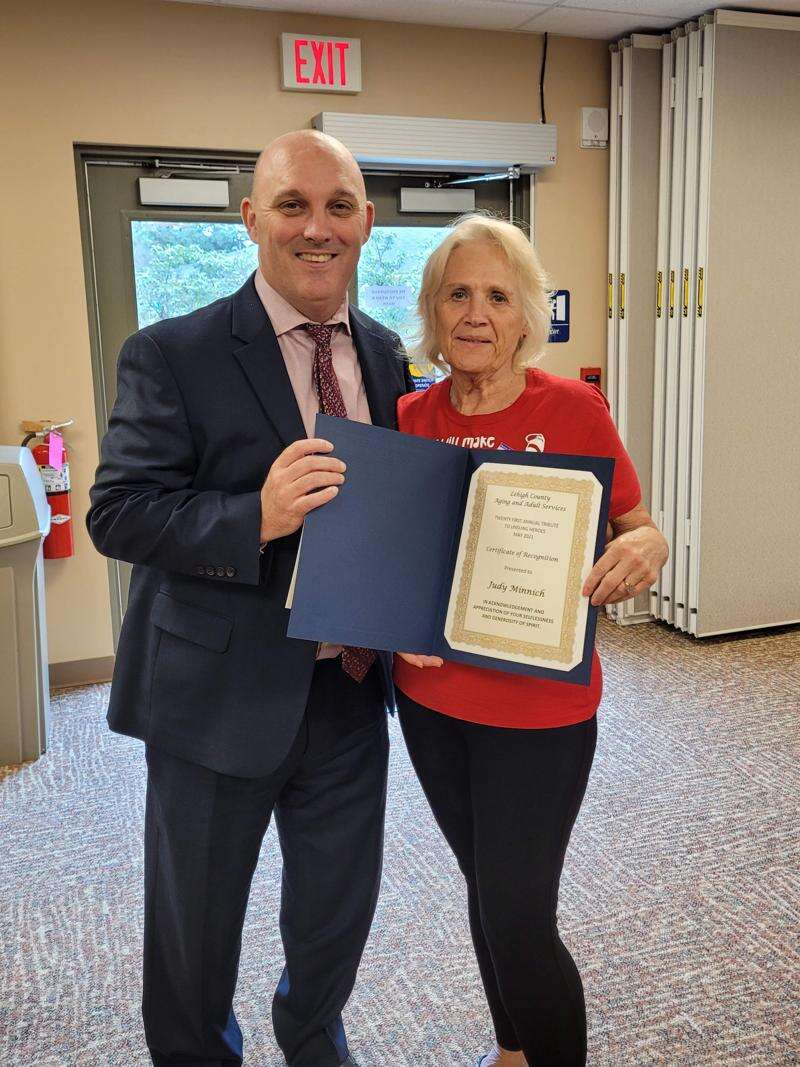 Published July 22. 2021 07:45AM
In honor of Older Americans Month, 22 Lehigh County residents and one group of about 70 people were honored as part of the Lehigh County Aging and Adult Service's 21st annual tribute to Unsung Heroes.
One of those honored was Judy Minnich, of South Whitehall Township.
This tribute honors older adults in the Lehigh Valley who have displayed exceptional generosity with their time and talents to enrich the lives of others in the community.
Due to the COVID-19 pandemic, the 2021 celebration looked a little different.
Instead of the annual recognition ceremony, honorees received certificates of recognition, flowers, a pin and yard sign delivered to their homes.
According to her tribute:
"Judy Minnich of South Whitehall is a true Unsung Hero. Her compassion and concern for the well being of others shines forth in her talent, and for her actions last spring.
"When our building first closed down in person activities and events, it was devastating for everyone at Cedar View Apartments who enjoyed the socialization these things offered. Residents were fearful and not really sure how to fully protect themselves from this awful virus.
"Judy and another resident started an initiative to help the residents of the building stay safe.
"Masks were made - one for everyone in the building, free of charge.
"And after that, Judy continued to sew masks to help keep people safe. They went to day cares, churches and individuals, people who appreciate the work she put into each mask.
"Her thoughtfulness and generosity helped to keep people safe. She took the time to make sure people in need had their needs met.
"When the mask mandates were put in place, she stepped up and made sure people were prepared, and were able to keep themselves safe.
"She put the needs of many above her own, and for this she is truly an Unsung Hero."