Melvin's marks third season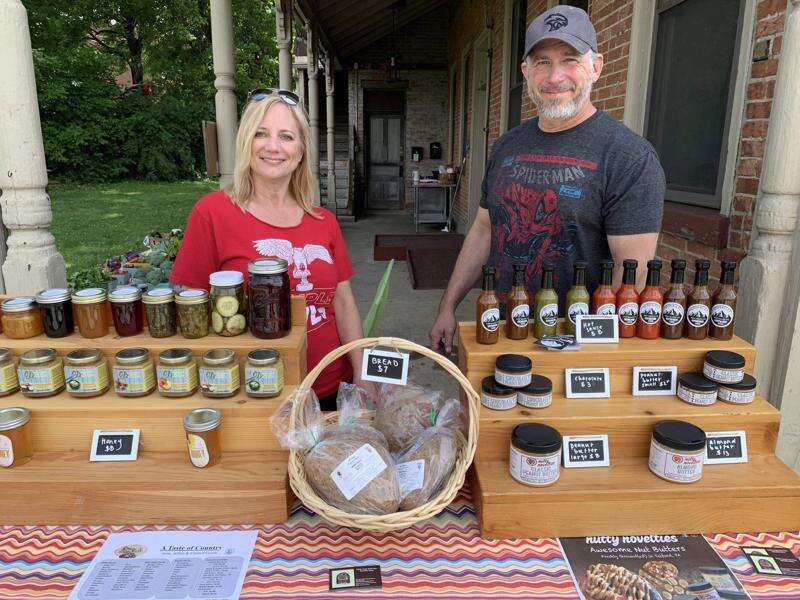 Published July 14. 2021 10:17AM
Melvin's Farm Stand, 311 Front St., Catasauqua, officially kicked off its third year June 5, addressing the vegetable and fruit needs within the borough. Stand operators, community activist Melissa Brown and Catasauqua Borough Council President Vincent Smith, said they are delighted with how the 2021 season is going.
Brown said this is an effort to get fresh food products to Catasauqua and surrounding community residents. Smith noted attendance and vendor participation are growing.
The stand is open 9 a.m.-noon every Saturday through September.
In addition to fruits and vegetables, CJ's Gourmet Mystic Mustard and Valley Microgreens offered their wares at the June 26 stand.
CJ's can be reached at cjsgourmetmustard.com for more information about their products. Valley Microgreens can be reached at valleymicrogreen.com to view the selection of fresh sprouts.
A Taste of Country, operated by Michele Hazard, supplied a variety of jams, jellies and other canned goods.
Jayne Stevens, of Catasauqua, had a stand for her business, Jayne's Paper Crafts and Photographs, featuring custom note cards, gift bags and framed art. To contact Stevens, email jaynescraftsandphotos@yahoo.com or call 484-241-7901.
Artist Dave Harding assembled an eclectic stand featuring his collage art. Harding offered his Dave Harding Comic Collage mini artbook, volume 4, featuring a picture of "the child" from "The Mandalorian" on the cover. Harding can be reached at dave8629@gmail.com or facebook.com/dhcomiccollage for additional information about his unique brand of art.
Also on hand making crepes for patrons was Tyra Brown. Her brown sugar crepe was a hit.
A variety of homemade cheeses and meat products from a local farm were also available for purchase.
If you want to have a stand or other presence at Melvin's Farm Stand, call Smith at 484-634-0418.