WHS hoop team staying busy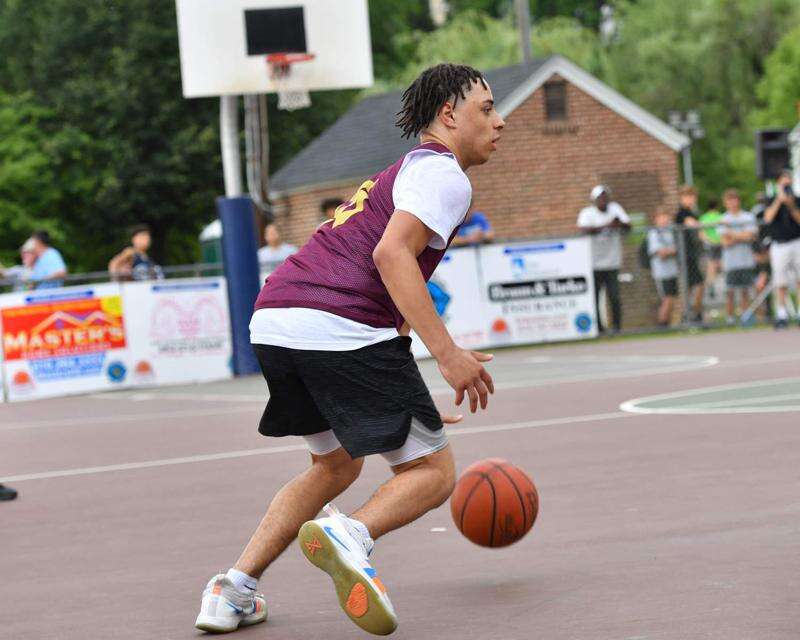 Published July 08. 2021 09:43AM
The summer basketball season is in full swing, and Whitehall is looking to sharpen their skills with a full complement of games that should help them prepare for the upcoming varsity season.
Last week they faced Parkland and Pocono Mountain East, two tough squads that are always in the postseason mix during the winter.
Corey Frantz, who serves as an assistant varsity basketball coach, runs the summer league program for Whitehall. He said that they competed hard against Parkland, falling to the Trojans by nine points, 49-40.
In the game against PME, Frantz said they had a shot at the buzzer to send it into overtime, but it just didn't sink it. They lost 49-47 to the Cardinals.
Right now Whitehall is at .500 in the Big School Division of the Cedar Beach High School Boys Varsity Basketball League. One of those wins came a couple of weeks ago against Bangor, defeating the Slaters, 49-38. In that game, Tommy Buskirk had 13 points.
Frantz said that the summer season has had its share of challenges to date. They've experienced injuries to Bryce Bashore and Alex Derkits, Both players logged plenty of varsity minutes last season, and Bashore, an incoming senior, plays an important role in the backcourt for Whitehall.
They've also had to deal with players who also play football, and that's cut into their availability at times. And there's also family vacations that also intrude on the summer league schedule.
Frantz knows that that's going to be the situation almost every summer, and it's just going to mean other players get a chance to show what they can do with those minutes.
Some of those players include incoming juniors Ray Jackson and Gavin Kneller. They've been contributing this summer, along with incoming sophomores Gavin Roberts, Gavin Fasolka, Damonte Foreman and Luke Keppel.
Frantz said that Keppel is a "basketball guy" who's going to supply a big offensive punch for them. He's also excited about incoming freshman A.J. Hines, an interior player, who isn't afraid to mix it up with the upperclassmen. Frantz said that he's doesn't shy away from anything, and will be a big asset for them down low this year.
"He's really comfortable out there, and not intimidated playing against varsity and junior varsity players," said Frantz.
A few weeks ago, league play was briefly halted as the Bash at the Beach took center stage at the Cedar Beach courts, with Whitehall among the teams competing in the Big School division. They drew Bishop McDevitt in the opening round, and lost, sending them into the loser's bracket where Dieruff prevented them from advancing.
Frantz said that they really played well against Bishop McDevitt despite being shorthanded in the tourney. They were shorthanded against the Huskies as well, but played tough against the Allentown squad.
Frantz said that they also competed a week later in Lehigh Valley Summer Jam held at the East Side Youth Center. He said that they went 3-0 in pool play, landing them in the quarterfinals of that tournament. He said that in the quarters they lost to a talented Dallas (Pa.) squad, staying competitive throughout the game.
Frantz is hopeful he has a chance to see what they'll look like with a full roster. They have the remainder of the Cedar Beach High School Boys Varsity Basketball League, as well as the upcoming Allentown Throwdown.
"I'm happy with how we've competed," said Frantz. "I'm anxious to see everyone together."
Right now they're getting in a lot of work as their summer league schedule coincides with their first full week of open gym. He said that gives them an opportunity to see players five days a week, and that will help build some cohesiveness.
Big School Division:
Emmaus 43, Liberty 39 (Brydon Crawford 14 points)
Parkland 49, Whitehall 40 (Will Meeker and Matt Bauer 10 points each)
Northampton 45, Easton 39 (Isaac Harris 20 points)
Wilson West Lawn 41, Central Catholic 37 (Fodah Sillah 8 points)
Nazareth 45, Becahi 41 (Ryan Kresge 13 points)
Reading 45, Quakertown 31 (Daquan Burges 15 points)
Freedom 68, Dieruff 41 (Nick Ellis 25 points)
Small School Division:
Notre Dame Green Pond 56, Saucon Valley 46 (Chase Marcks 14 points)
Palmerton 54, Upper Perkiomen 25 (Matt Machalik 19 points)
Warren Hills 51, Lehighton 31 (Tom Flaherty 13 points)
Southern Lehigh 54, Roberto Clemente 48 (Max Pristas 20 points)
Standings
Small School Division
Notre Dame GP 7 - 1
Southern Lehigh 7 - 1
Palmerton 6 - 2
Roberto Clemente 4 - 3
Saucon Valley 4 - 4
Salisbury 3 - 4
Lehighton 1 - 6
Warren Hills 1 - 6
Upper Perkiomen 1 - 6
Large School Division
Nazareth 7 - 1
Reading 6 - 1
Parkland 6 - 2
Allen 5 - 2
Northampton 6 - 3
Central Catholic 5 - 3
Emmaus 5 - 3
Pocono Mt. East 4 - 3
Freedom 5 - 4
Becahi 4 - 4
Liberty 4 - 4
Whitehall 4 - 4
Wilson West Lawn 4 - 4
Dieruff 2 - 6
Easton 2 - 6
Pleasant Valley 1 - 7
Quakertown 1 - 7
Bangor 0 - 7