Greater Northern Lehigh Chamber presents Spirit Awards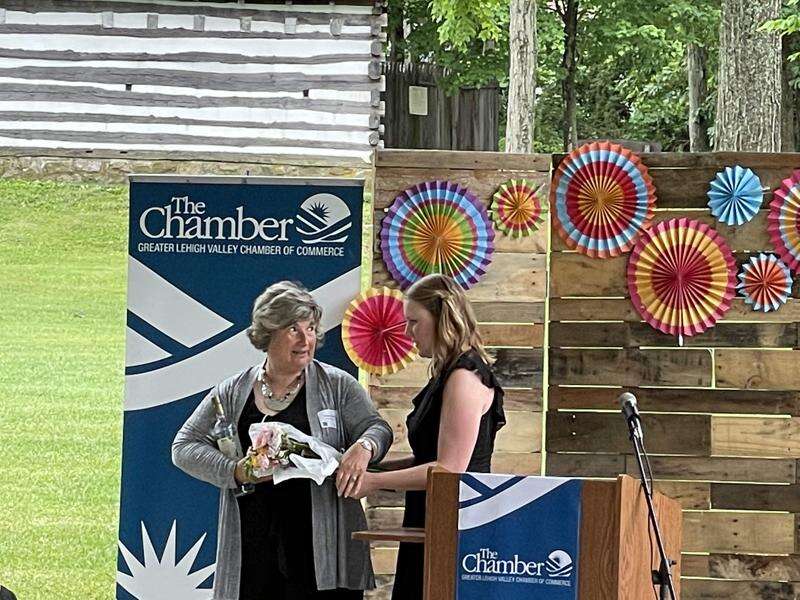 Published June 18. 2021 06:00AM
By DALTON MILLER
Special to The Press
The Greater Northern Lehigh Chamber of Commerce presented the 28th annual Spirit Awards June 12 at Ontelaunee Park, Lynn Township.
Breakfast was catered by Curious Goods at the Bake Oven Inn. Live music was performed by Kendal Conrad.
Presentations included the Spirit Award, Business of the Year Award and Nonprofit of the Year Award.
"These residents, business owners and community organizers go above and beyond every single day," said Chairman of the Greater Northern Lehigh Chamber of Commerce Board of Directors Andy Gildner.
The Spirit Award was presented to Nancy Treskot of Walnutport for her work as a volunteer and community leader.
Treskot has been a past president of the Slatington Junior Women's Club, the Northeast Berks Chamber of Commerce, and the Greater Northern Lehigh Chamber of Commerce.
She has also been involved with the Walnutport Canal Association, Walnutport Playground Association's Carnival Committee and multiple community, education and parent committees in Berks, Pike, and Wayne counties.
"We are all volunteers," Treskot said. "We have all looked at each other and tried to help each other through the last year.
"This isn't about one person. This is about all of you and how dedicated you have become to this particular area."
The Business of the Year Award was given to Bechtel's Pharmacy, Slatington.
Bechtel's Pharmacy was started in 1961 by Joseph Bechtel. His son, Edward, joined the business in 1983.
Another son, Jack, later joined the business as its business manager.
The business is a basic community pharmacy focused mostly on filling prescriptions.
In recent years, it has expanded to offer adult vaccinations, medicine synchronization plans, and compliance packaging.
The pharmacy even began doing curbside delivery during the COVID-19 pandemic.
Bechtel's Pharmacy earned this award in the same year it celebrated being in business for 60 years.
"I know that our nomination was set to coincide with our 60th anniversary, but I'd like to think we got this award because for 60 years we were doing something right and I hope we're able to do it for at least another 30," Ed Bechtel said.
The Bechtels have all been heavily involved in their local community in Slatington as well as in the Lehigh Valley and Joseph and Jack Bechtel are past recipients of the Spirit Award.
"It's an honor and a privilege for me to be able to serve my family and friends in the community in which I was raised, in the community in which I raised my kids, the community I call home," Ed Bechtel said.
The Nonprofit of the Year Award went to K9 Kop Project, Walnutport.
This nonprofit was founded by Vickie Richards, a native of the Lehigh Valley and a U.S. Army veteran.
"This is truly an honor and we were really surprised when we heard we were given this award," Richards said.
The mission of K9 Kops Project is to ensure K9 units have the support, equipment, and finances they need to execute the critical operations they are tasked with everyday to protect people from harm.
"We just thought it was going to be one project with one K9 and it was going to be done and, out of the blue, I started learning about all these officers who needed assistance because their K9 units don't have budgets for them," Richards said.