Northwestern Lehigh Class of 2021 begins a 'new phase' in life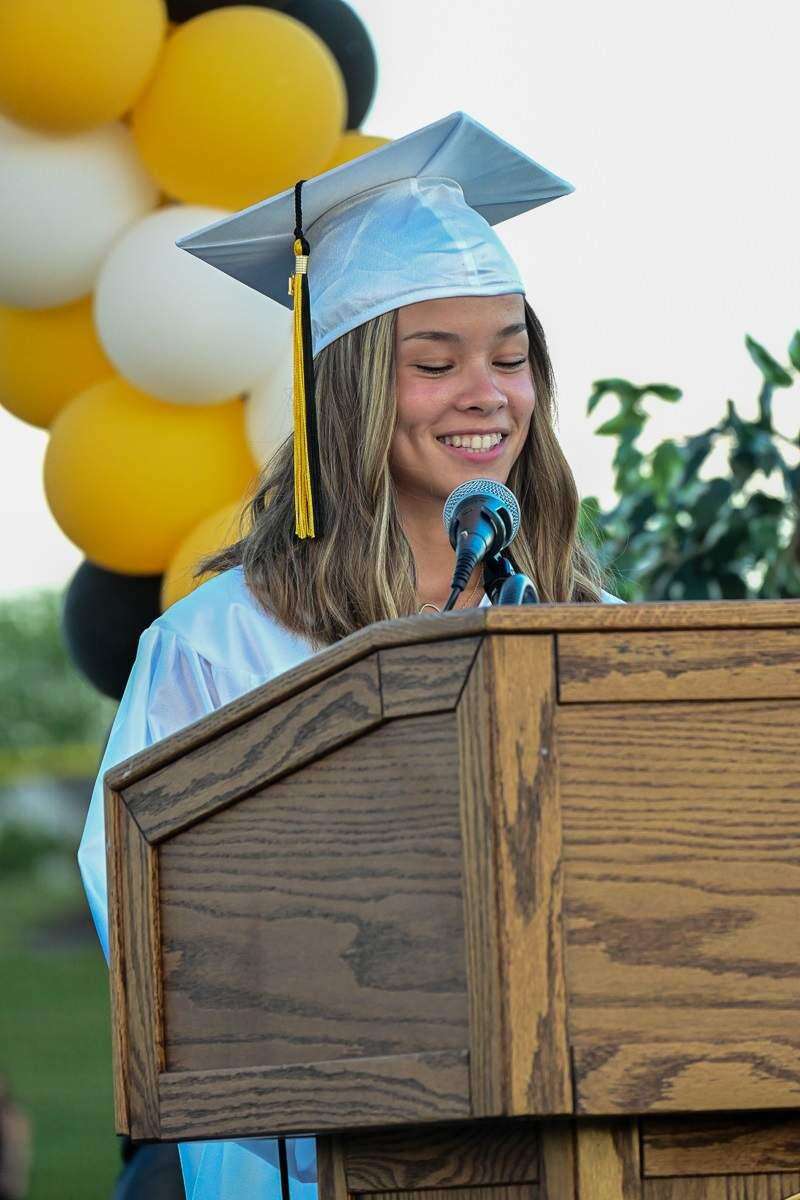 Published June 10. 2021 08:58AM
BY SUSAN BRYANT
LOU WHEELAND
Special to The Press
Families and friends of the Class of 2021 gathered in person at the Northwestern Lehigh High School stadium June 4 to watch their loved ones graduate.
Under a beautiful spring evening sky at the stadium, 167 graduates took their first steps toward their future.
Northwestern Lehigh High School, affectionately called "Corn Crib High" by students and staff, is an example of a rural school district surrounded by farms and forests.
High School Principal Aileen Yadush welcomed the soon-to-be graduates and guests to the commencement ceremony.
"Seniors as we take a few moments tonight to celebrate the culmination of your adventures and accomplishments from kindergarten through 12th grade, we ask you to reflect upon those years proudly, acknowledging you have taken on every new transition with confidence, as well as with a passion that has led you to this very moment in your lives," Yadush said. "Today, you begin a new phase in your life, one that extends beyond the walls of Northwestern Lehigh High School.
"As with every change you encounter in your life, our wish for you is that you create new memories as you experience life in your own way and pass on what you have learned along this journey to those that will come behind you."
President of the Class of 2021 Reagan Hernandez then addressed her class, families and friends.
Hernandez began by discussing Winnie the Pooh, comparing him to some of their adventures over the years.
She then spoke about the challenges from the COVID-19 pandemic the graduates have faced since the last few months of their junior year.
"But let's not dwell on that, instead let's focus on what we gained and we learned," she said.
"Even though it felt like the dumping [from the pandemic] would never stop, the thing is we were buried, now we are planted.
"We used that dumping as fertilizer and then we bloomed."
Hernandez said even though the end of high school was not what the graduates planned, they persevered and made it.
"We learned that we cannot control our circumstances, but we can control how to react to them," Hernandez said.
"Years from now, when people think of the Class of 2021, how will we be remembered?
"Obviously, they will say we are the most talented, athletically gifted, courageous, attractive, fun, resilient and, of course, humble class that have walked the halls of 'Corn Cob High.'"
Emma Burton and Elizabeth Leiser then recognized National Honor Society and National Honor Science Society members.
School board President Willard Dellicker formally recognized the Class of 2021.
"This is a proud day for your parents and grandparents and your teachers and yourselves," Dellicker stated.
Dellicker told the soon-to-be graduates it is not a time for them to think about what they missed out on during their senior year, but it is a time for them to celebrate their accomplishments.
"Commit yourselves to grow and learn from the experiences inspired by your teachers, your parents and your friends who lifted up your spirits to complete this milestone in your life," Dellicker said.
Assistant High School Principal Matthew Givler then recognized the 70 senior award recipients of the Class of 2021 and Bailey Scheffler gave the student address to fellow class members.
"Although our senior year did not start as planned, we've had the opportunity to reflect on positive things that did happen," Scheffler said. "We all mastered Zoom meetings by now and should not have to say the words 'Am I still on mute or can you hear me.'
"This evening and weekend will mark the official end to our time spent at Northwestern Lehigh.
"Personally, I have enjoyed being a part of a class that persevered through challenging times.
"The last 18 months taught us resiliency, patience and flexibility. Our class is filled with talented students who will succeed in the next phase of our lives proudly representing our community and display the Tiger Pride that we have all grown to love.
"I personally feel fortunate to be your classmate and part of the Class of 2021 that will forever be remembered for being hard working, kindhearted and fun spirited."
Superintendent Jennifer Holman spoke to the graduates before they were presented their diplomas.
"You have been dedicated to the pursuit of academic excellence driven by curiosity and intellectual passion and determined to make a positive impact on our communities," Holman said. "As we wish you well on this day, we will always remember your accomplishments and the lasting contributions you have made to our school community.
"Your teachers, fellow students, neighbors, employers, co-workers, family, friends and your parents all had a part in helping you reach your goals.
"Though most will probably not ask for any, they deserve your respect and gratitude. No one achieves success alone and I am confident they are as proud of your efforts as I am."
Yadush closed the graduation ceremony focusing on what the students learned instead of what they had to endure.
"I also thought it might be appropriate to take a few seconds to review the progression of the pandemic related side of your senior year," she said.
After performing some of the online and Zoom meeting scenarios as scripted by the high school teachers, she shared her absolute favorite.
"'Good morning Wyatt. What's that? The fence was down? No, you're good. I understand why you were late for the Zoom meeting.
"'I hope you caught the cow.'"
Yadush said when she reflects on all the students have accomplished this year, it truly is a testament to their resilience, their toughness in not allowing the pandemic environment stifle their ambition and drive.
"Seniors, while we are confident we have taught you well and provided you with the skills and education that you will need as you adventure out into this world, we hope you know that no matter where the road leads you, there is always one road that will lead you back home," Yadush said.
"Congratulations Class of 2021. Your principal will miss you."