A 'Starry Night' glistens over Olde Homestead Prom-goers celebrate in formal elegance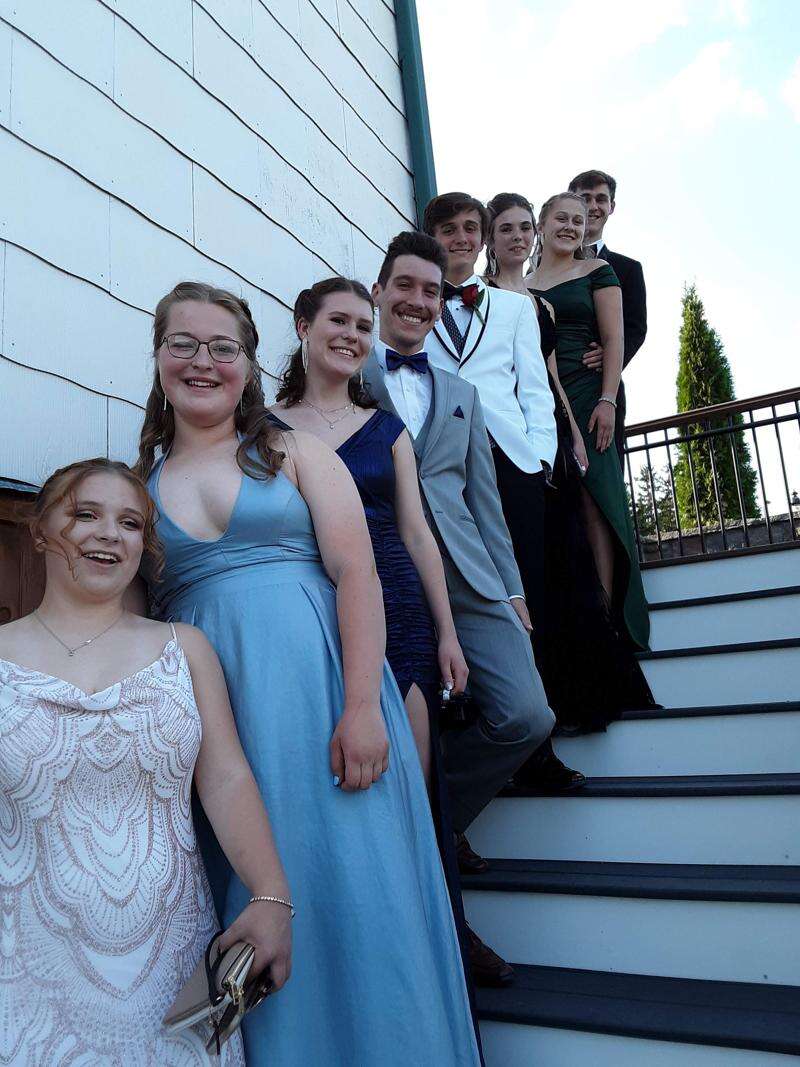 Published June 10. 2021 08:57AM
By ANNA GILGOFF
Special to The Press
With periwinkle blue and silver elegance setting the tone, the Northwestern Lehigh Class of 2021 gathered at Olde Homestead Golf Club June 6 to celebrate the quintessential party - their high school prom - ending their more than a decade long educational career.
"This is perfect," said class Secretary Elizabeth Leiser, as she did a 360 taking in every corner of the venue. "I absolutely love the decorations in the barn. They fit our theme perfectly."
Leiser was referring to the theme of this year's prom: Starry Night. The star effect was created by strings and strings of lights festooning the interior of the barn, high above the tables arranged for prom-goers.
This is the second consecutive year Olde Homestead in New Tripoli has been the site of Northwestern's prom.
"It was outside in an outdoor type of tent but it wasn't anything like this," said Richard Rudolf, admiring the setting.
Rudolf accompanied Elizabeth Leiser to this year's prom, but since he graduated last year, attended that prom as well.
"Olde Homestead has been extremely generous and accommodating," said class President Reagan Hernandez. "We are fortunate to have such an incredible outdoor event venue in our backyard."
Owen Bliss also complimented the local golf club.
"This is a great place close to home," said Bliss, who accompanied Carla Eberle to the site of the festivities carrying a pair of printed clogs for his date.
"I just need to be prepared," said Eberle, smiling. "I'm wearing 4-inch heels right now."
The newly minted graduates moved about like photos from a fashion magazine.
Taylor Shaner wore a purple dress embellished with appliques.
"I almost bought a blue dress at La Femme. Then my mom suggested going to one more store," she said. "I just wanted a purple dress right from the beginning."
Shaner said her dress was too long, so her grandmother cut several inches from the bottom.
"I gave Zach a whole circle of the dress so he could match his tie," she said.
Hernandez purchased her glittering gold gown from Prom Excitement in Wilkes Barre.
"It was the third dress I tried on," she said.
Formality and fun were the watchwords of the evening.
"This is a formal event and we want this prom to be as normal as possible," Leiser said. "So most people wore tuxedos and fancy dresses, but people were also welcome to wear whatever they wanted."
The prom was intended to be an indoor/outdoor event.
"Olde Homestead just built a beautiful new patio and there are many outdoor locations to take pictures," Leiser said. "The food, tables and dance floor are all inside the barn which is decorated in a Starry Night theme."
The menu was a crowd pleaser.
Hors d'oeuvres included assorted mini pizza bites, buffalo chicken pops with blue cheese and celery, and grilled cheese with roasted pepper tomato bisque served in shot glasses.
A slider bar included signature pulled pork and mini bacon cheeseburgers served with fries, and a soft pretzel bar featured salt garlic-herb and cinnamon sugar with sweet and savory dipping sauces.
Prom-goers could customize their own choice of a dessert at a s'mores bar, and goodies from Buttered Crumb tempted guests.
"We had a professional photographer for formal portraits and candid shots were available for students to download and print," said Hernandez.
A photo booth added to the fun.
Breaking with tradition, the prom was held two days after graduation. Traditionally, Northwestern has scheduled the prom on the Sunday of the Memorial Day Weekend.
"We wanted that one bit of normalcy in a very trying senior year," explained Hernandez. "We hope everyone attending prom had a wonderful time and our not-so-great senior year ended with some fantastic memories of time spent together.
"Our class missed out on sharing so many milestones with our classmates our senior year.
"We are grateful we were able to celebrate our graduation in person, but we really wanted this one last very special night with our classmates to celebrate and say goodbye."