New Alumni Field progress coming along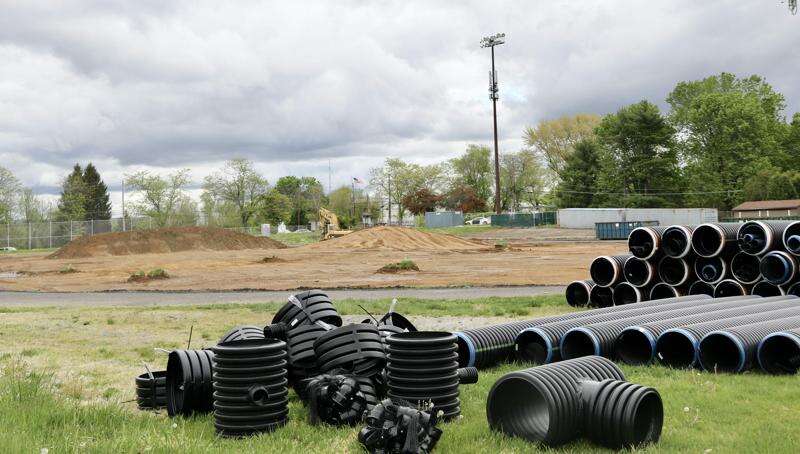 Published June 03. 2021 10:49AM
Catasauqua's Alumni Field continues to undergo its new look.
Since a plan to renovate the field was initially discussed in October 2019, renovations have been gradually taking place on the site. The goal is to have the field full renovated by September.
"They started excavating and you can see progress," said Rough Riders athletic director Tom Moll. "The visiting bleachers, the goal posts, the interior fencing, the press box, and the scoreboard are all gone.
"They have been working taking dirt away, and you can start to see how everything will fall into place."
Moll noted the new complex will have a turf field for football, field hockey and soccer. A new press box, scoreboard, goal posts, and interior and exterior fencing will fall into place. A turf instead of a grass field earlier was improved due to its longevity and the amount of volume due to the multiple teams utilizing the field.
He added that the field house also will be renovated, creating a new coaches room, training room, and locker rooms. The visiting bleachers may be smaller than the older version, and new lighting will provide a brighter perspective.
One of the other major additions will be a brown turf track that finally will provide the program with home meets.
In order to comply with the Americans with Disabilities Act (ADA), the home bleachers will add 24 wheelchair spaces, adjust the space between aisles and railing with ramp upgrades. This move will reduce the current capacity from 2,600 to 2,588. Railings also will be placed accordingly in the bleachers to help assists fans.
Other improvements will include a new ticket booth, gate replacement, sound system, parking, and paving improvements.
Moll added that the field behind the scoreboard will be a practice field for the varsity and middle school team as well as a plot of land available for the track team.
He expects the new field to be christened with the football team's home opener, Friday, September 10, possibly sooner. It also coincides with the Roughies beginning play in the new Colonial/Schuylkill League merger that originally was scheduled to begin this past fall.
"The stages are being reached," said Moll. "They have targeted early September, but it could be earlier. We are hopeful there won't be any issues to stop construction."