PHS volleyball to play for D-11 title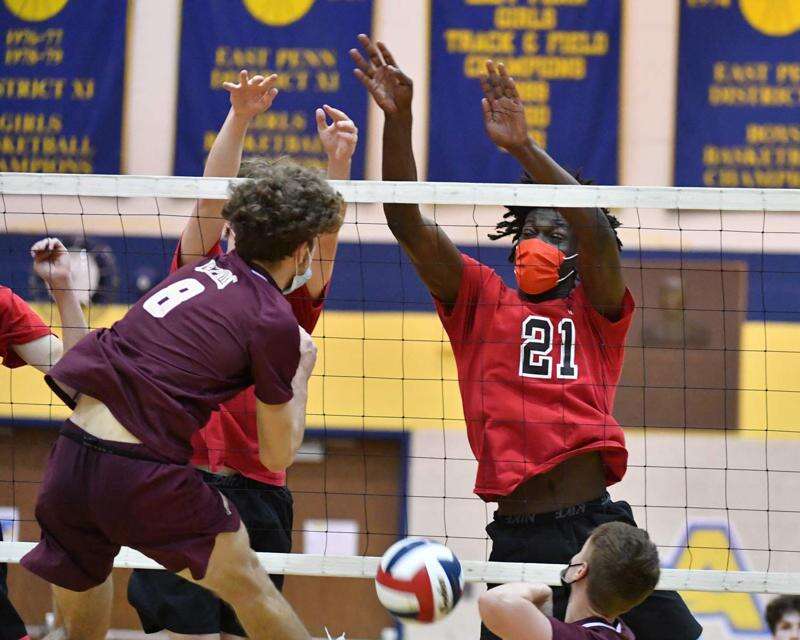 Published May 27. 2021 11:49AM
The Parkland and Whitehall High School boys volleyball programs know each other well, especially when it comes to the postseason. The two teams met in the last District 11 championship match played in 2019, one that was won by the Zephyrs. One or the other has been in the district title match every year since 2007.
That streak will once again continue this year in 2021.
Second-seeded Parkland and third-seeded Whitehall met in the District 11 Class 3A semifinals last Tuesday evening at Allen High School's Sewards Gymnasium. The Trojans (20-2 overall), whose only loss of the regular season came to the Zephyrs back on April 26, got some payback when it mattered most, winning in straight sets by scores of 25-16, 25-16 and 25-23 to advance to their second straight district final.
"Earning another trip to district final is great," said Parkland head coach Scott Trumbauer. "It's especially great since we have so many kids who never experienced it, but also have a few that have played in and handful, across multiple sports. Each trip to a final is really special for everyone."
Waiting for Parkland is another familiar opponent, top seed Emmaus. The Trojans and Green Hornets battled in a five-set match for the Eastern Pennsylvania Conference crown, won by Emmaus two weeks ago. Trumbauer and his team is looking forward to getting another shot at the Green Hornets. Emmaus last won district titles in 2017 and 2018, while Parkland last won in 2016.
"Competing for a district title, no matter the opponent, is great," Trumbauer said. "Since Emmaus beat us in the EPC final, it's all we could ask for to get a chance to play them again."
Jordan Lewis led the way with 13 kills and four blocks, while J.T. Siggins had nine kills and three blocks. Ben Robbins tallied 10 digs and three aces and Azhar Sumar added 13 digs. Mason Bergstein contributed 32 assists.
"We served really well and played really aggressively," said Trumbauer. "Whitehall is a great team when they are in system and dictating the play. We were able to do that for most of the match."
Parkland and Emmaus will meet for the district title Thursday evening.