Algard adapts, throws gem against Easton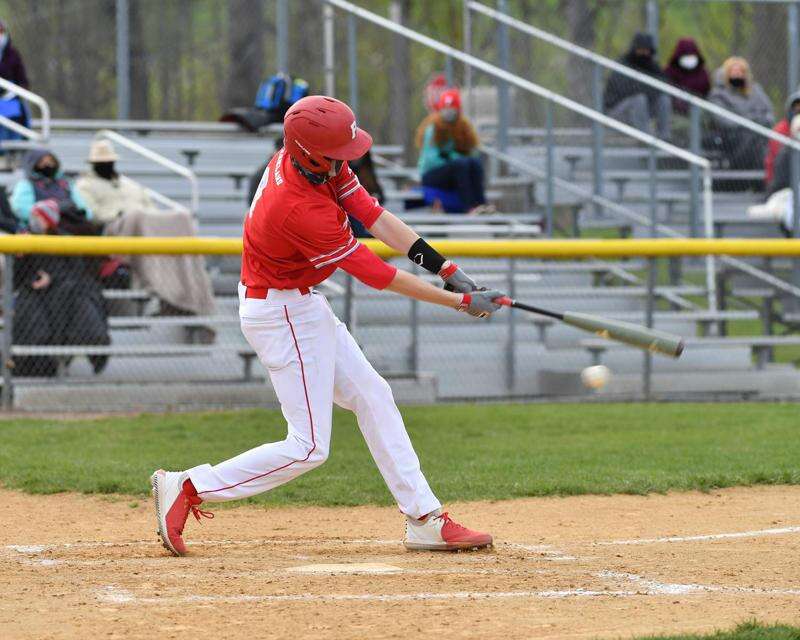 Published May 27. 2021 11:49AM
Initially, Joe Algard was only going to pitch a few innings and then coach Kurt Weber was going to pull him so he could bring him back for Friday's semifinal.
With a four-run first inning for Parkland and Algard being efficient with his pitches, the plan would have worked perfectly. Instead, Algard threw 6 1/3 innings and was throwing a no-hitter into the sixth inning as Parkland (18-5) advanced to the semifinals against Liberty (19-2) with a 4-0 win over Nazareth (11-10).
The plan changed just before game time when Weber was told that Friday's semifinal games were moved up to Thursday because of the threat of rain for Friday and Saturday. The change meant that Algard would not be eligible to pitch in the semis if he pitched Tuesday.
"I went from telling him (Algard) that instead of only giving me a couple innings, I needed him to pitch as deep as he could to save my other arms for Thursday," said Weber.
Algard set the Blue Eagles down in order in the first, as he would do in each of the first three innings.
The Trojans jumped on Nazareth starter Ashton Johnson early and did not let up until they had batted around in the first. Blake Barthol led off the game with what looked like a bloop single, but when he noticed the center fielder taking a laid-back approach, he hustled his way to second to start the game.
With runners on first and third, Bryce Ratliff, who had walked, stole second and Luke Meehan followed with a single to drive in two runs. Matt Razzis doubled to put runners on second and third and Jesse Ruisch produced a base hit to drive in two more runs and make it a 4-0 game.
"Those early runs were huge for us, and it helped me out on the mound because I had that cushion," said Algard. "We wanted to come out fast and we definitely did that today."
Algard issued a walk and hit a batter in the fourth but responded to get the final two outs of the inning.
After giving up a leadoff single to Taiki Horiguchi in the bottom of the fourth, Anderson was lifted in favor of Ben Pinel, who walked Barthol and would eventually face a bases-loaded, two out jam that he escaped from with a strikeout to end the inning. After a leadoff walk to Peyton Wapelhorst to start the sixth, Algard got Dan Novak to pop up to third before giving up his first hit of the game, an infield single to Michael Peterson. Algard pitched out of the jam. An inning later, Algard gave up two one-out walks and gave way to Barthol.
"I was aware that I had the no-hitter going, actually, a couple teammates pointed it out to me," said Algard, who has never thrown a no-hitter. "It would have been nice to throw a no-hitter in this situation, but we got the win and that's what really matters. The defense behind me was great and that helped me a lot."
Barthol got the final two outs of the game to lock up the win for Parkland and set up the meeting with Liberty in the semifinals.
Ruisch finished the game with three hits and two RBI, while Razzis also had a multi-hit game, picking up a single and a double.
"We played a good game today, but I would have liked to see us add on some runs later in the game," said Weber. "Joe (Algard) pitched really well for us again today and he has done that all season. We always know we have a chance to win when he's on the mound and we felt good about our chances coming into the game."
Parkland and Liberty met in early April, with the Hurricanes winning 3-2, handing the Trojans their first loss of the season. Liberty is the number-two seed, while Parkland is seeded third. In the other semifinal game, top seed Emmaus (19-5) will host fifth seeded Easton (15-7). The District 11 championship is set for next Tuesday at Weiland Park on the campus of DeSales University.