Young Falcons run into top foes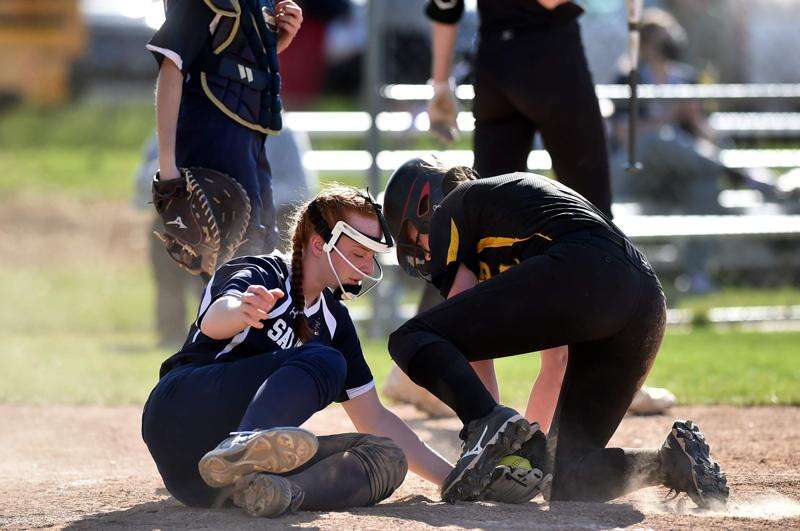 Published April 23. 2021 11:59AM
It was a tough week for the Salisbury softball team (2-3 Colonial, 2-3 overall). The Falcons had four games on their schedule and went 1-3. Southern Lehigh (2-2, 3-2) and Catasauqua (2-3, 2-3) were among the opponents on the schedule this week and are all part of a group of teams battling for position in the Colonial League. Wilson (3-2, 4-3) and Bangor (2-1, 3-1) are also in that group.
The week started with a matchup against one of the top Colonial League teams, Northwestern Lehigh (5-1, 6-1). The Northwestern offense is powerful and at the time that it came to Salisbury to play the Falcons, the Tigers were undefeated. The Falcons were able to keep the Tiger offense from exploding, holding them just under their average of nine runs per game in an 8-0 loss.
"We knew coming in that they could score a lot of runs, so it was a matter of doing our best to keep them from scoring too often and try to keep pace with them," said coach Jeff Appleman. "We've got a young team and they ran into a really good team with a deep lineup."
In addition to the strong offense, Northwestern has good pitching and Brynn Balliet was able to keep Salisbury off the scoreboard, limiting the Falcons to just three hits. Northwestern jumped out to an early lead with three first-inning runs and added two more in the second to go up 5-0.
Balliet allowed base runners in each of the first three innings on two walks and a hit batter. Beth Carney picked up a one-out single in the third and then stole second to give Salisbury its first runner in scoring position. Balliet was able to get a double-play ball to end the inning.
Northwestern tacked on two runs in the top of the fifth and Salisbury looked to answer with a threat of its own. Samantha Peffer led off with a base-hit and went to second on an error. One out later, Riley Knecht walked to put runners on first and second with one down in the inning. Again, Balliet responded to get a strikeout and a fly ball to right to end the inning with the Lady Tigers holding a commanding 7-0 lead.
An inning later, Northwestern stretched the lead to 8-0 but still couldn't get the Lady Falcons to give up. Kat Lovelidge led off the bottom of the sixth with a walk and a double by Kayla Trenge put two runners in scoring position. Once again though, Balliet kept both runners from crossing the plate by getting the next three batters and ending the threat.
Even in the seventh inning, Salisbury wasn't giving up and got a leadoff single from Julia Graver and one out later, a Tigers error put runners on first and second. Balliet had one more escape routine and got the next two batters, ending the game with a shutout.
"One thing that every team can always do is keep playing hard," Appleman said. "It's difficult sometimes when you get down, especially early in the game, but these girls didn't quit. They can be proud of that."
Against Palisades (0-5, 0-5), Salisbury banged out eight hits and were tied with the Lady Pirates 7-7 after seven innings.
The Pirates failed in the top of the eighth and Salisbury ended it in the bottom of the inning. Freshman Taylor Jenny led off the eighth with a triple to right and one out later, Lovelidge lifted a ball to right that was misplayed, allowing Jenny to score from third with the winning run.