Softball tops Falcons for 4-0 start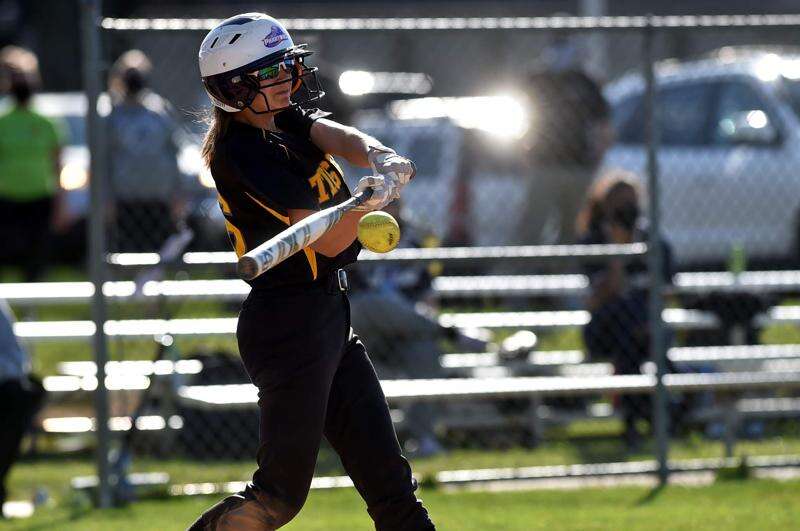 Published April 23. 2021 11:56AM
If Northwestern Lehigh softball coach Josh Zimmerman knew one thing about his team coming into the season, it was that the offense would be high-powered, and it would finish the season with more home runs than any other team in the Colonial League. Through their first four games of the season, the Lady Tigers are batting .446 with six home runs and have averaged just over 11 runs per game.
With an unscathed 4-0 record, Northwestern Lehigh has won by margins of as close as 5-2 and as wide open as 19-0. While their first four opponents have a combined record of 4-8, things will get tougher with games upcoming against Southern Lehigh (1-1 Colonial, 1-1 overall), Catasauqua (1-1, 1-1) and a tough Palmerton team that is off to a 4-1 start overall with a 3-1 mark in Colonial League games.
Their latest win was an 8-0 dismantling of Salisbury (1-1, 1-1) on Tuesday. Molly Mitman and Marissa Christman each drove in a pair of runs for Northwestern, while Morgan Farthing and Adana Funk both collected two hits. Christman's first-inning double drove in Sage Toman and Farthing and Christman later scored on a wild pitch as the Lady Tigers opened the game with a three-run first inning.
One inning later, Funk led off with a triple to right center and scored when Kylie Zentz followed with an RBI single. Zentz stole second and then scored on an error, to make it 5-0 in favor of Northwestern.
"We knew that we would score a lot of runs and that's been the case so far," said Zimmerman. "We also figured that our pitching was going to be good enough, especially with the big offense, for us to win a lot of games this season. The girls have worked really hard and they're doing everything that we asked them to do coming into the season."
As for the pitching, junior Brynn Balliet is appreciative of the offensive power, but she hasn't really needed too much of it. In four starts, Balliet has posted a 1.71 ERA with just four runs allowed through the first four games. Against the Falcons, Balliet threw seven innings and allowed just three hits with the first of them not coming until the fifth inning. Balliet walked Bailey Neitz to open the second inning but then struck out the next three batters on her way to 11 strikeouts in the game.
In the fifth, Mitman doubled to drive in two runs after Toman led off with a single and Farthing walked. An inning later, Sam Sisco led off with a double to left and later scored on one of three Salisbury errors on the day.
"Everybody has contributed in one way or another for us this season and we're still early in the year," said Zimmerman. "I'm happy with how the team has approached the games and what we've done so far. We just have to keep it going over the course of the season and I believe that we will be able to do that."
The game against Palmerton on Saturday is going to be a nice test. The Bombers and Tigers are the two best teams in the Colonial League. The teams will provide each other with their toughest test of the season so far. Palmerton has faced teams with a combined mark of 3-8 on the season with their only loss coming against Tamaqua (1-3) in a 3-2 loss on Monday.