PHS blows out Zephyrs in five innings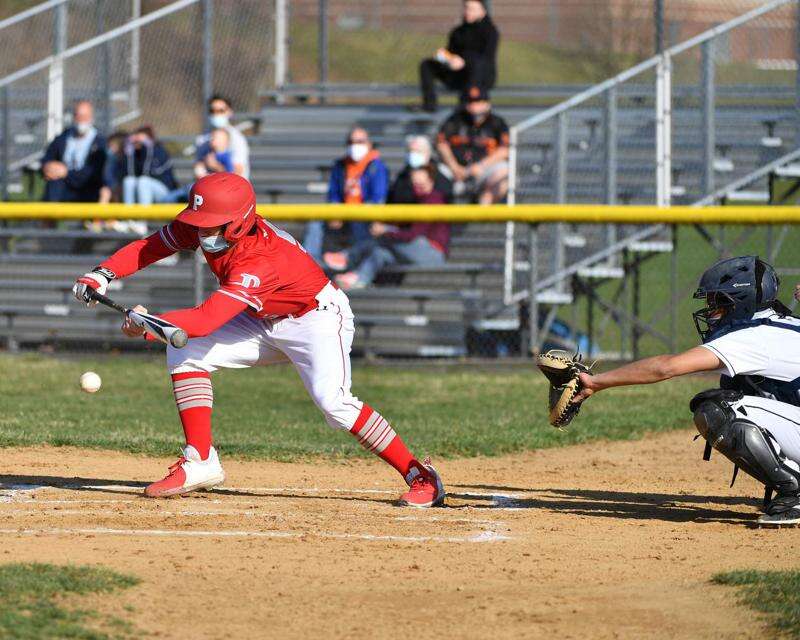 Published April 23. 2021 12:00PM
One play here or there can often swing momentum in a baseball game.
Last Thursday Parkland seemed to be in early trouble against Whitehall at Coca-Cola Park. The Zephyrs took a 1-0 lead in the top of the first inning and had runners on first and third with no outs.
But momentum shifted on the next play.
A hard line-drive to Trojan first baseman Luke Meehan turned into an unassisted double play. Sophomore starting pitcher Bo Barthol got the next Whitehall batter to fly out, allowing the Trojans to escape the inning with just a one-run deficit.
The Trojans then put up nine runs in their half of first inning en route to an 11-1 win in five innings.
"We were in a lot of trouble in the top of the first and things kind of worked out for us," said Parkland head coach Kurt Weber. "That was a big momentum shift. That double-play ball doesn't happen and the whole game is different."
Bo Barthol started the Trojans' big first-inning with a one-out single. Blake Barthol followed with a home run over the right field wall that would serve as the game's winning run.
"They started off good," said Blake Barthol. "Our pitcher struggled a little bit, but we just had to keep going at it when we were at bat and help him with some runs."
The Trojans added six more runs in the inning. Three came on Whitehall errors and the others from RBI singles by Jacob Donmoyer, Andrew Keller and Blake Barthol as Parkland sent 13 batters to the plate in the first inning.
"That was huge," said relief pitcher Owen Lehr of Barthol's home run. "After that happened it was kind of the nail in the coffin. They kind of looked dead and we were up."
Bo Barthol settled in and allowed just one hit and a pair of walks while striking out two batters over the second and third innings.
Lehr came on to pitch the last two innings, allowing one hit and no walks while striking out one Zephyr batter.
Parkland put the mercy rule in affect in the third inning without getting a hit. Two walks and an error loaded the bases. Keller scored on a wild pitch and Bo Barthol crossed the plate on a Matt Razzis fielder's choice to make it 11-1.
Parkland improved to 3-0 with the win, but fell to unbeaten Liberty the next day, 3-2, then rebounded to beat Central Catholic 10-0 Saturday.
The Trojans (4-1), like many teams this season, are still polishing their pitching rotation and finding the right roles for all of their arms. They're without ace Dylan Duborg for at least another week.
"We talk about the fact that we don't know our pitching staff yet and we're trying to learn them," said Weber. "We do have some arms. It's just a matter of how they perform."
The Trojans' offense is no question mark. Parkland scored 40 runs in its first five games this season.
"The top of our order, they all can run. They all hit real well," said Weber. "They're fun to watch."
Lead off hitter Keller went 1-for-2 with two runs scored and an RBI against Whitehall. Bo Barthol, who bats second, was 2-for-3 with two runs scored. Blake Barthol, in the third spot, was 2-for-2 with three RBIs and cleanup hitter Meehan was one of five Parkland hitters with one hit in the game. Jack Giovenco, Bryce Ratliff, Donmoyer and Taiki Horiguchi, who knocked in two runs, had one hit each in the win.
Barthol and Lehr limited Whitehall to just three hits and three walks.
"We have a ton of good hitters and it looks like we've got some pitching," said Lehr. "I think we can be a competitive team this year."
Parkland has a busy upcoming schedule with two games against Allen one against Northampton this week. Next week Parkland will have home and home contests against Emmaus (Tuesday at Church Lane; Thursday at Parkland) before facing 3-1 Easton twice (April 23 and 26). Emmaus started the season 5-0 and Easton was at 3-1 early this week.
While the Trojans will battle to be the best team they can this season, they also are just happy to be back on the field after missing the entire 2020 season.
Lehr is a senior who made the varsity team for the first time last season before things were shut down. He plans to enjoy the one and only season he was left with.
"I'm extremely happy," he said. "This is the first time I get to play for varsity. It's a dream I've always had."