Bake Oven Hair Salon takes extra care to offer full service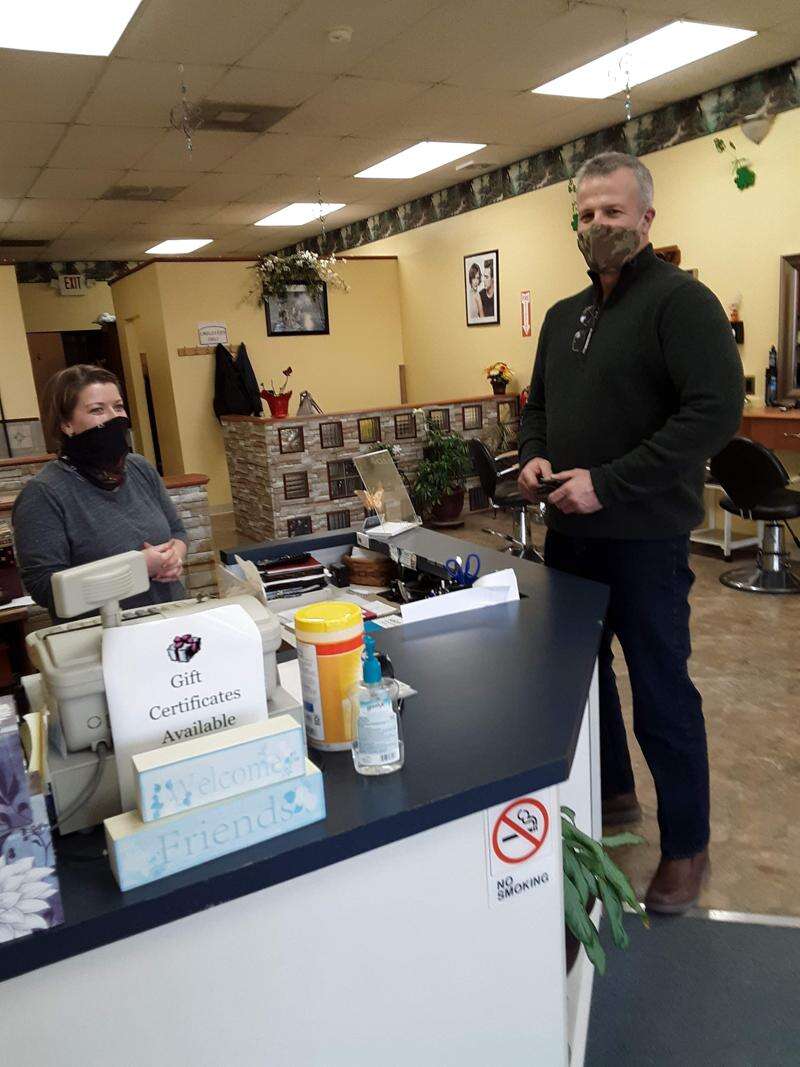 Published April 01. 2021 07:19AM
By ANNA GILGOFF
Special to The Press
Serving their customers in the safest way possible remains the No. 1 goal for Judy Fritz and Julie Geiger, co-owners of Bake Oven Hair Salon, 6301 Route 309, Star Plaza, New Tripoli.
The mother and daughter team prizes the relationship developed with customers over 10 years and is committed to doing all they can to keep them as safe as possible.
The two women continue to offer haircuts, perms and color, but by appointment only, Fritz said.
"We used to have walk-ins but right now we're limiting occupancy to be extra safe," she added.
COVID-19 forced the salon to suspend services during the first few months of the pandemic.
"We were closed for three months," Fritz explained. "We're still limited as far as how many people can be allowed in the shop.
"That's why we've adopted an appointment only policy."
These are not the only accommodations the salon has made.
"Besides constant cleaning and mask wearing, there are many other guidelines we have to go by," Fritz said. "They can come in and inspect and we never know when.
"We're working six feet apart, too. We have four stations but we skip one station between us."
Only two stations serve customers at any given time.
Fritz and Geiger consider their customers family and put their welfare first.
"Some people have really been down during this time so we're hoping everything gets back to normal as soon as possible," Fritz said.
"We want to work with our customers and we're ready to welcome back all our amazing customers.
"It's a family salon for any age, including children. We even have customers who are in their 90s.
"We're grateful to all our amazing customers.
"They do check in to let us know they're doing fine but we can't wait to see them.
"We had a customer come in the other day looking for his haircut and he just celebrated his 100th birthday.
Fritz and Geiger learned their craft at Lehigh Career and Technical Institute, Schnecksville.
"We both had the same teacher which made me feel really excited and happy," said Fritz, who graduated from Emmaus High School.
Geiger is a 2009 Northwestern graduate.
The two women worked for other salons before they decided to join forces.
"It was a dream we always had and we worked to make the dream come true," Fritz said. "Customers kept saying why don't you do this and our family helped us out so we made it happen."
From the beginning, the two wanted to create a fresh, outdoor atmosphere starting with the salon's name which acknowledges the well-known, natural landmark.
"We wanted to create an outdoor feeling and provide our customers a sense of nature and not being cooped up indoors," explained Fritz, glancing back at the salon.