Pre-Palm Sunday service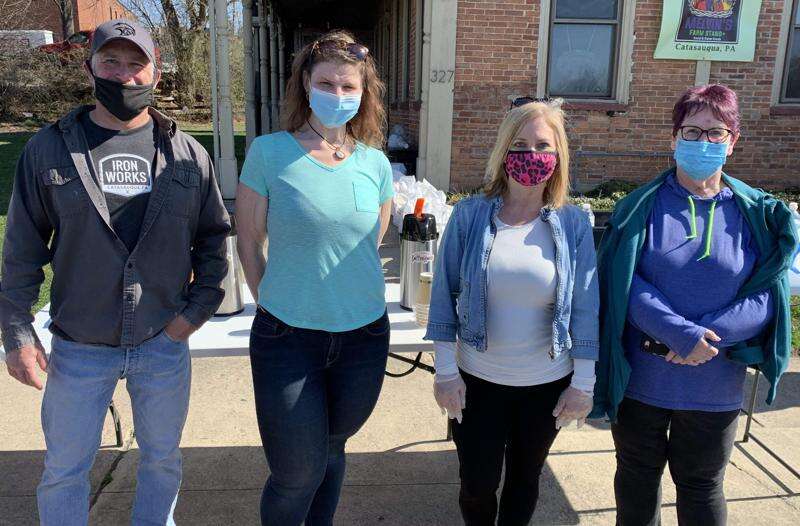 Published March 31. 2021 10:58AM
Stifled by the COVID-19 pandemic that canceled in-person services at his church, Brian Riedy, pastor of Holy Trinity Memorial Lutheran Church, 604 Fourth St., Catasauqua, and his church team organized a Palm Sunday service - not a traditional church service, but rather one of a different nature - a day early.
Riedy, citing the continued need in the community because of the pandemic, organized the free event March 27 on Front Street in the borough to benefit residents and nonresidents alike.
Palm Sunday is, according to Christians, a celebration for honoring Jesus Christ's entry into Jerusalem. The event purportedly occurred five days before Christ's crucifixion. The subsequent resurrection of Jesus is celebrated Easter Sunday and is a cornerstone of the Christian faith.
In addition to Holy Trinity, the event included the following Catasauqua businesses: Holistic Awakenings Counseling and Reiki Services, 840 Walnut St.; Pie's On Pizzeria, Pine and Front streets; Blocker's Coffeehouse, 309 Front St.; Melvin's Farm Stand, 327 Front St.; and Blondies, 333 Front St.
Everything provided by the groups was free. Take-home breakfast platters, coffee, tea, water, palm branches for Palm Sunday, goody bags of cookies and a gift - as well as friendliness and fellowship - were given to those attending.
Catasauqua Borough Council President Vincent Smith was on hand with community volunteer Melissa Brown, representing Blocker's and Melvin's Farm Stand, distributing coffee, tea and water. Jayne Stevens and Tori Spradling also assisted in item distribution.
Riedy and Holy Trinity member Rich Kunkel gave out the take-home breakfast platters, while a Holy Trinity mother-daughter team, Patti and Barb Fister, handed out palm branches to those interested.
Jenna Galligani, psychotherapist; Rebecca Zukowski, Reiki master; and Eva Gomes represented Blondies and Holistic Awakenings Counseling and Reiki Services and gave out the popular goody bags.
Riedy spoke on behalf of all the volunteers as he talked about the mission for churches to reach out and go into neighborhoods to address community needs. He noted the benefits accrued to those helping others.