ACC ousts NW boys from districts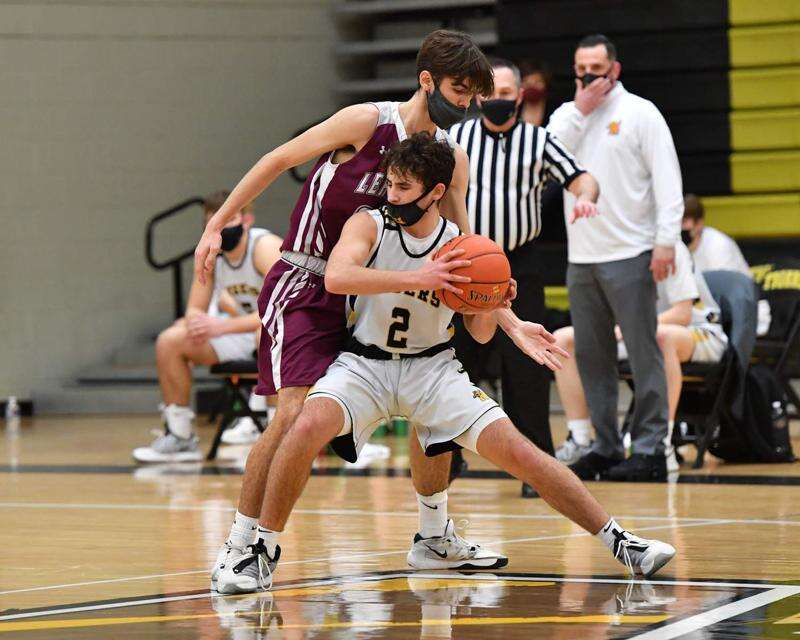 Published March 13. 2021 10:20AM
The Northwestern Lehigh boys basketball team went as far as the semifinals of the District 11 tournament. A win over Lehighton put the Tigers one step away from a district championship. However, an old nemesis, the Central Catholic Vikings, ended their run with an 84-44 win over the Tigers in the semis to finish Northwestern's season on a sour note.
"They played fantastic. They made a lot of shots, and you have to give credit to them for doing that," Tiger head coach Jerry Lloyd said. "Maybe I need to get a better game plan together for the kids, but Central played fantastic. They were the better team tonight."
Central hit 13 threes in the contest. Aidan Burmeister knocked down three of his four shots from beyond the arc in the first half and finished with 12 points. Tyson Thomas (15 points) and Andrew Csensits (11) both hit three treys.
When the second-seeded Vikings weren't raining down triples, they were getting buckets inside.
Liam Joyce, listed at 6-5, led the way with a game-high 22 points as he cleaned up underneath.
His presence, along with Christian Spugnardi – who is also listed at 6-5 and scored nine points – down low complemented Central's play on the perimeter.
"When you have inside-outside, it makes it very difficult on a defense," said Lloyd. "We wanted to defend the three a little better than we did, and try to front the post, but they're just a good team."
The Vikings led the No. 3 seed Tigers 14-11 at the end of the first quarter. A three from sophomore Cayden Fitch (eight points) cut Northwestern's deficit to four (21-17) midway through the second period.
But Burmeister responded with a triple at the other end, kicking off a 14-0 run that lasted until a little over two minutes to play in the first half.
"Northwestern's had a tremendous season, and watching them play, we knew that they were extremely disciplined," said Central head coach Dennis Csensits. "They got three or four backdoor cuts on us early, I thought because we were over-aggressive and lost our discipline, and to their credit, they took advantage of it.
"But I thought once we settled into our defense and were a little more disciplined with our aggression, we were able to go on a run, and we were fortunate tonight. The ball went in the basket, and we made a lot of shots. And it's one of those things, once you get on a run like that and they start going in, guys were feeling good about themselves"
The Vikings outscored the Tigers 46-17 over the second and third quarters.
Junior Justin Holmes led Northwestern with 11 points, while Nick Henry added 10.
As Lloyd let the sting of the loss sink in, he did so knowing that his team is positioned to make another postseason run next year with just one senior (Henry) in the starting lineup.
"For these guys to come in, not really have an offseason and have a new coach – a whole new staff, a whole new system – to finish 14-6, I'm so proud of them," said Lloyd. "But this one hurts, still. You get here, it still hurts. That hurt will be with us, hopefully it will stick with us in the offseason and it will just push us to keep getting better.
"We start four underclassmen, so we have the majority of our guys coming back; our sixth man off the bench is an underclassmen. I think the future is bright here. We'll just keep working in the offseason to get to the point where we can compete in these games."
Six different players hit threes for Central. In addition to Burmeister, Thomas and Csensits, Colby Faust, Nico Pulieri and Brendan Reed all had one triple.
District 11 Quarterfinal
Lehighton-Northwestern
In the quarterfinal game, the game was won in rebounding. Early on, Lehighton (11-10) was winning the battle of the boards and out-rebounding the Tigers, but by late in the second quarter, Northwestern (13-6) upped their effort on the boards and took over the game, leading to a 45-31 win over the Indians.
As the second quarter ended, the Tigers were on an 8-0 run and probably wished that they could push halftime back after gathering their first real touch of momentum in the game. The good news is that they came out of halftime up 21-15 and scored the first basket of the second half with 5:50 left in quarter three, to finish off their 10-0 run.
"I thought Ethan [Lazarus] and Justin [Holmes] did a better job of getting after the glass as the game went on, but it's got to be a team effort, we've got to have five guys all working hard on the glass," said coach Jerry Lloyd.
Even with the distinct edge in rebounding, Lehighton led by just a 9-7 score at the end of the first quarter. From there, the game bounced around with six lead changes in the quarter before Northwestern opened their run and didn't look back.
Andres Garrido hit a three-pointer with 2:08 left in the half and followed that up just a minute later with a two-pointer to put the Tigers up 19-15.
The half ended with Nick Henry pulling up for a nice jumper with just :03 on the clock to give Northwestern their six-point edge at the break.
The Tigers really took over the game when they went on another run to score six points over the final 2:48 of the third quarter and Dylan Witkowski's three-pointer with 5:51 left in the third pushed Northwestern Lehigh to a 37-24 lead, their biggest of the night to that point.
"It's not like we came out lazy, but they came out very physical and we weren't quite ready for it," said Holmes. "We really did pick it up in the second half and once we got more physical on the boards and took away their multiple shots, we just got our offense going."
The Northwestern offense is one where a different player can take over a game at any given moment. Against Lehighton it was more of a team effort with balanced scoring.
When everything was added up, the Tigers had a team-high 10 points from Holmes, with Witkowski scoring nine. Cayden Fitch and Andres Garrido both scored seven and Ethan Lazarus, who was playing in his first game back from an injury, finished with six.
"I love that about this team," said Holmes. "You never know who is going to have a big night and tonight, no one really had a big night, but we all had a good amount of points and that's pretty much been how our whole season has gone."
Senior Dylan Guyn finished with a game-high 13 points for Lehighton and fellow senior Rich Yturrino had eight points.
"They've got a ton of guys who can rebound and score points and do everything you need to do to win," said Lehighton coach Trevor Miller, who wrapped up his fourth season with the Indians. "They were flying all over the place and we lost some guys in the zone and that created some lanes for them to rebound and to score."