Board denies Macungie Manor rezoning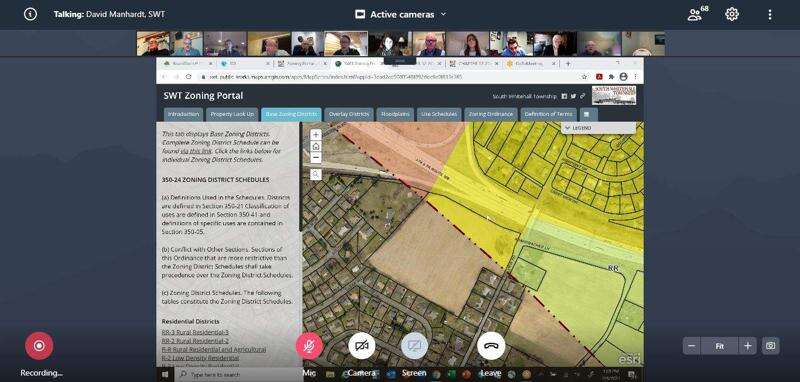 Published February 25. 2021 01:33PM
By SARIT LASCHINSKY
Special to The Press
In a marathon, three-hour public hearing on Feb. 3, which drew more than 70 audience members, South Whitehall commissioners voted against the rezoning request for developer Abe Atiyeh's Macungie Manor project.
The request had been to rezone a 3.889-acre parcel at 900 Hillview Road, part of a nearly 15-acre tract spanning South Whitehall and Lower Macungie Townships, from R-3 Low Density Residential to R-5 Medium Density Residential.
The total project proposed two, three-story independent living facilities in Lower Macungie, and a single-story memory care facility in South Whitehall.
Solicitor Joe Zator said the request had been advertised and the matter had been before the township planning commission twice - once receiving a recommendation to table the request pending the comprehensive plan, and the second time receiving a negative recommendation.
Attorney Blake Marles said the township's comprehensive plan review committee had deemed the area a "logical place for greater density than the property is currently zoned," adding the small parcel is separated from the remainder of the R-3 zone by I-78.
He also said placing single-family housing on the parcel, as allowed by R-3 zoning, was not feasible, and the proposal for an assisted living facility was "the only use for this property that can actually happen."
Marles said the memory-care facility would be secured and have "almost no adverse impact" on the neighborhood.
Bill Erdman, of Keystone Consulting Engineers, discussed the site's land development, noting that conditional use for the remaining tract looked "very favorable," and that no other development - single-family homes, town houses, a church or school - was feasible.
The major point of disagreement revolved around the lack of a traffic study, with board President Christina "Tori" Morgan noting there had been a "huge outcry" from the public and concerns from the planning commission, both of which noted traffic issues on South Whitehall roads.
Marles noted data from traffic engineers, who had been asked to do a traffic study for Lower Macungie, determined that with all the traffic from Macungie Manors heading south on Hillview Road to Kressler Road, there would be "virtually no impact on the qualities of the turning movements there."
"So far tonight, we have less information than what we've had at previous meetings about how the site would be developed," Commissioner Mike Wolk said.
Commission Matthew Mobilio said looking at the minimal South Whitehall traffic impact "in a vacuum" was unrealistic.
"We can't just disregard the fact that there's going to be traffic coming from South Whitehall Township to access the Lower Macungie facility," Mobilio said. "I think it's hard for at least myself to look at this as, 'well, let's just pretend the Lower Macungie portion doesn't exist,' because that's just not the reality of the project."
Atiyeh said much of the traffic would be employees, food deliveries and resident services.
"I promise you, it's the lowest impact of all uses in any assisted living," Atiyeh said.
Numerous residents of both townships provided public comment on the development, with many comments focused on the traffic study.
Brian Hite, a member of the planning commission, said his vote against the rezoning was traffic-based as the developer was reluctant to do a South Whitehall study.
"Good planning or rezoning is to evaluate all impacts, that includes traffic for all uses, not just assisted living. How is the impact to all uses allowed under the R-5 zoning?" he asked. "It might be minimal, but I wanted to see good data, not speculation."
Richard Schaller made note of unsafe traffic conditions on Hillview Road, adding the entrance to Macungie Manor would be coming out on the narrow road.
"There's a line-of-sight problem. You also have a dip on that road where roads momentarily can disappear," he said, adding there are also speeding issues which made the road dangerous.
Karl Mabry offered to show the board several videos which he said showed cars disappearing on the road's dips, which he said could pose a danger.
"I just don't understand how you can even come to a vote without that alone," Mabry said, noting the traffic impact is on South Whitehall and that the lack of a study was a "terrible mistake."
Additionally, Lower Macungie resident Matt Kressin said the Lower Macungie traffic study was also problematic saying a previous 2019 study, which only studied traffic for three days, was used to extrapolate the current findings, and the second study looked at Hillview Road for just a single day.
Atiyeh said he would be willing to pay for another traffic study, but when he contracted his engineers, it had been to look at Lower Macungie and South Whitehall, but he had been told due to COVID-19, the studies would not be accurate because of lower traffic volumes.
Morgan proposed giving Atiyeh the opportunity to conduct a detailed study on South Whitehall and bring information back to the board.
Mobilio said this was the second time the South Whitehall board was talking about this issue.
"Abe Atiyeh is no fool; he knows that a traffic study is imperative for a decision like this, but yet him and his folks decide to come without one today."
Wolk instead proposed a motion to reject rezoning request, which was seconded by Mobilio, noting that "this is not just a traffic issue; this is a land-use issue.
"I don't believe this should be rezoned from R-3; I don't believe that this land cannot be developed as R-3 or some other zoning that can be used for this property."
Commissioner Diane Kelly said she would vote in favor of Wolk's motion, while Commissioner Joe Setton voted "no," stating he would like to give the developer the opportunity to conduct a new study.
Morgan said she would have preferred to give the opportunity as well, stating the project made sense from a "smart developing perspective."
She also said the motion did not offer the option of conducting a traffic study, and she was "disappointed" knowing that the planning commission and township engineers had asked for, and not received, a traffic study.
She voted to pass the motion in an ultimate 4-1 decision.