It was 'A Good Old-Fashioned Big Family Christmas' at NWL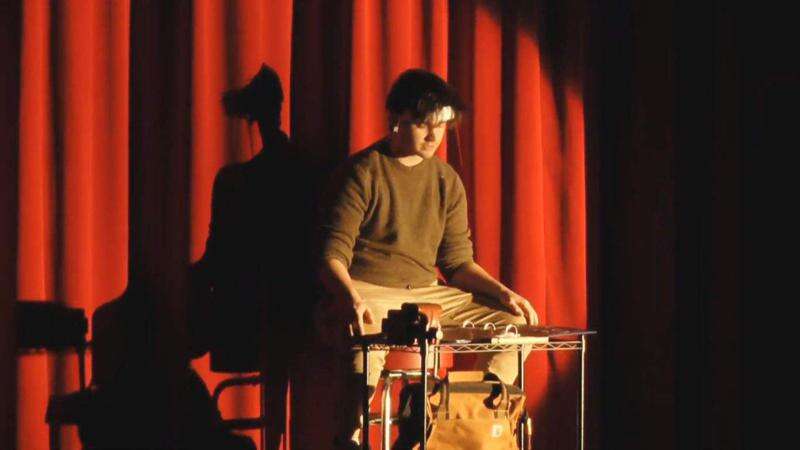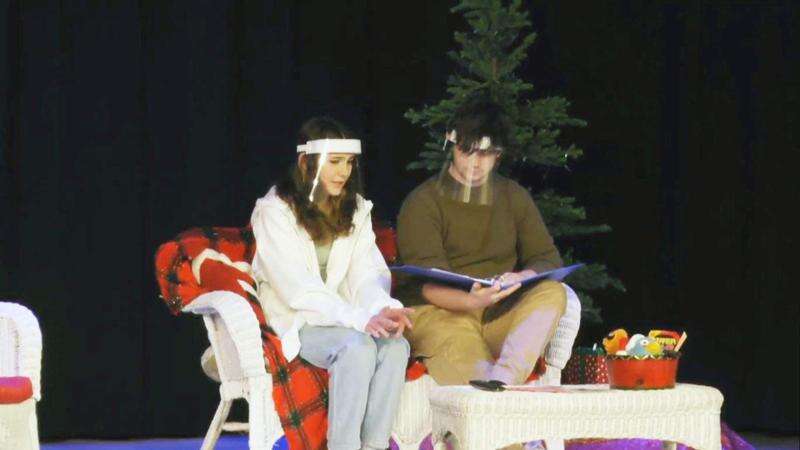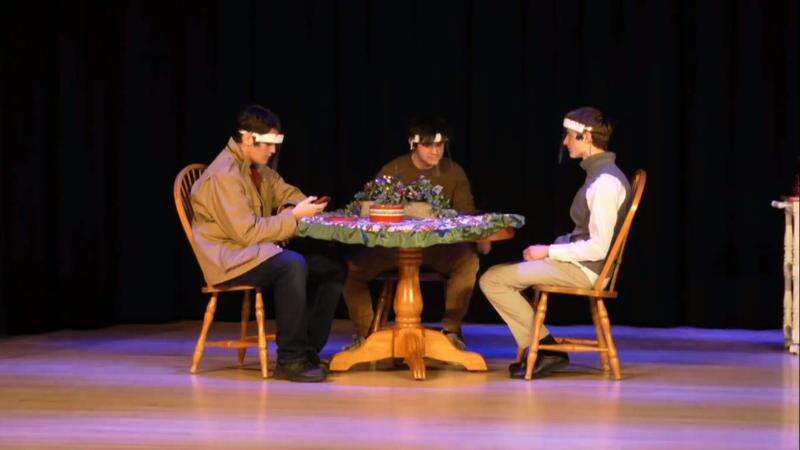 Published January 20. 2021 12:10PM
By SARIT LASCHINSKY
Special to The Press
Despite some setbacks and necessary accommodations to account for the ongoing COVID-19 pandemic, Northwestern Lehigh High School's Drama Club successfully showcased its Christmas holiday spirit with two live-streamed performances of "A Good Old-Fashioned Big Family Christmas" Jan. 8-9.
The show was originally scheduled to be streamed Dec. 19 and 20, 2020, but due to state COVID-19 mitigation orders, which led to the temporary suspension of winter sports programs and extracurriculars, the drama club's performance was forced to be postponed.
Nonetheless, the high school performers were able to take the stage once again in January - sporting protective clear face shields - and put on their festive family comedy.
The drama club's performance was a rendition of Pat Cook's play, "A Good Old-Fashioned Big Family Christmas," which centers on the familiar struggles of a big family trying to host the perfect holiday get-together.
The play opens with Judith, played by Emma Burton, telling her husband, Hayden, portrayed by Porter Lilley, that she and her sisters, Beth, played by Lauren Terrell; and Carla, portrayed by Savannah Madeira; are growing concerned that their parents are always arguing.
Hayden suggests the three sisters get together with their parents - Jack, portrayed by Cohen Thompson, and Arlene, played by Aine Demko - and settle their differences. Before he knows it, Judith is planning on throwing "a Christmas party, for the whole family," and despite her husband's protests, exclaims that "it was all Hayden's idea!"
While Judith, Beth and Carla are supportive of the idea of getting the family together, Hayden's brothers-in-law, Cliff, played by Hudson Wertman, and Max, portrayed by Declan O'Connor, are none too pleased about the prospect of spending the holidays with their parents, particularly Jack, and are sure to let Hayden know.
In the middle of planning, the couple's daughter, Phoebe, played by Chloe Schoemaker, comes home from college, and plans to go skiing over the holiday break, an idea which is quickly quashed by her parents, despite her protests.
In the process of explaining the family's Christmas plans to Phoebe, Hayden is again "credited" with the idea of the family going caroling, to which he moans, "I'm dead ... the guys are going to kill me."
"Did you say something?" Judith asks. "Yes, way too much," her husband responds.
After some fruitless attempts to get the family members to get along - especially during caroling practice - Hayden announces that not only are Judith's folks coming for Christmas so are his parents, which leads to even more arguments.
However, as the Christmas party approaches, suddenly all three brothers-in-law have become nonconfrontational, though some more willing than others, for Jack and Arlene's arrival, which immediately draws the suspicion of Beth, Carla and Judith.
Even more, once Judith's parents arrive, arguing as expected, all the family members are in good spirits and on their best behavior, a change which draws Arlene's attention, and she suggests that she and Jack be on their best behavior for the party as well.
Arlene says she believes the good behavior is concealing something about Judith and Hayden.
"I think they're having problems, and they don't want us to know," she suspects.
As all family members struggle to keep up the nice-guy charade, Phoebe seems to be dead-set on starting arguments, a move which may be related to her end-of-the-year psychology thesis on "family dynamics during holiday stress."
Furthermore, once Hayden's parents, Tom, portrayed by Aaron Palma, and Marjorie, played by Tessa DeJesus, arrive, Arlene clues them into her suspicions and asks them to get on board with the positive attitudes, just before the whole house of cards comes crashing down.
Max is revealed to have bribed his daughters to be good, and that Hayden, Max and Cliff's agreement to be on their best behaviors involved the exchange of their fishing boats, to their spouses' chagrin.
As tensions reach a boiling point, Hayden and Judith's neighbor, Mildred, played by Angelina Klein, stops by and tells the family that the entire neighborhood has gotten into the Christmas spirit after hearing about the effort Hayden and Judith were putting into their festivities.
Marjorie also says that the true meaning of Christmas is to "do something for someone else, to put someone else before yourself," such as throwing the party to stop Jack and Arlene from arguing, and the family clears up any suspicions and disagreements before sitting down to enjoy a dinner together.
At least, until Judith lets Hayden in on one final secret - Jack and Arlene are moving in.
The production also starred the following students in their respective roles: Mackenzie Madeira as Blair and Emily Bell as Lanie.
Additionally, the play included stage manager Annikka Stangil, tech crew member Miriya Fratrik and Director Bill Mutimer.