Celebrating a special day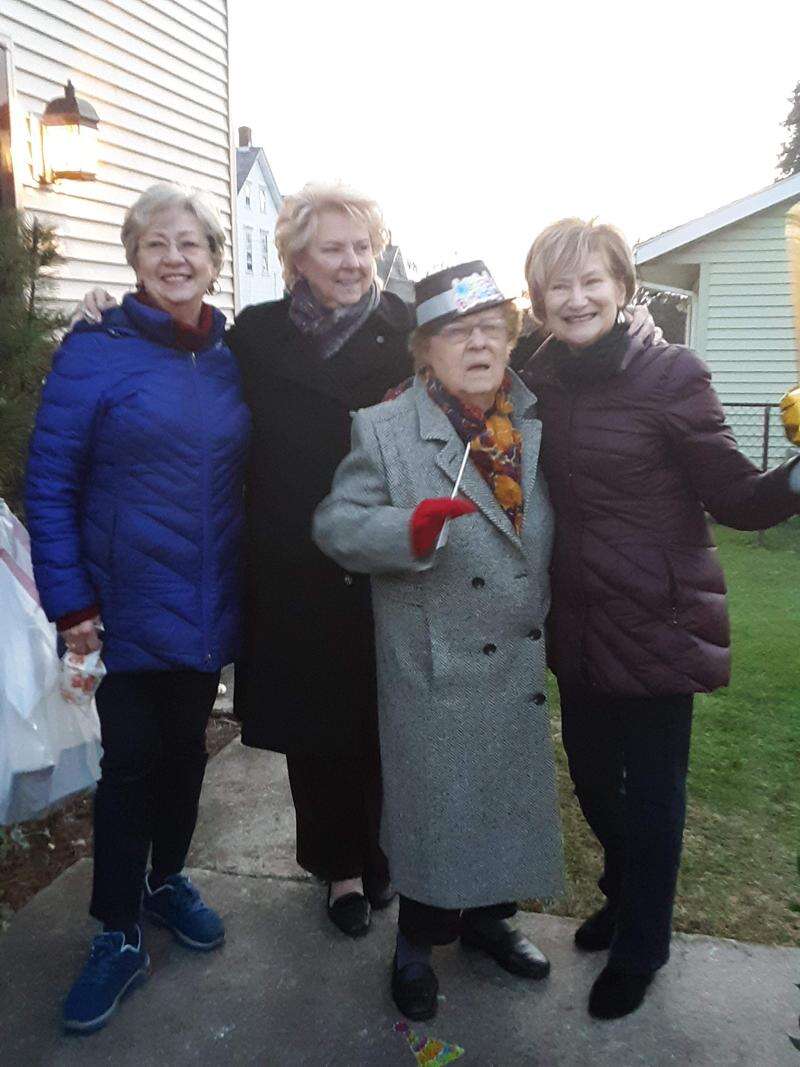 Published January 20. 2021 10:40AM
Mary Gavalla-Walker celebrated a special day Dec. 30, 2020 - she turned 100 years old. Family and friends, wearing masks and socially distancing, came to celebrate Mary, who currently lives in Northampton.
"We did a COVID 100th birthday party," Nancy Heberling, one of Mary's daughters, said. "All family and friends who live local came there in masks, and we had an accordion player and guitar player playing 'Happy Birthday.' It was all outside, with singing and cheering. We had a small table set up, where we had a birthday cake and then a Champagne toast for everyone. Then we shot off confetti cannons. It lasted about 45 minutes, but it was really nice. Of course, there were balloons and flowers everywhere."
The birthday party was a surprise for Mary, who has lived in the borough for 27 years but was once a resident and business owner in Whitehall.
"My mother is a very lovely, soft-spoken, mild-mannered person, so this was very big and for her a bit much, but she loved it," Heberling said. "She really enjoyed seeing everybody. It went well."
Originally from Ormrod, Mary lived in Cementon from 1943 to 1962.
In 1947, her first husband, Edward "Jesse" P. Gavalla, bought Gavalla's Hotel from his father. The business was located on Main Street in Cementon. Gavalla died in 1962, shortly after selling the hotel.
"It was a very popular restaurant and bar. It was a very large place. Today, all the beauty of the old Victorian (qualities) is gone," Heberling said. "There were 110 rooms."
Mary helped her husband run the business and would wake up by 5:30 a.m. to get everything ready for a 7 a.m. opening. Heberling worked as a waitress at the hotel and recalled a lobster tail platter included one-and-a-half lobster tails for $1.75. The hotel was open Monday-Saturday. Heberling remembers many of the workers from local cement companies came to the hotel for lunch.
Mary was part of a fancy bridge club for women in business and those whose husbands were in business. One of the eight club participants was Alice Nero, who had her photo printed in the Egypt/Cementon column of Whitehall-Coplay Press Dec. 24, 2020, in honor of her 100th birthday. Mary and Alice met through their husbands and formed a strong friendship.
"They were professional women and business women, so they were very fancy," Heberling said.
Desserts were served on exquisite china to all the women, who played bridge while dressed in high fashion. The eight women took turns hosting the club at their home once a month.
When Heberling showed the photo of Alice to her mother, Heberling said, "She had the biggest smile on her face. She gasped and recognized her and said, 'That's Alice! That's so nice!' It was pretty exciting for her, to see an old friend in the paper like that."
Out of the wives and husbands associated with the club, Mary and Alice are the only two living. Heberling and her sisters are hoping to get the two ladies, who have not seen each other for a long time, together soon.
Mary and her husband had five children - Heberling, Kathleen Katchur and Carol Kercher, all of Northampton; Edward Gavalla Jr., of Port Jervis, N.Y.; and Mary Ellen Toth, who is deceased.
The three daughters frequently visit their mother, who still lives in her own home.
These days, Mary spends her time playing Scrabble and cards and keeping up her knowledge on spelling. She has always liked to read, Heberling added. In the past, she was an avid gardener.
During this time of the COVID-19 pandemic, Heberling said she and her sisters keep their mother very protected.
"No one, even in the family, is allowed to go there (inside the house), and we are very careful about who we see also," Heberling said. "She does go to the hairdresser every Friday, and that hairdresser has very strict restrictions. But that's her one day a week out of the house.
"We had such a good life," Heberling said. "(It was) a lot of hard work. When you're a child with [parents] in business years ago, you worked. I always say it isn't work; it's a way of life. You didn't know any different. But we have a lot of wonderful memories from that."