ABEs: In-person, virtual productions lauded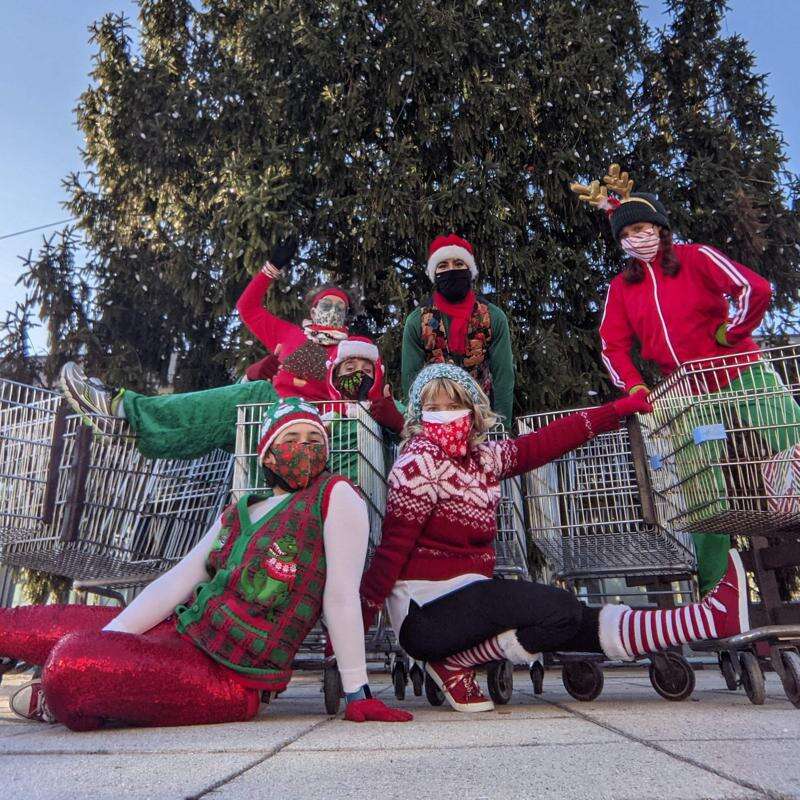 Published January 15. 2021 04:28PM
This has been the most unusual year for theater that I have ever experienced. Things started strongly with the regional stages producing in-person shows as usual in the winter.
When the quarantine for the coronavirus (COVID-19) pandemic hit, theater came to a screeching halt.
For the spring and summer, there was no theater at all and stages were shuttered, including professional summer theater at the Pennsylvania Shakespeare Festival and Muhlenberg Summer Music Theatre.
As the pandemic dragged on with no end in sight, theaters started stepping outside the box and experimenting with different types of productions. Some were with small casts outdoors with social distancing. Others embraced on-stage performances using masks and social distancing to produce shows that could be viewed virtually.
In previous years, the ABE Awards were divided between professional and community productions. There were hardly any professional shows that I saw in 2020. For my picks, I have divided them between in-person productions pre COVID-19 and the virtual productions that followed. Since the number of shows was limited, not all categories from previous years of the ABE Awards are included.
IN-PERSON
PRODUCTIONS
Musical: "Into the Woods," Cedar Crest College Theatre.
In a season of few musicals, Cedar Crest staged a delightfully playful take on the typically dark Stephen Sondheim musical comedy that was more comedy and less overtly dark. Adding to the fun was the hilarious tongue-in-cheek approach to the familiar character such as Cinderella, Little Red Riding Hood and Jack and the Beanstalk.
Actress, Musical: Nathalie Mentha, "Piaf," Touchstone Theatre.
Nathalie Mentha was electric in her passionate portrayal of Edith Piaf, a French singer-songwriter, cabaret performer and one of France's most widely-known international stars of the 20th century. Mentha embodied the heart and soul of the chanteuse as she delivered Piaf's signature torch ballads about love, loss and sorrow.
Actor, Musical: Tom Kennebeck and Anthony Rizzuto, "Into the Woods," Cedar Crest College Theatre.
As Cinderella's prince and Rapunzel's prince, respectively, Kennebeck and Rizzuto, played perfectly off of each with spot-on phrasing and lots of physical comedy. The song "Agony" is always a comic highlight of the show and Kennebeck and Rizzuto made it a giddy, over-the-top delight.
Director, Musical: Bill Whitney, "Into the Woods," Cedar Crest College Theatre.
Whitney successfully mined the show for every bit of humor he could wring out of Sondheim's wry take on classic fairy tales. His attention to every little detail also added another layer to the absurd situations inherent in the fairy tales.
Play: "The Humans," Civic Theatre.
The Tony Award-winning comedy drama featured impassioned acting that uncovered the strong connections between troubled people in this heartbreaking slice-of-life play that unfolds under a cloud of inevitable dread.
Original play, "Mission: Improbable - Super Spy Edition," Pines Dinner Theatre.
Pines Artistic Director Oliver Blatt mined lots of kitsch and nostalgia with shots at the 1966 TV series "Mission Impossible" and the Tom Cruise-helmed "Mission: Impossible" films in this funny immersive show that included audience members who are flirted with, questioned and even "murdered" by the actors.
Actress, Play: McKenna Webb, "Blithe Spirit," Lehigh University Theatre.
As the mysterious medium Madame Arcati, who accidentally releases the spirit of an English novelist's wife, McKenna Webb energized the stage. Her psychic was hilariously eccentric and over-the-top funny from sniffing for ectoplasm to going into a trance in which she ended up sprawled across the lap of one of the guests at a dinner party.
Actor, Play: Brian Keller, "Biloxi Blues," Pennsylvania Playhouse.
Jack Miller's Eugene may have been the emotional heart of the play, but it was Brian Keller's unforgettable turn as hard-drinking platoon leader Sergeant Toomey who drove the play. Keller was terrifying as the over-the-top, non-compromising, hard-nosed sergeant and his intimidation of the recruits was complete. Even when, in a drunken stupor, he was revealed to be at the end of his rope, he was somehow still in charge.
Ensemble, Play: "Little Foxes," Northampton Community College Theatre.
The talented cast of "The Little Foxes" drew the audience right into the manipulative power-plays of this disturbingly dysfunctional family, from Carter Reichard's calculating Regina, to Brandon Costanzo's ruthless Ben to Joe Dionne's cruel Oscar to Grace Misciagna's broken Birdie.
Scenic Design: "Blithe Spirit," Lehigh University Theatre.
Melpomene Katakalos' set design perfectly recreated a well-appointed upper-crust living room that felt as chilly as the winds that blew in from the terrace. Red-lit chandeliers added an eerie note and props designer Rebecca Bone created wonderfully spooky special effects from clever portraits to flying furniture.
Sound Design: "The Humans," Civic Theatre.
Randall Utsch's sound design greatly amplified the sense of unease that was a key element of the play.
VIRTUAL
PRODUCTIONS
Original musical: "Christmas City Follies," Touchstone Theatre.
Touchstone went virtual for this year's "Christmas City Follies," and the medium worked especially well for Touchstone's cheeky views on contemporary culture, from a cockeyed Zoom meeting of moms to a vlog by Santa Claus' hilariously snarky daughter. It also allowed returning bits like Little Red, The Old Guy and the Shopping Cart Ballet to add another dimension by "opening up" the stage set to embrace the Christmas City.
Musical: "Jungle Book," Act 3, DeSales University.
The 2020 senior class of theater majors at DeSales University was set to open its musical production of "The Jungle Book," when the pandemic hit. The production got a second life when Anne Lewis, head of DeSales' Performing Arts division, was able to secure rights to show the filmed dress rehearsal on-line. The energetic and colorful show featured original music by student Cathy Ritter..
Play: "As You Like It," Act 1, DeSales University.
The cast socially distanced on stage while not losing the vital connections between the actors in this evocative and creative production of Shakespeare's romantic comedy.
Original Play: "Dogcatcher," Crowed Kitchen Players.
Ara Barlieb's seven-part play fascinatingly explored the undercurrents of racism in a small Pennsylvania community as a black man runs for mayor in a predominantly white town. Adding to the production was smart use of the Charles A. Brown Ice House, Bethlehem, where the play was filmed, and the unsettling inclusion of actual Ku Klux Klan clips.
Actress, Play: Jess Gliot, "As You Like It," Act 1, DeSales University.
Jess Gliot was completely engaging as the clever protagonist Rosalind, one of Shakespeare's most fully-developed female characters. Gliot's Rosalind was witty, self-assured, and enjoyably sharp-tongued as she dresses as a man and tries to teach her love in the ways of the heart.
Actor, Play: "Dogcatcher," Crowed Kitchen Players.
William Alexander gave a strong and nuanced portrayal as Xavier Books, the popular winning high school football coach in Breezywood, who decides to run for mayor and finds himself facing unexpected racism from his neighbors.
Ensemble, play: "Four Dogs and a Bone," Between the Lines' Theatre.
A cast of four memorably portrayed the "Dogs," a low-budget producer, a sad-sack writer and two cat-fighting actresses, unpleasant people who were trying to get what they want by presenting a false image to each other, in this darkly comic fable.
Director, Play: Bill Mutimer, "Junk: The Golden Age of Debt," Northampton Community College Theatre Department.
NCC Theatre Department Chair Bill Mutimer guided the complex story as it took fascinating shape in this well-done production. Mutimer did an admirable job keeping the many-layered story, which takes place in 1985 in the world of financing and junk bonds and is based upon real-life financiers like Michael Milken.
Scenic Design, Play: "Jungle Book," Act 3, DeSales University.
Scenic designer Chris Clark created a huge treehouse-inspired set, said to be the largest set ever in Schubert Theatre.