Volunteer group raises spirits of Northampton resident battling cancer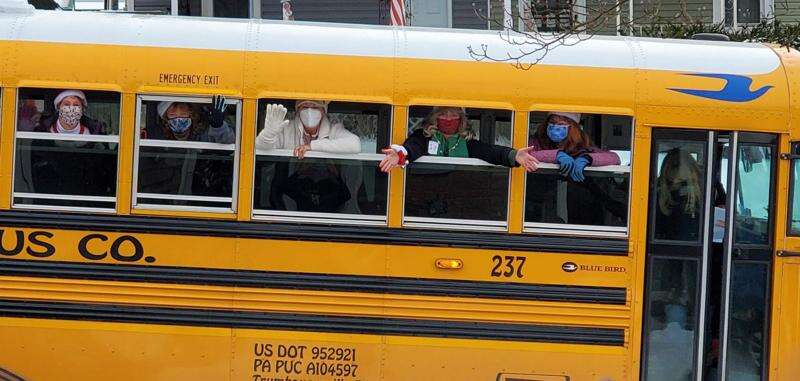 Published January 13. 2021 10:59AM
After years of battling an aggressive case of liver cancer, Karen Becker felt blessed when a volunteer group called The Book of Ruth rented a school bus and drove to patients who are ill in the Lehigh Valley, singing Christmas songs and making their visit feel truly special.
Becker was once an avid volunteer at Northampton Area Food Bank as well as a member of the Northampton Centennial Committee. She and many others helped host a variety of fun community events including a "haunted woods" for Halloween, helping out when a circus came to town, volunteering to make parade floats for the Halloween parade and many other activities with the Hampton Lanes children's bowling league.
To this day, the borough resident still participates in taking care of the Fourth Street Playground area by planting flowers and pulling weeds.
"I love our little town," she wrote in an email, "and I take pride in doing what I can to help out."
This time, it was Becker's turn to have her heart warmed by fellow community members.
"They have been so supportive," Becker wrote in the email. "It's an amazing group of people!"
She added The Book of Ruth's volunteer acts have been invaluable to her.
Becker is an end-stage 4 liver cancer patient. After a liver transplant in 2017, the cancer spread aggressively to both lungs.
After years of "volunteering and assisting the borough when I was healthy, I can no longer do it," she wrote, but despite that, this group has helped brighten her spirits, especially at Christmastime.
"They send cards weekly, with support and letting us know we are not in this horrific situation alone," Becker wrote. "I feel this group truly needs recognition for all they do."
Every year, the group rents out a school bus and sings Christmas carols to patients all over the Lehigh Valley. Last year, they all maintained strict social-distancing rules. The group also writes letters of compassion and encouragement to both ill and terminal patients, according to Becker.
"COVID-19 has limited the social gatherings, but [The Book of Ruth group] goes above and beyond making sure we know they truly care about us," she wrote.
While 2020 may not have been a great year for some, Becker was touched by the group's kindness.
"They are truly a blessing," she said.